Reading Time:
6
mins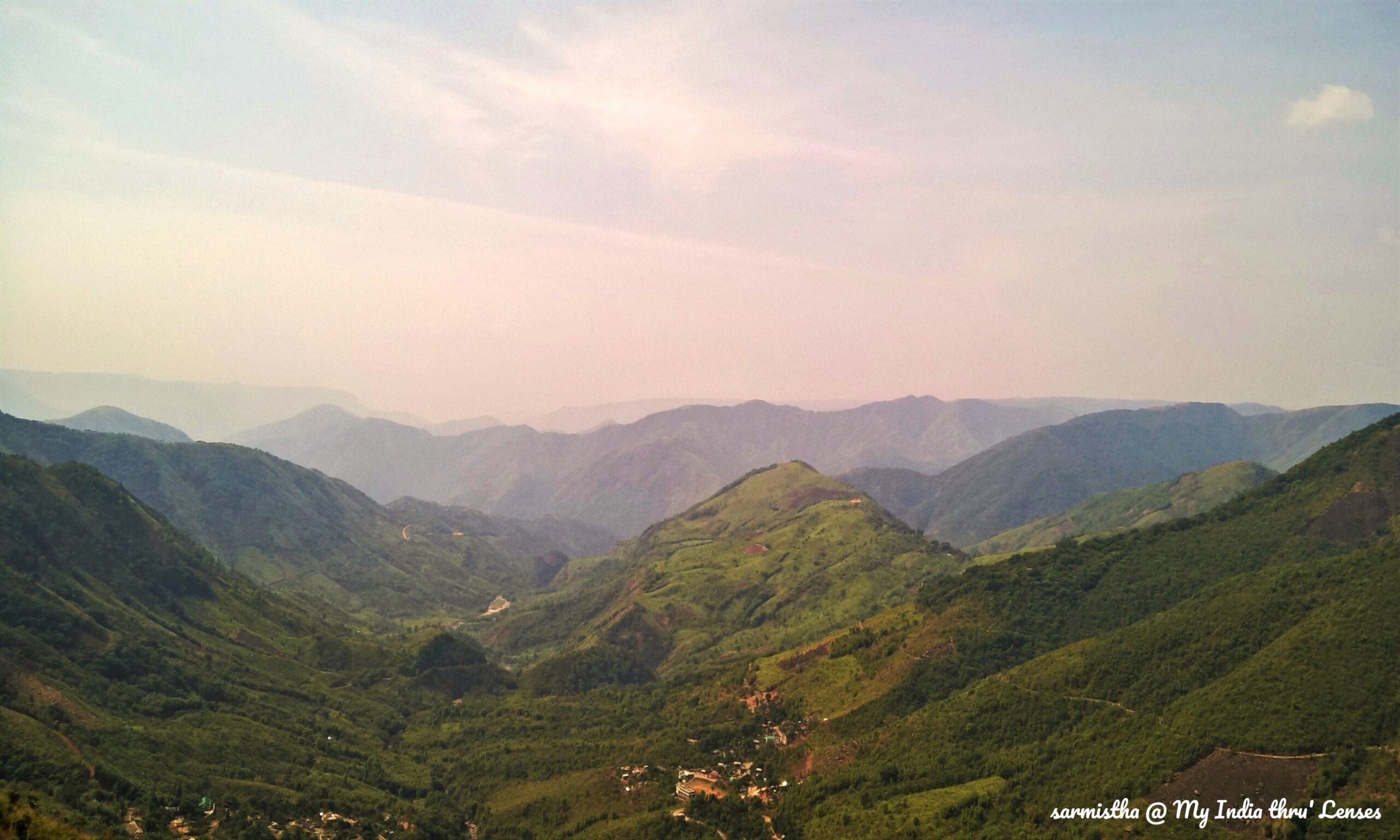 While most of the travellers are inclined towards exploring North India, the Northeast is no less in natural beauty and diversity. Unlike Himachal or Kashmir, this part of the Himalayas is greener and fresh. The green slops of tea gardens, colours of Rhododendron, mighty waterfalls, immaculate villages and beautiful people; these are what represent the pristine beauty of Northeast.
'Meghalaya', as the name suggests, is truly the 'abode of clouds' where the nature seems to play hide and seek with the Sun. Shillong, the state capital of Meghalaya, is a small town often described as the 'Scotland of the East'. We planned our 3 days Meghalaya trip making Shillong as the base. So, we tried to cover as much possible of Shillong in one day before we go for Cherrapunji or Dawki. Due to time constraint we have to squeeze our itineraries, but trust me 2 full days are required to cover Shillong and its nearby spots only.
OUR TRAVEL ITINERARY
I am sharing our travel itinerary for your reference. You may modify it as per your plan.
Day 1 – We arrived at Guwahati Airport by 8 am. Hired a cab and reached Shillong by 11 pm. We covered Laithlum Canyon, Umiam Lake, Wards Lake, Golf Course and Cathedral of Mary Help of Christians.
Day 2 – Full day trip to Mawlynnong and Dawki. However, on the way, we covered a local view point Mawjngih Lapynshongdor.
Day 3 – Full day trip to Cherrapunji. On the way, we covered local points like Elephant falls and Shillong peak.
Day 4 - Shillong local market. Checked out from hotel by 11 am. We were back to Guwahati by 2 pm.
I have shared my experiences of Mawlynnong, Dawki and Cherrapunji in separate posts. In this post I am listing the top places in Shillong for local sightseeing, which can ideally be covered in 1 or 2 days.
Read related posts ->
Amazing Northeast: A Day at the Magical Dawki
Amazing Northeast: Mawlynnong & the Living Root Bridge
Amazing Northeast: Cherrapunji – The Land of Rain & Waterfalls
TOP PLACES TO VISIT IN SHILLONG
1. Umiam Lake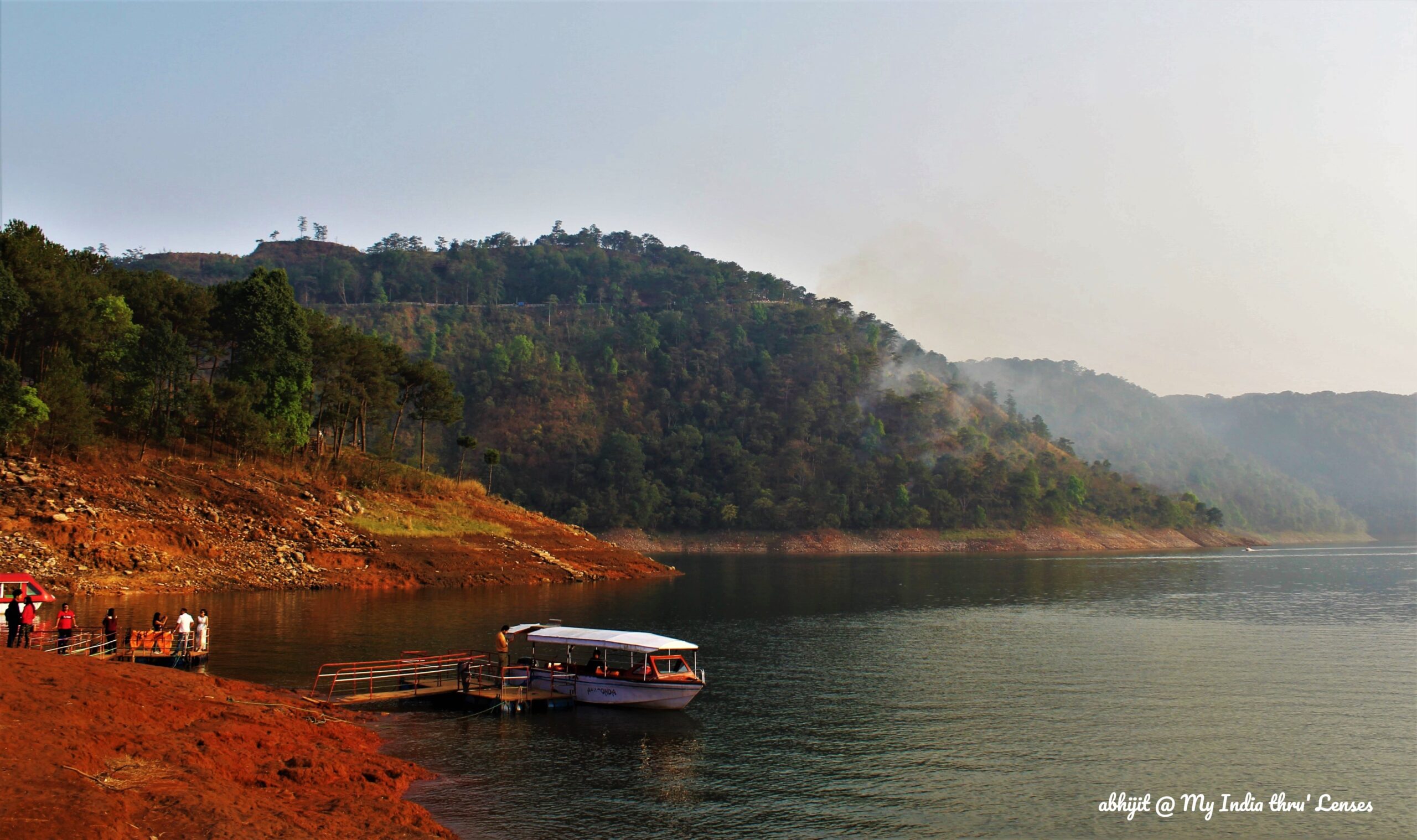 This beautiful lake was built on the Umiam river as a reservoir for hydroelectric power generation. The lake is surrounded by hills with an adjacent park - a spot perfect for a day out with family and friends. There are speed boats, water buses, water scooters etc. available for water sports enthusiasts. Try to experience the sunset here. The lake with a backdrop of hills will give you a picturesque view of the spot.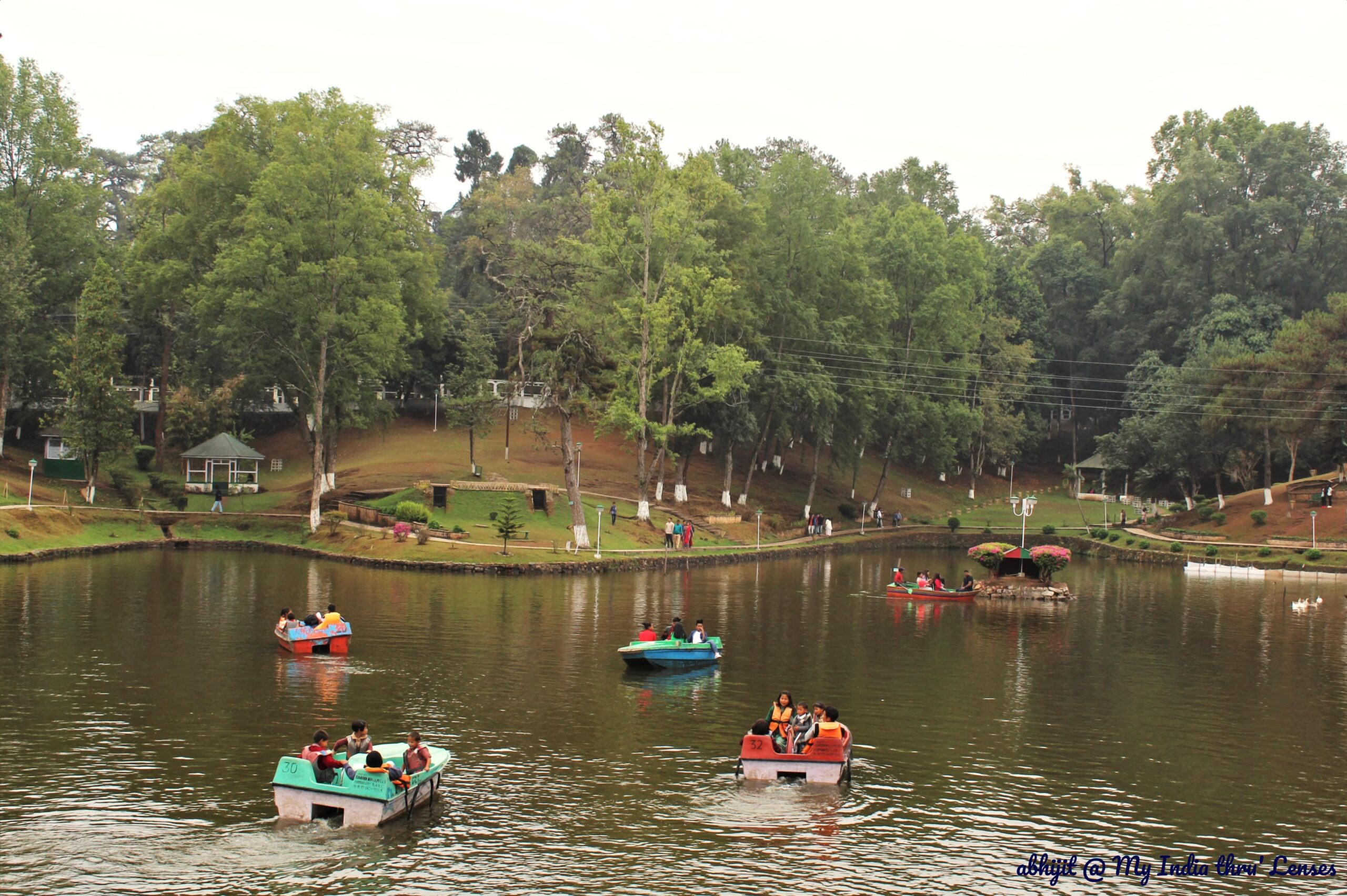 This artificial water body, aka Pollock's Lake, is one of the most visited spots of Shillong. The lake is well maintained and surrounded by greeneries and flowers. There are a couple of restaurants where you can snack enjoying the beauty of the surroundings.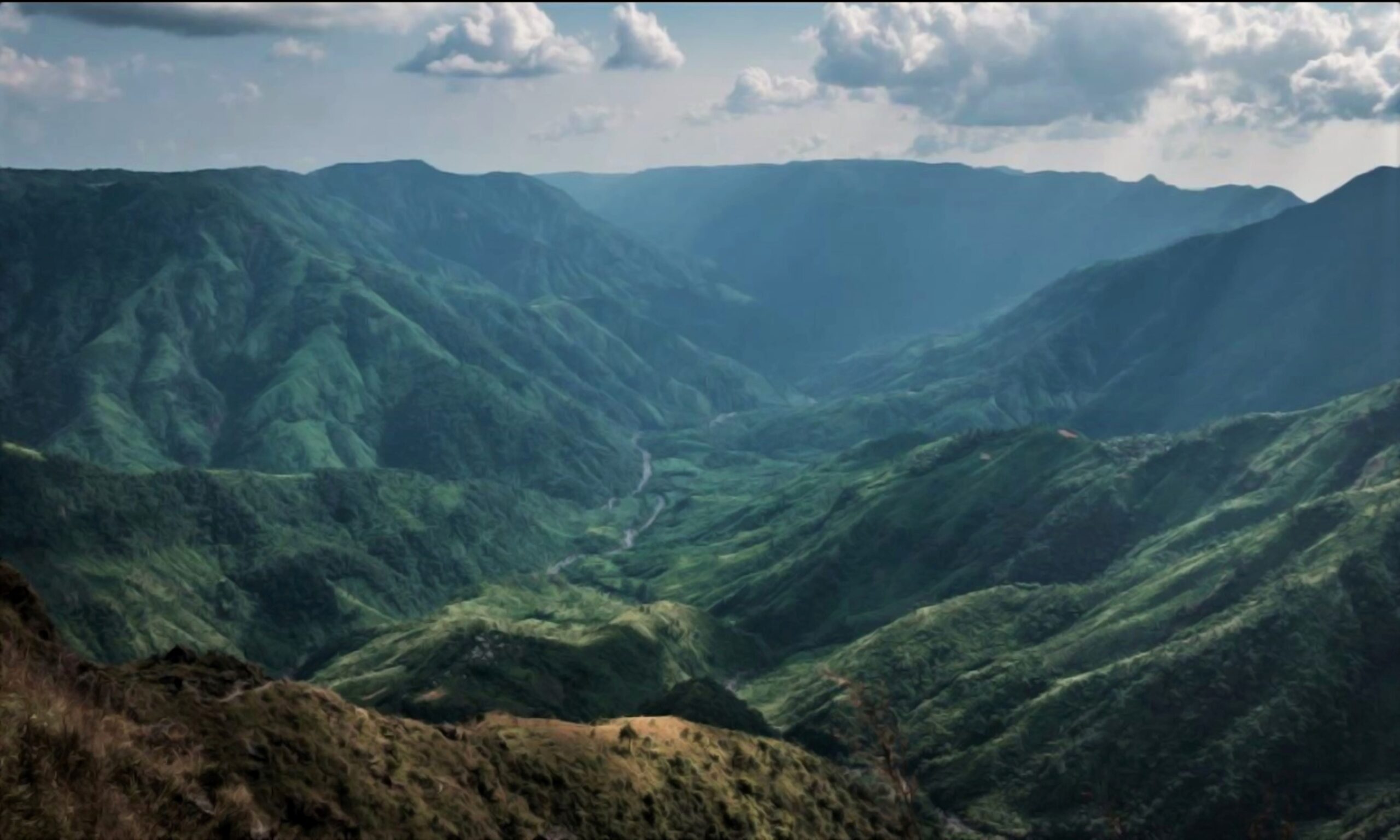 The Laithlum Canyon was an hour journey from our stay at The Heritage Club Tripura Castle. Once we reached there, we realized that there can't be any better place than this to get the splendid view of Shillong. The lush green slops of the Khashi hills, fresh air and beautiful surroundings will definitely freshen up your mind. Since this is a bit far away from the Shillong city, it's better to visit it in the morning and then continue with the local spots.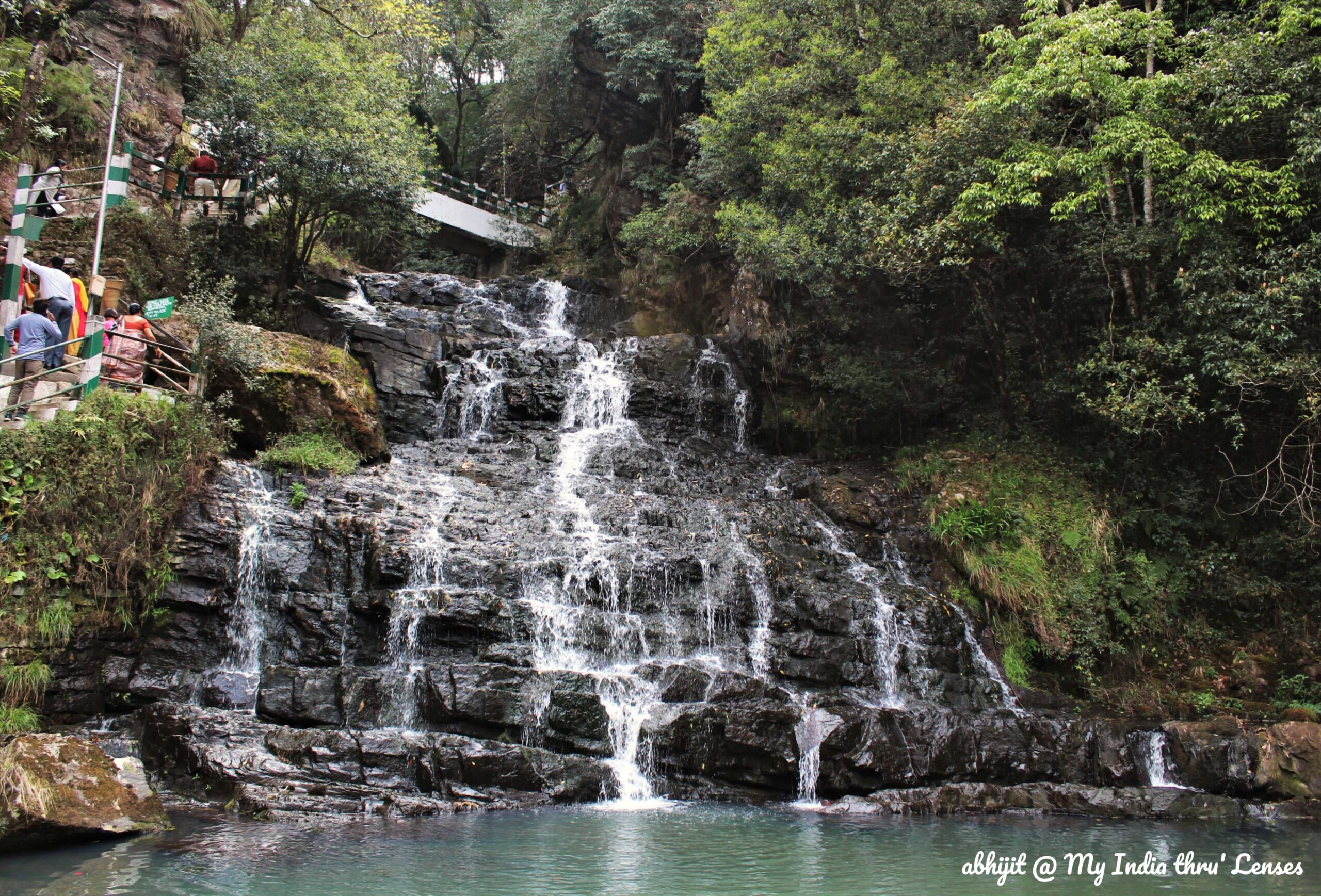 Originally, the Khasi people named it 'Ka Kshaid Lai Pateng Khohsiew', meaning 'Three Step Water Fall'. It was later renamed by the British government as Elephant Falls, because on the left side of the falls there was a rock resembling an elephant which got destroyed in a massive earthquake in the year 1897. One has to climb some steps down to reach the pool created by this fall. Though in the month of April there was not much water in the pool, it was a worth visit.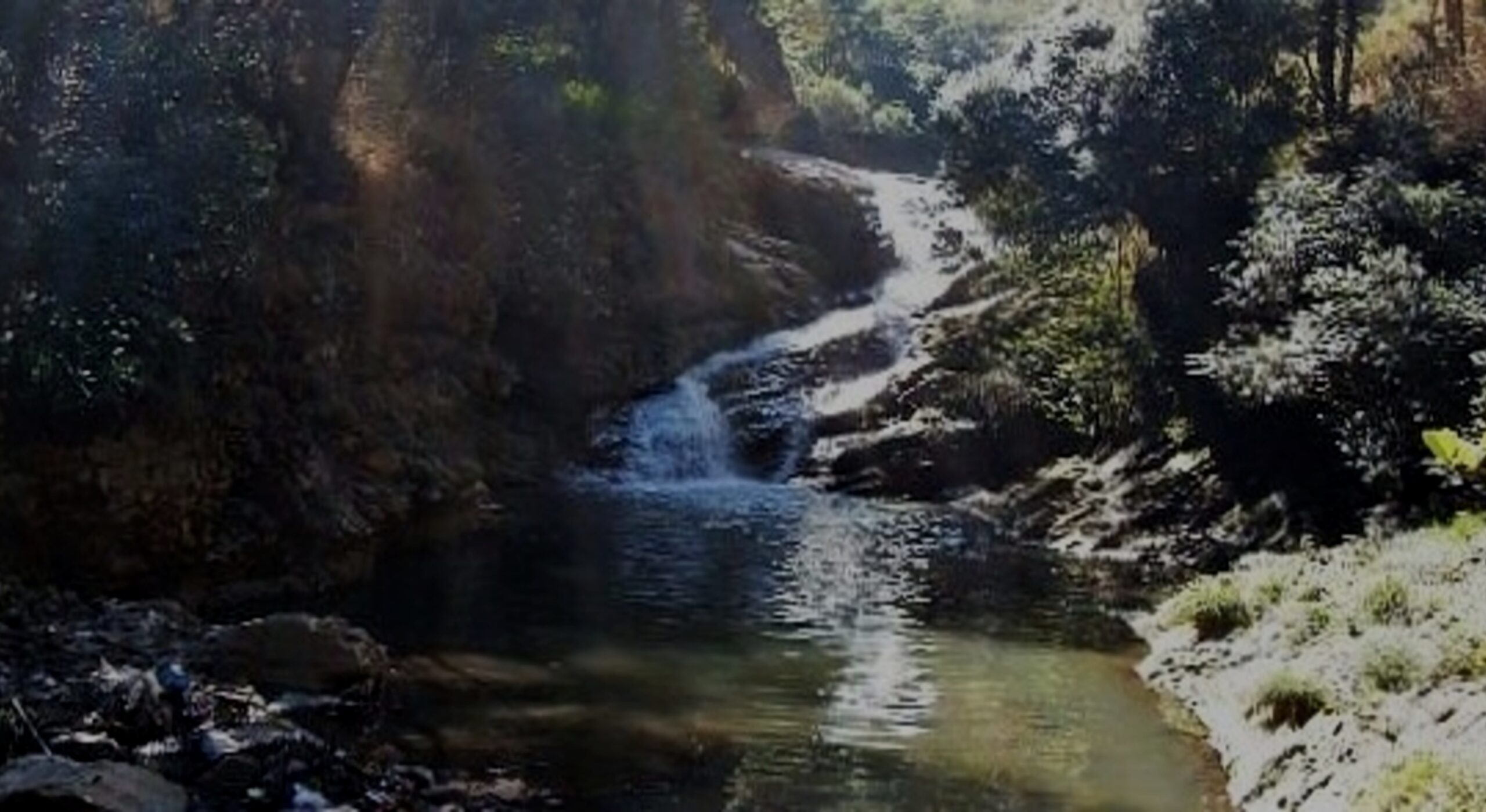 The Spread Eagle or Sati waterfall is located just 6 kms from the city centre. It is mainly a seasonal beauty. So, you may plan this one only if you are travelling during or after the monsoon.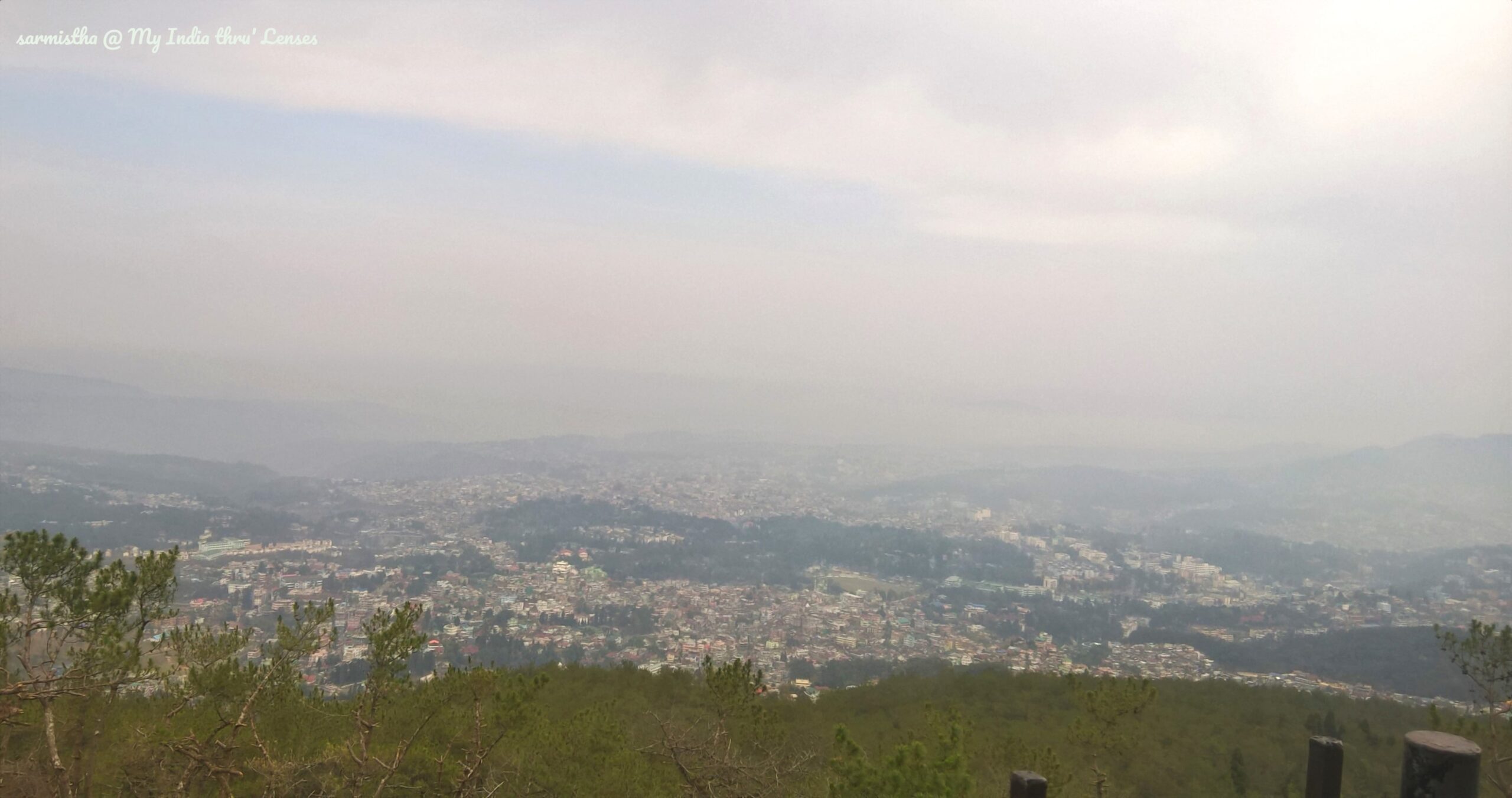 The Shillong peak is one of the famous tourist spots as it gives a birds' eye view of the city. It is managed by the Indian Air force, hence, is a highly restricted area. To access this spot, you have to submit your ID proof. Due to security reasons, taking pictures is prohibited on the way, but you would be allowed to take pictures once you reach the peak. The view from this point was good, but to me, the view which we got from the canyon was much better.
7. Mawjngih Lapynshongdor view point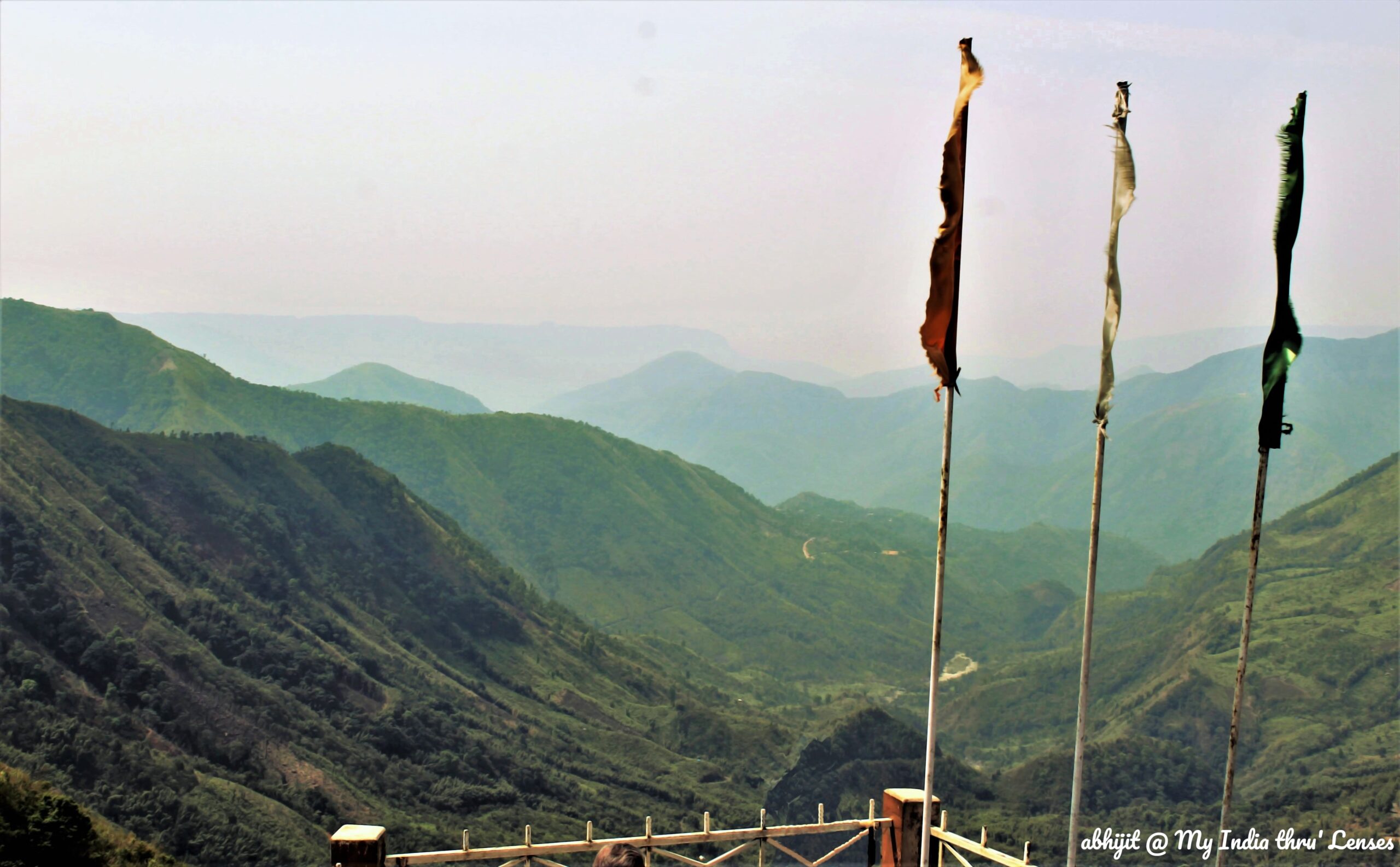 This view point is a place not to be missed when you are in Shillong. It will give you a spectacular view of the green carpet clad hills.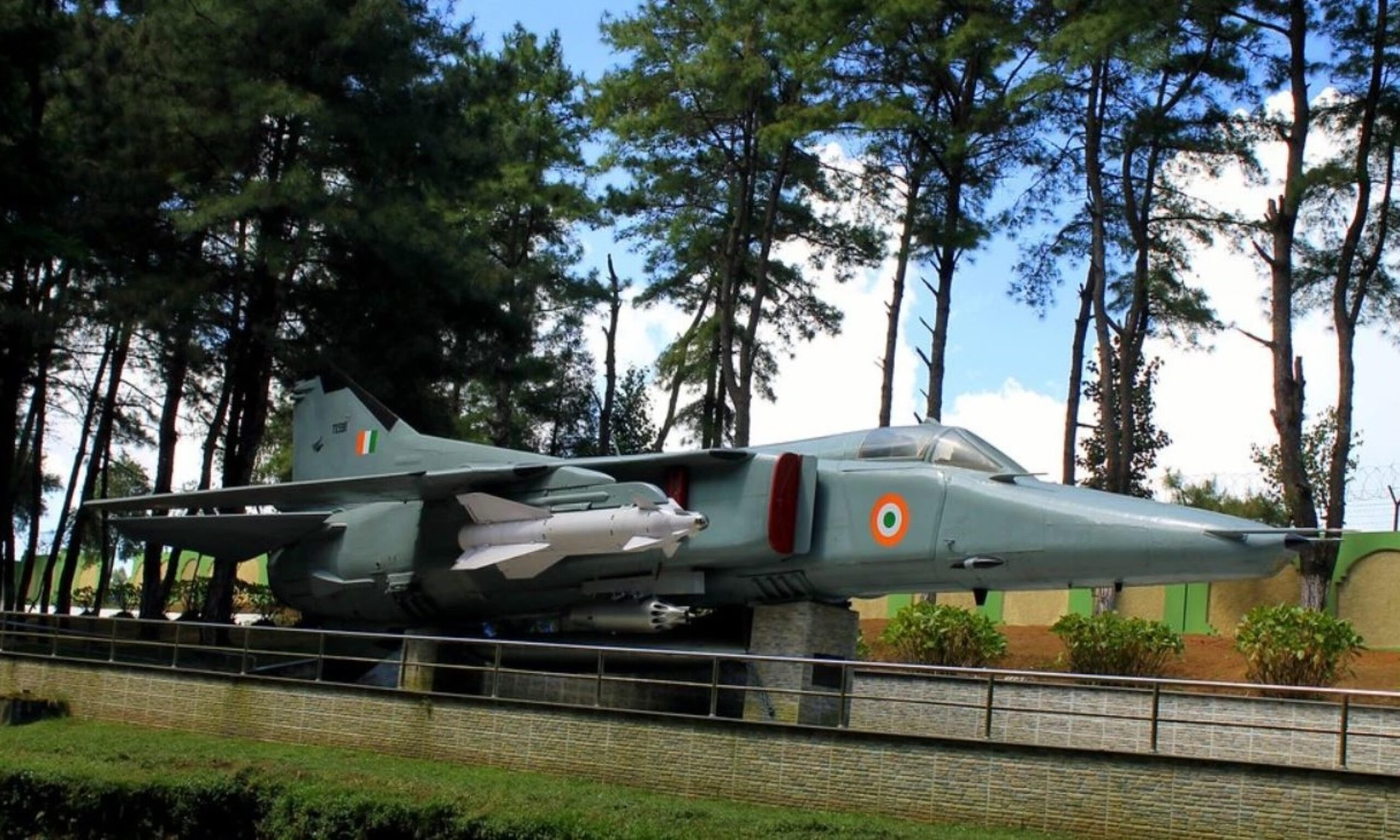 The Air Force Museum is a bit far from the city centre and is near the Shillong Peak. It has a great collection of the fighter plane models, missiles, uniforms, badges etc. It's a good place to visit but before going there, check its timing.
9. Lady Hydari Park
It's a well-maintained park with a mini zoo. This Japanese style park is named after the erstwhile first lady (wife of Governor of Assam) during the British rule. If you are travelling with kids, they would love this place. If you don't have much time to spend in Shillong, you might think of skipping this one.
10. Cathedral of Mary Help of Christians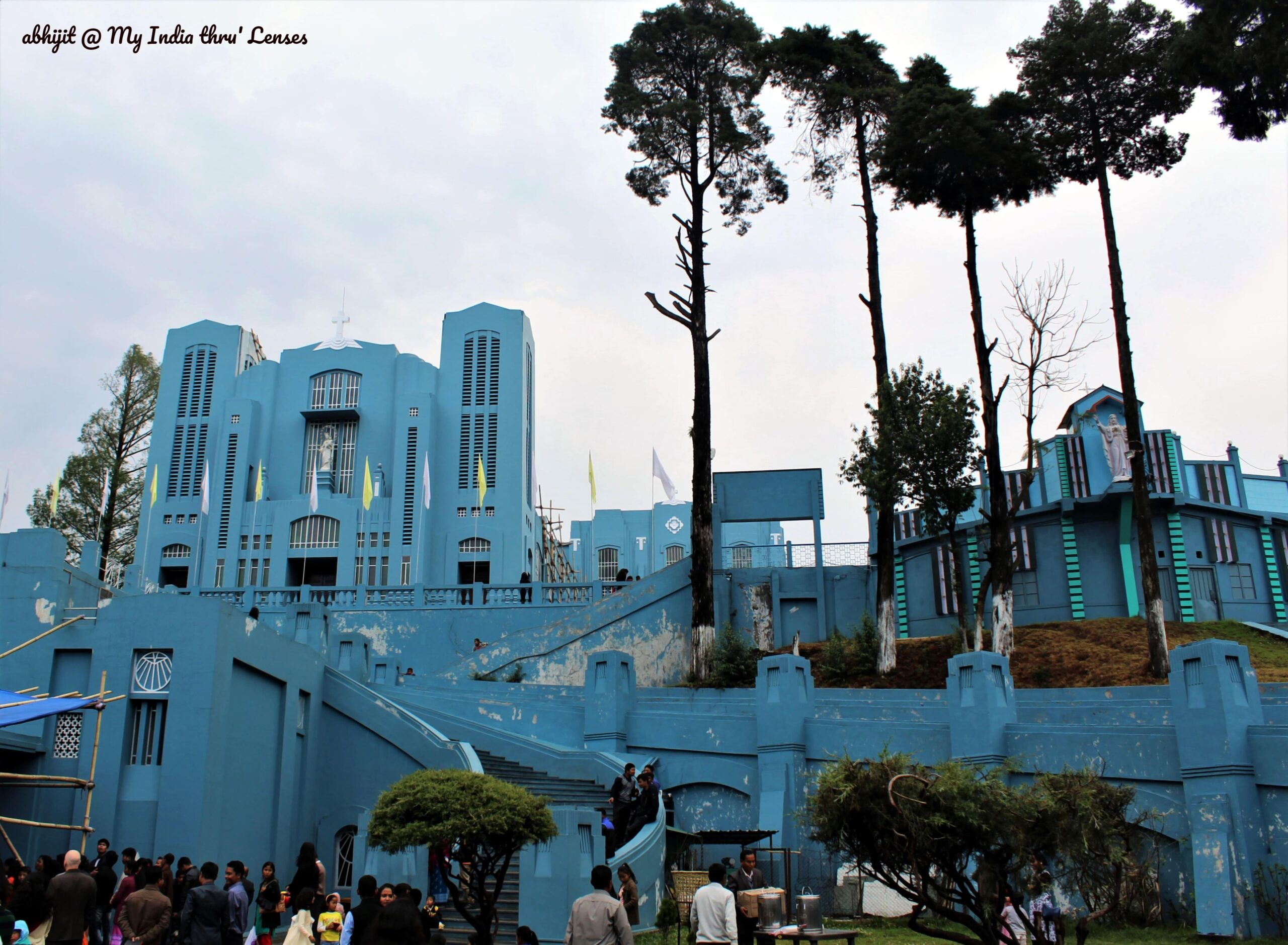 It is the church of the Roman Catholic Archdiocese of Shillong and serves as the seat of the Metropolitan Archbishop of Shillong. The state is dotted with a number of churches, but this one stands apart due to its grand structure and blue colour.
11. Don Bosco Museum
This museum is a major tourist attraction as it gives a glimpse of the rich cultural heritage of the Northeast India. Like other museums, there are display of the musical instruments, utensils, weapons, dresses etc. which are integral part of the tribal people of this part.
12. Rhino Heritage Museum
The Rhino Heritage Museum is one of the prominent war museums of Northeast India. It provides insight towards the participation of Headquarters 101 Area in the 1971 Indo-Pak war (Bangladesh war). It showcases some of the uniforms, badges & weapons and displays the rich heritage, valour & courage of Assam Rifles.
13. Meghalaya State Museum
The state museum is a beautiful repository of the socio-culture life of the tribal people of Northeast India. The galleries contain artefacts like traditional tools, musical instruments, weapons, dresses, traditional ornaments, utensils, pottery etc. The museum is also known as Capt. Williamson Sangma State Museum, named after the Father of Meghalaya.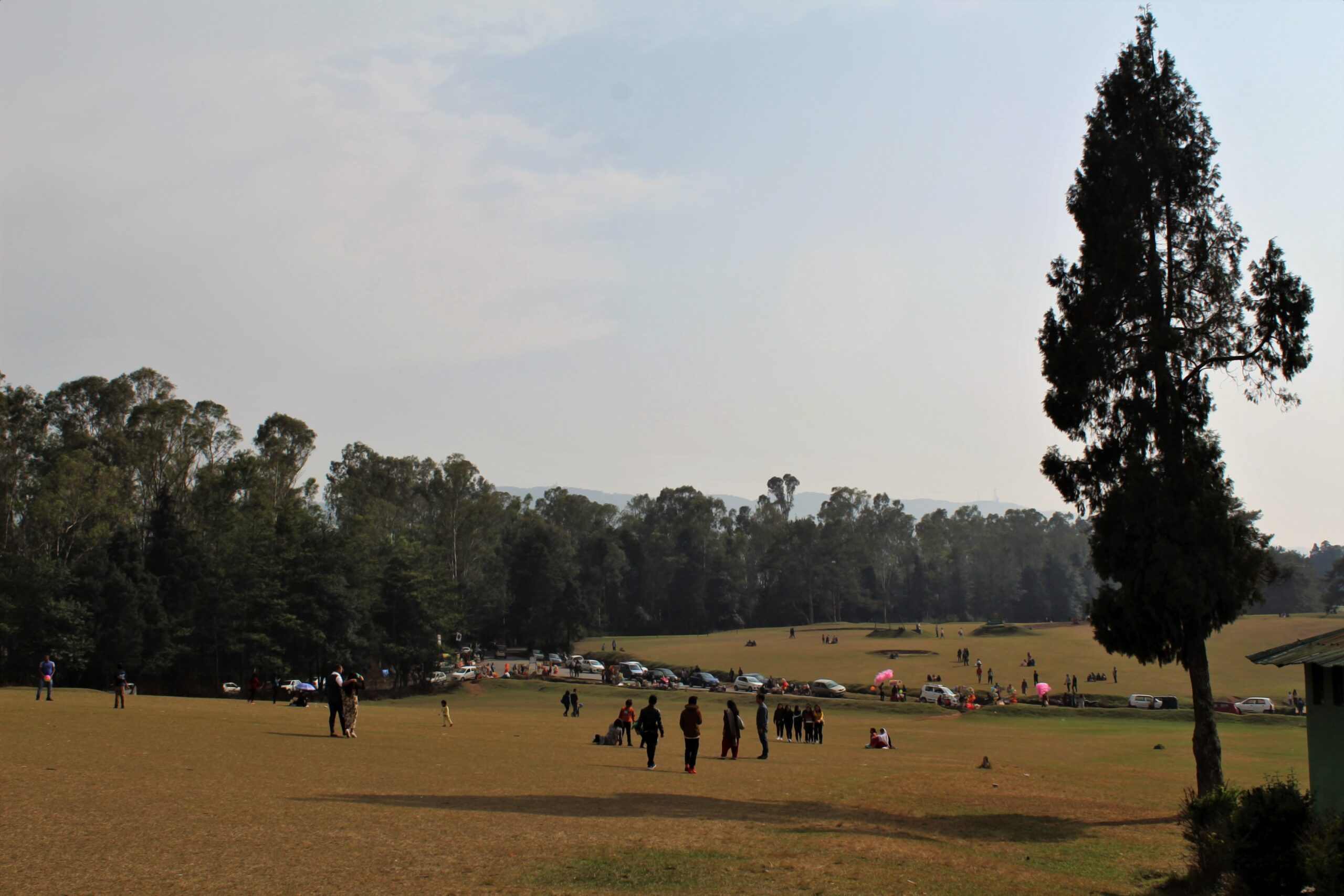 This golf course is one of the oldest, largest and finest natural golf circuits across the world. It is dotted with pine trees. Though it's considered as a sightseeing point, you may skip it in case you have time constraint.
In Meghalaya you will experience cold, rain as well as hot and humid weather conditions. Shillong is cold, whereas Cherrapunji is humid and Dawki is hot. So while planning for this part pack your bags accordingly. Also, do check the timings of the museums and plan your trip accordingly if you want to cover those.