Reading Time:
7
mins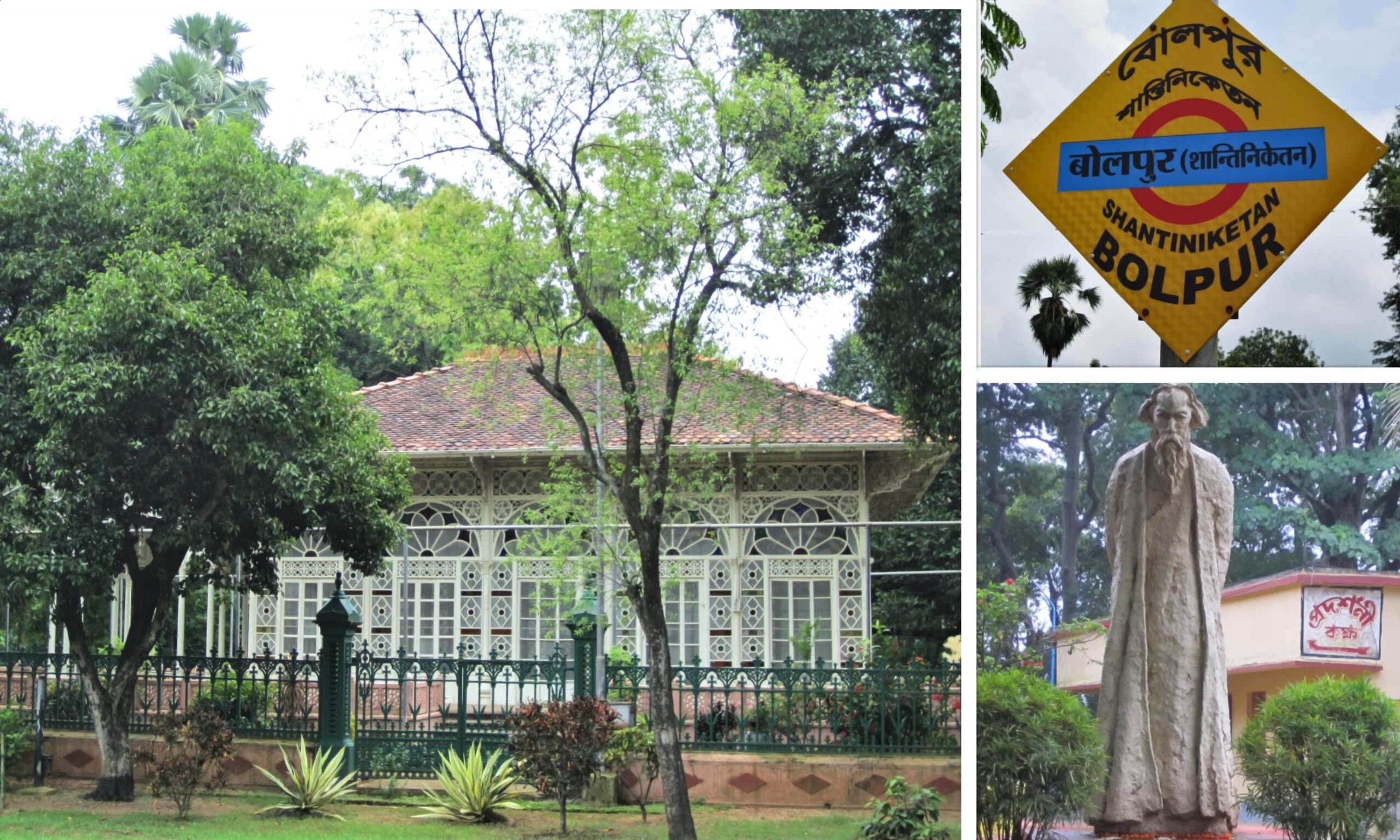 Shantiniketan, the Abode of Peace, is a small town near Bolpur in the Birbhum district of West Bengal. It's the birth place of the literary classics of the great Rabindranath Tagore. It's the land of Baul, where the red soil, meandering Kopai River & lush of greeneries speak the impeccable beauty of nature.
Shantiniketan is about 160 Km from Kolkata and is well accessible by car, bus and train. The nearest railway station is Bolpur which is at a distance of 2 kms from Shantiniketan. Accommodation is not an issue here. Based on your budget you can go for budget hotels, homestay or luxury cottages.
Shantiniketan is often synonymous with Vishva Bharati University and Kopai River. However, apart from these there are much more to see. To start with, there is Shilpa Gram, Amar Kuthir, Khoai Haat, Kankali Tala, Rabindra Bhavan Museum and Gitanjali Museum. It's a small place, so the best mode of transport for sightseeing is a Toto (a type of auto rickshaw), however, cabs are also available for the same.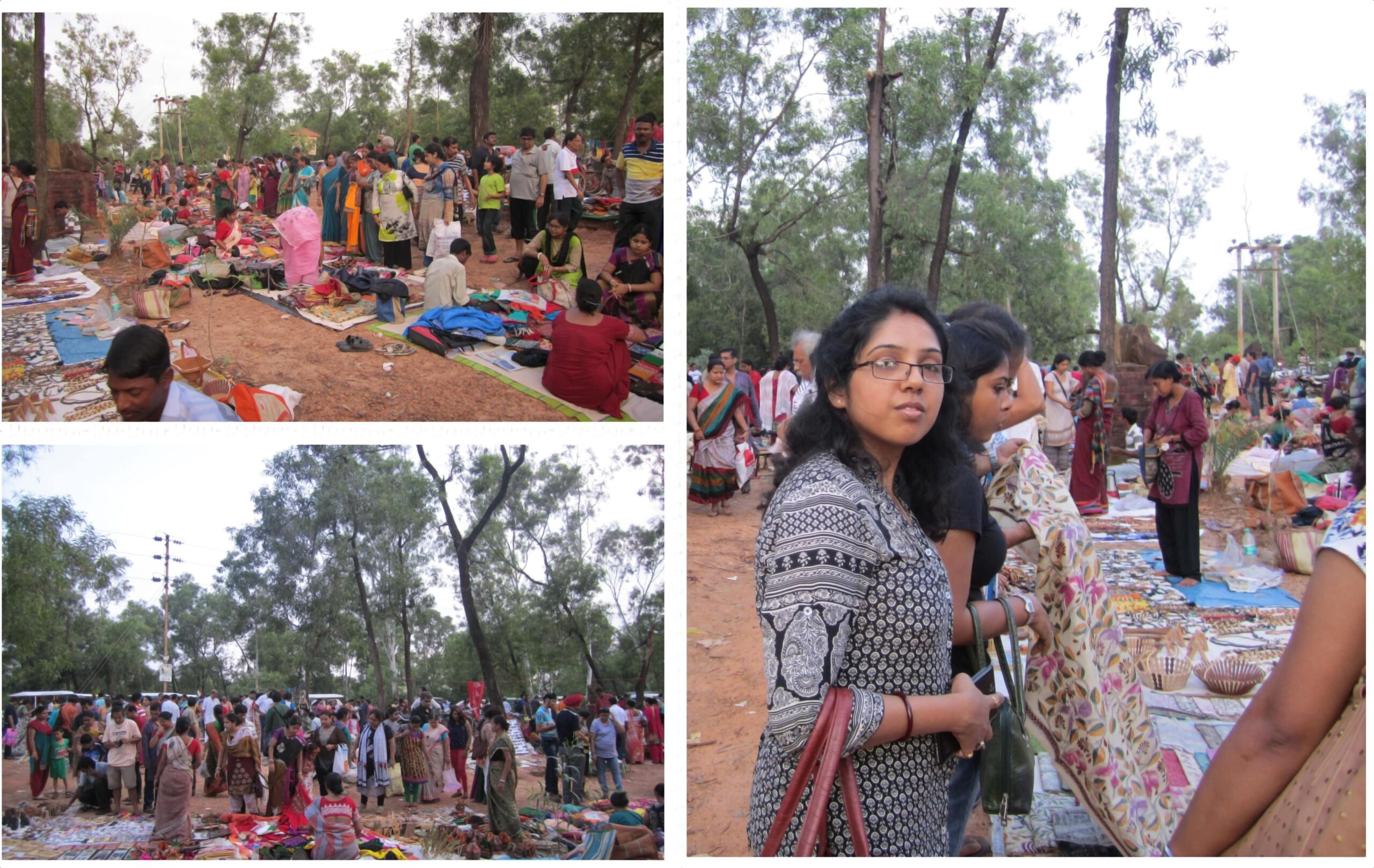 We reached Shantiniketan around 4 pm on a Saturday. Since there was some time left for sunset, after dropping our luggage at our hotel, we left for Khoai Haat. It's the makeshift Saturday market of Shantiniketan's special handicrafts.
"Gram chara oi ranga matir poth" the red-soil path of Khoai has inspired Tagore to pen-down this famous song. This Khoai Haat is a market place where you will find some good local hand-crafted showpieces, jewelleries, bags, Batik fabrics, Nakshikatha and many more. Here you can bargain even! If you are fond of Dokra (Handicrafts made out of non–ferrous metal casting using the lost-wax casting technique), you might get here some good pieces of the same at a reasonable rate. The range of the items in this market varies from Rs 10 to few thousands. The liveliness of the market, enthralling Baul performances, mystic rays of the setting sun on the red-soil canyon of Khoai made us so rejuvenated that we didn't realize that it's already dark!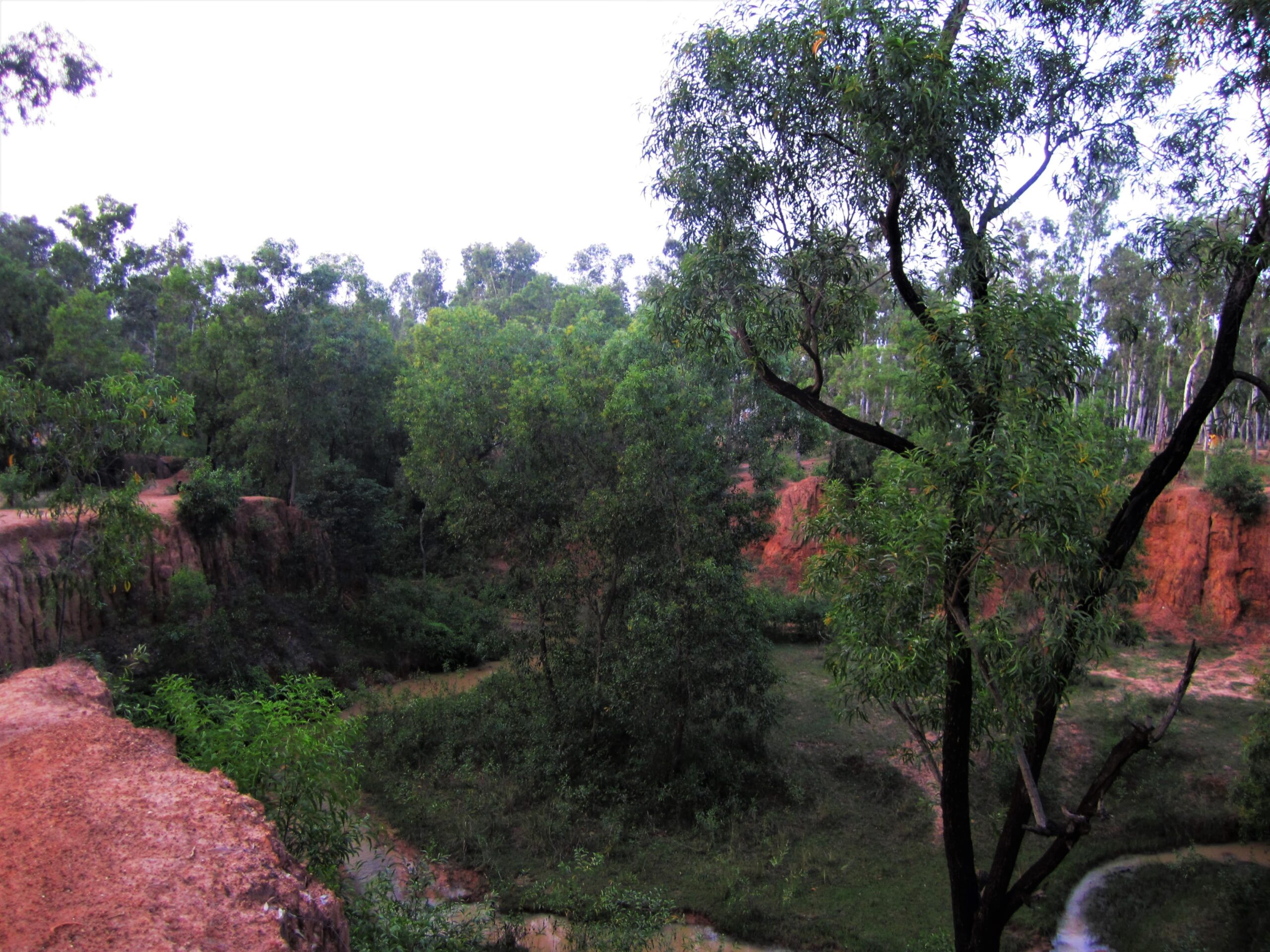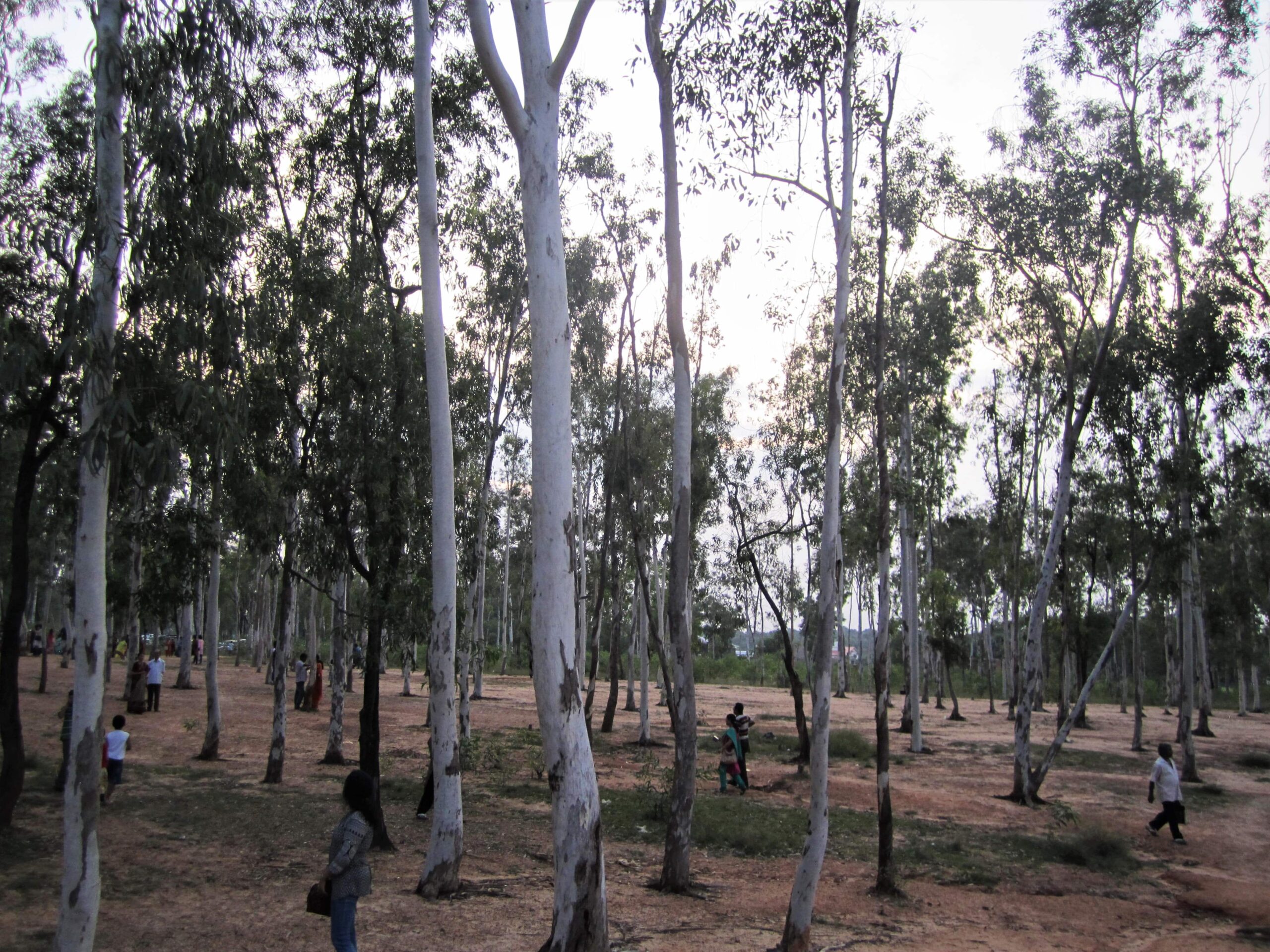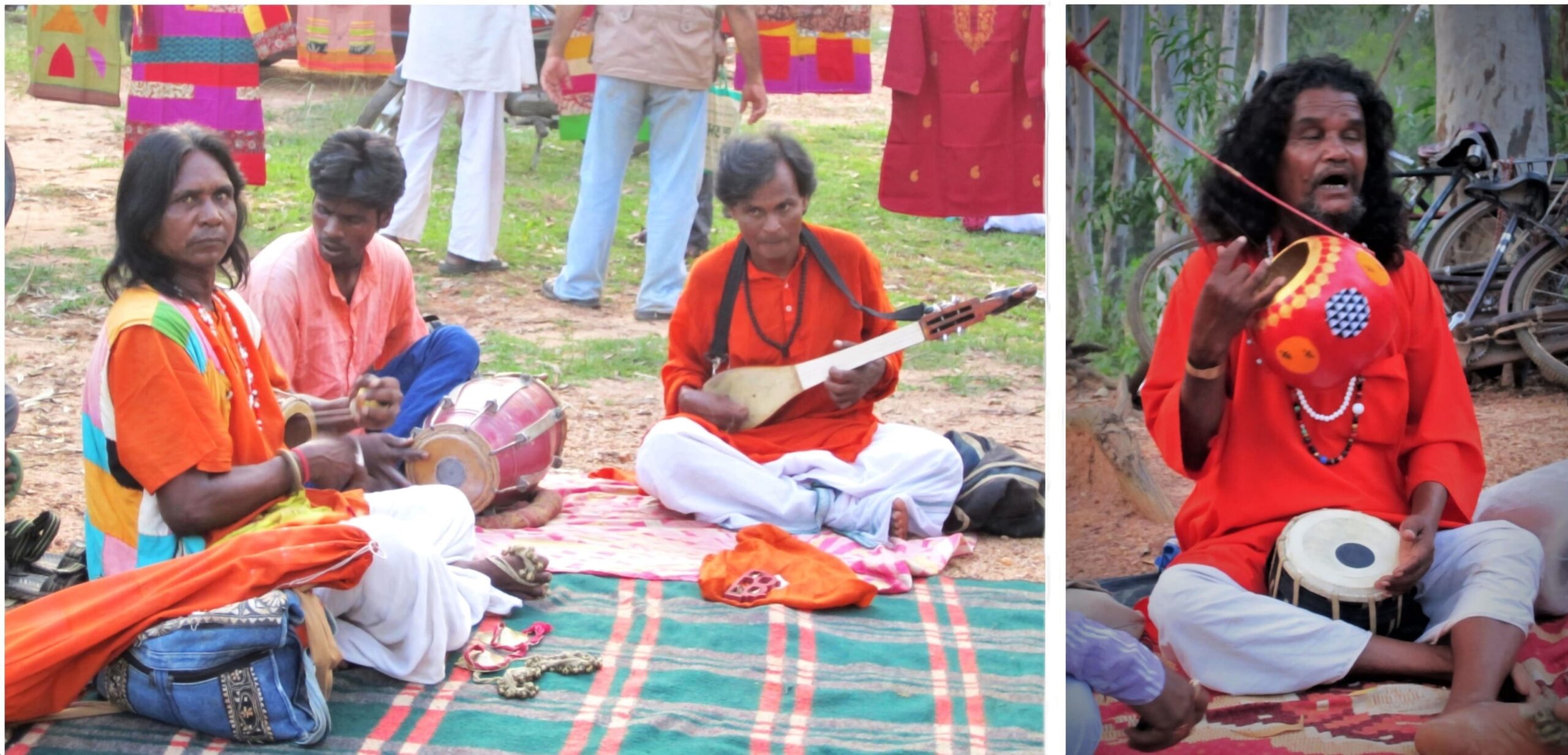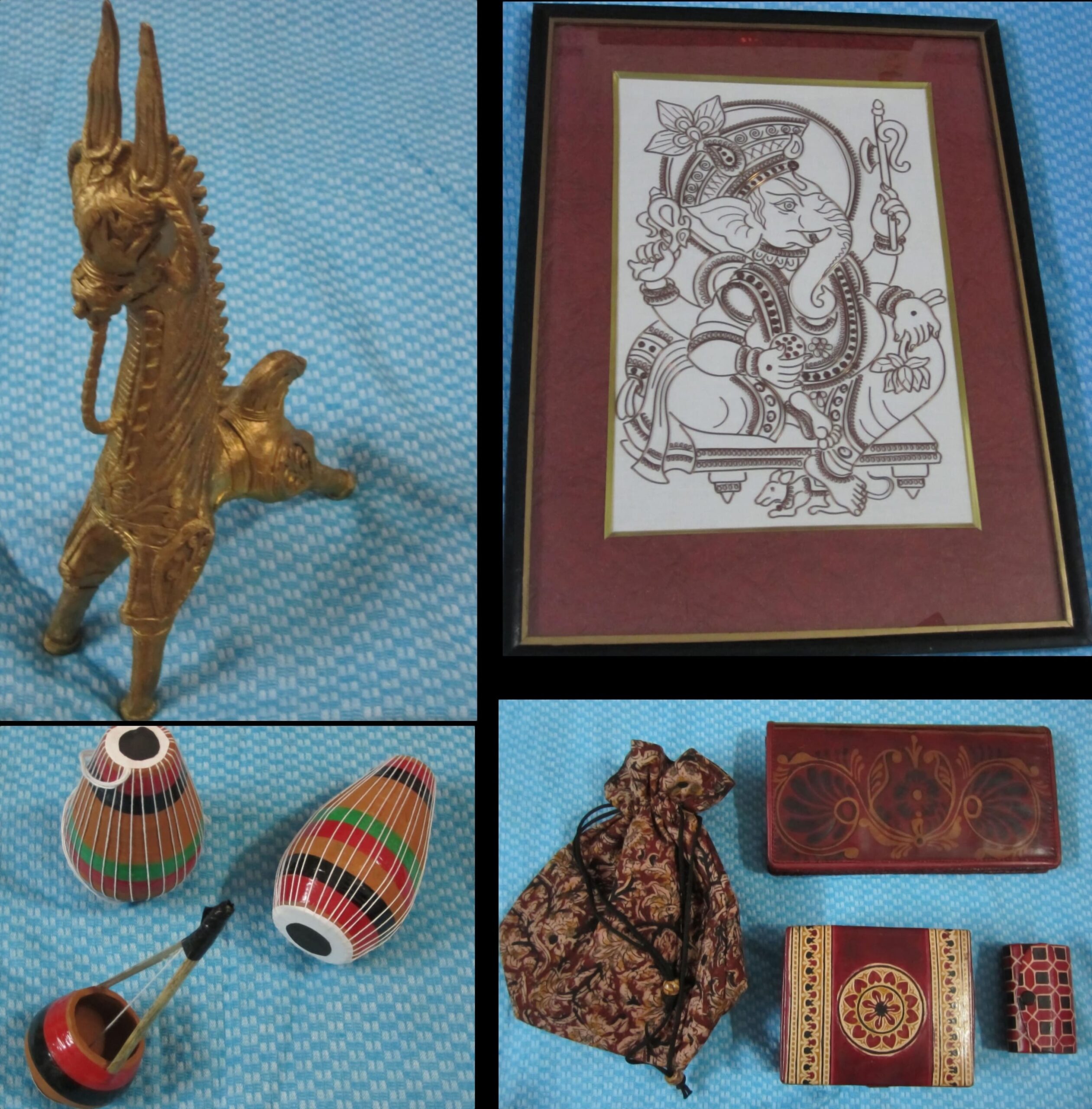 The next day was for the local sightseeing. We started with Srijani Shilpagram Complex, which beautifully showcases the art & handicrafts of different states of Eastern India. Here each state is represented by traditional houses with good collection of paintings and household items which speaks about the culture & heritage of the local people. From Shilpagram we left for the Kankali Tala. On the way we crossed Kopai River. This narrow meandering river was an intricate part of Tagore's writings. My Bengali readers will be able to relate to the verses of the famous poem "Amader Choto Nadi…" after seeing it.
The weather was sunny and humid but we have a lot in our itinerary to cover. So after spending a couple of minutes there we left for Kankali Tala, a temple town about 10 Kms from Bolpur.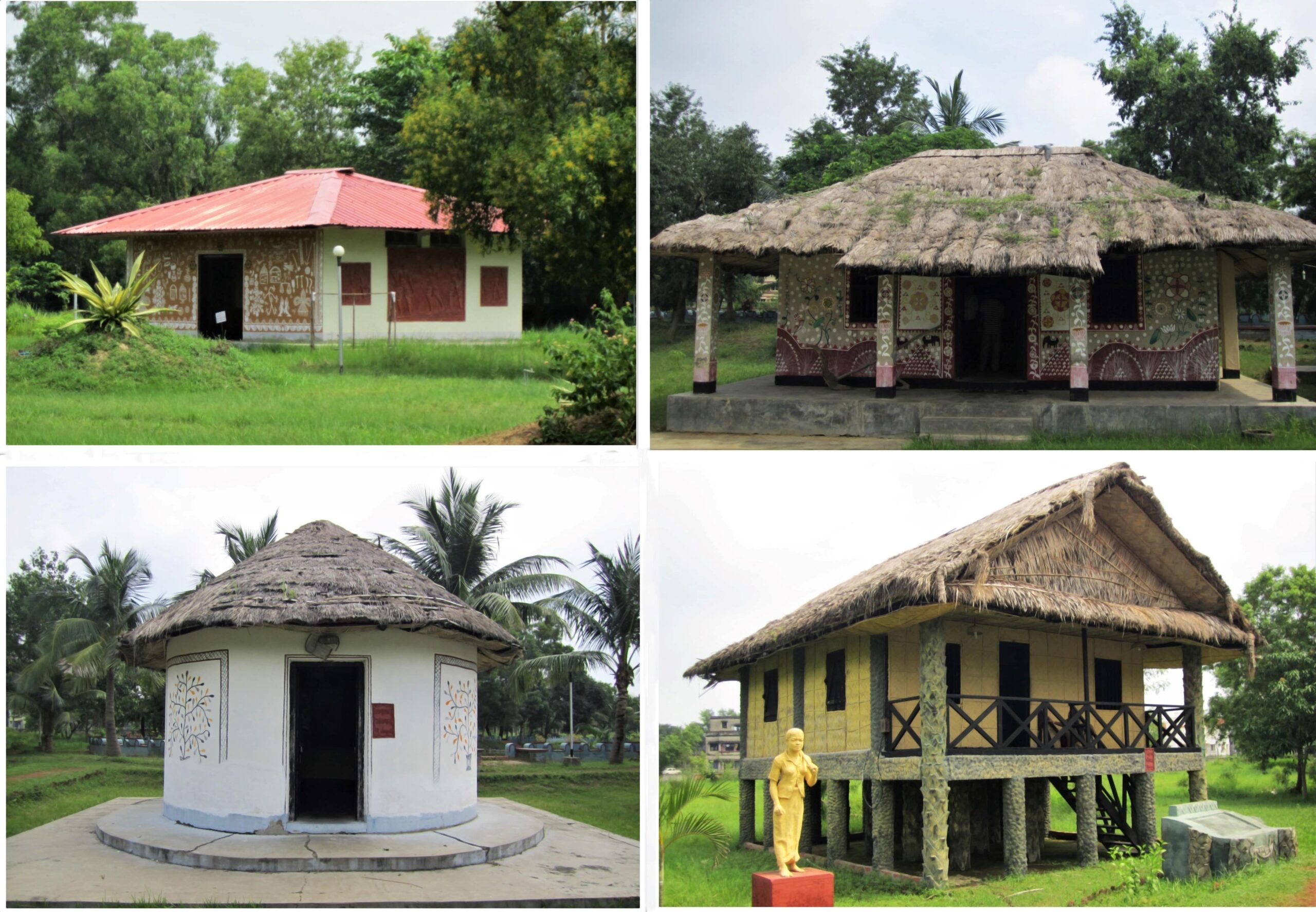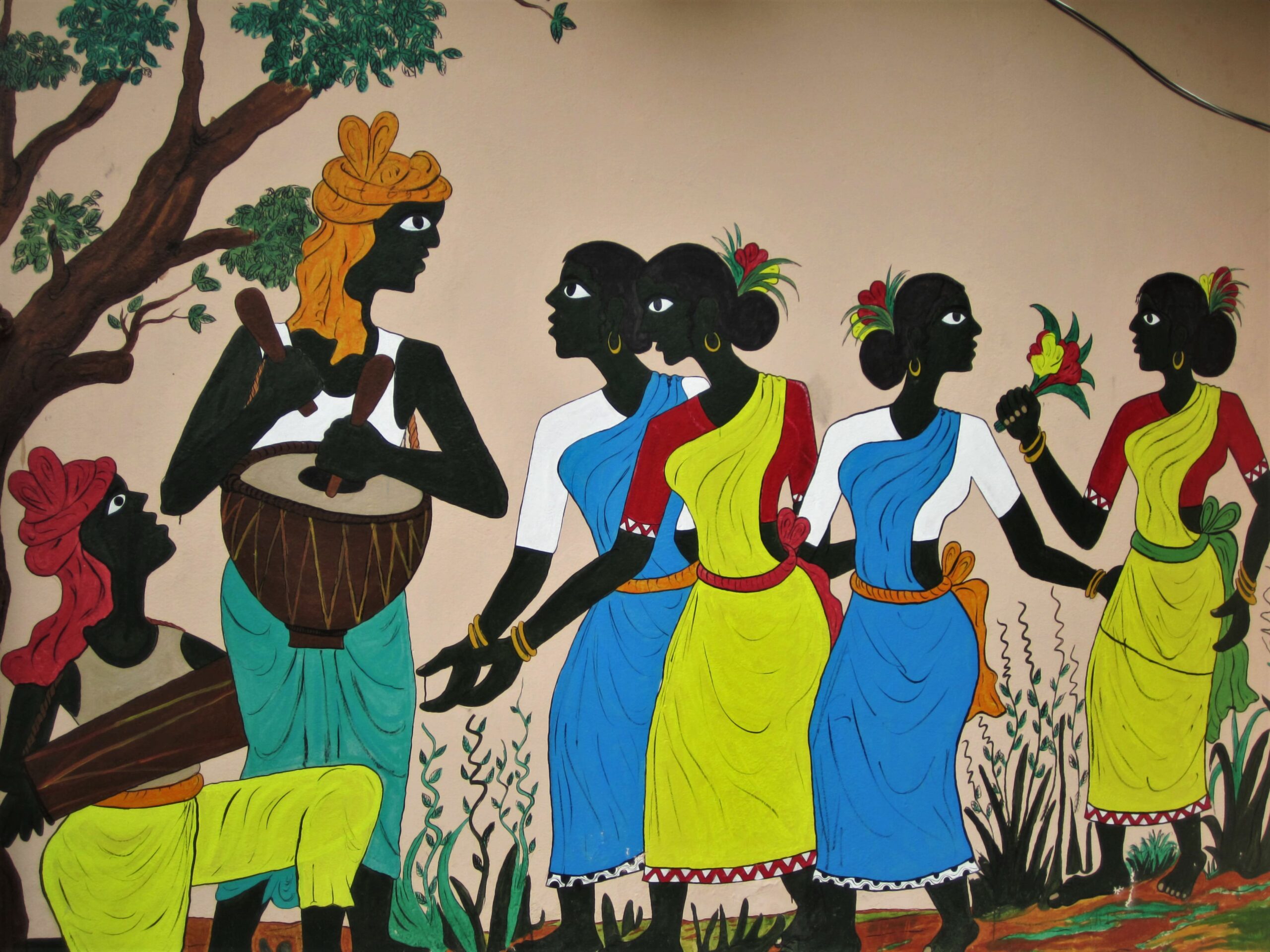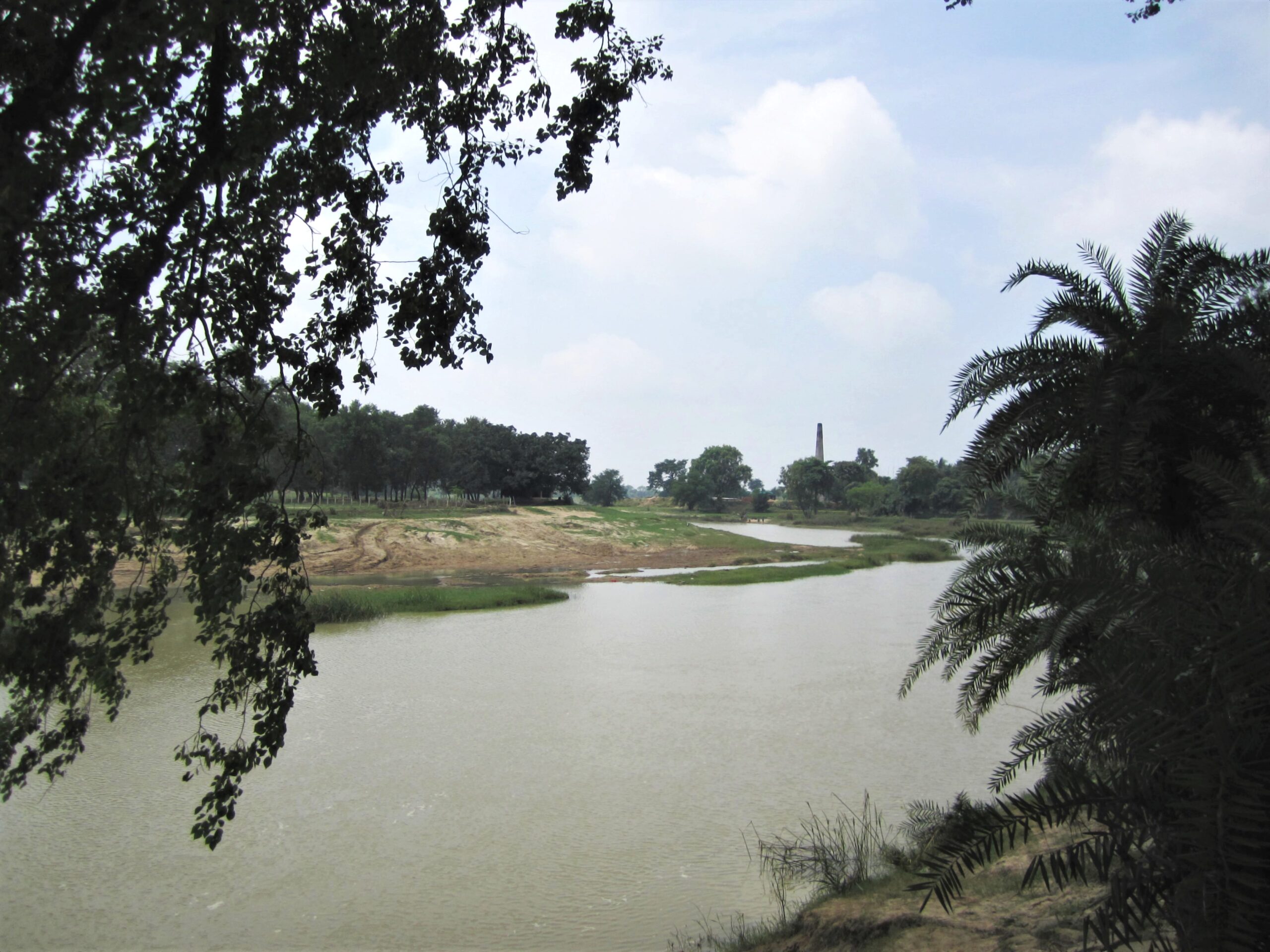 Kankali Tala is situated on the bank of the Kopai River. As per Hindu mythology, after Daksha Yagna when Shiva in his Runda form carried his wife Sati Devi's half burned corpse, parts of her body fell in 51 different places. These places came to be known as Shakti Peethas. Kankali Tala is one of those 51 Shakti Peethas. As per mythology, here Devi Sati's waist fell. Here the Shakti of the temple is addressed as "Devgarbha" and the Bhairava as "Ruru". Unlike other temples, here picture of Devi Kali is worshipped in place of an idol.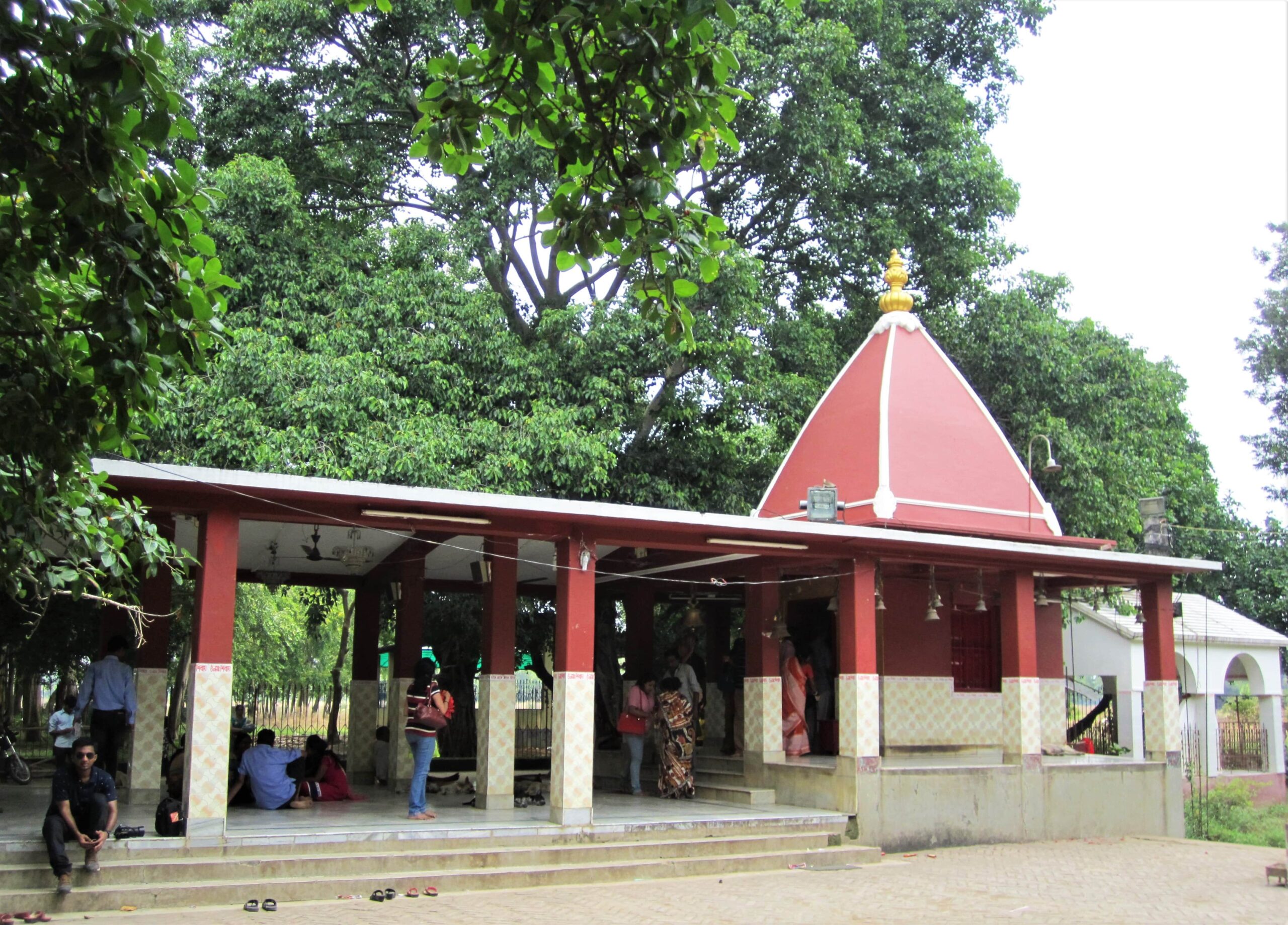 Our next stop was the Vishva Bharati University. The university was founded by Rabindranath Tagore in 1921. It's the only University where the Prime Minister of India is the Chancellor. In the university complex we got to see The Chhatim Tala (meditation place of Maharshi Debendranath Tagore, father of Rabindranath Tagore), Cheena Bhavan (Institute of Chinese Language & Culture), Sangeet Bhavan (Institute for promoting folk dance, arts, drama & music), Upasana Griha (Meditation Centre), Kala Bhavan (Institution of education & research in visual arts), Tal Kutir, Teenpahar (Banyan Tree), library etc.
Chhatim Tala is closely related to Vishva Bharati University as the students who are graduated from here are honoured with a branch of Saptaparni tree here. Cheena Bhavan was established by Rabindranath Tagore in 1937 for strengthening the age-old cultural ties between India and China. The Upasana Griha or the Glass House is also worth mentioning. This multi-coloured Belgium glass-walled prayer hall was constructed by Maharshi in 1863. As the name shows, prayer is held here on every Wednesday evening.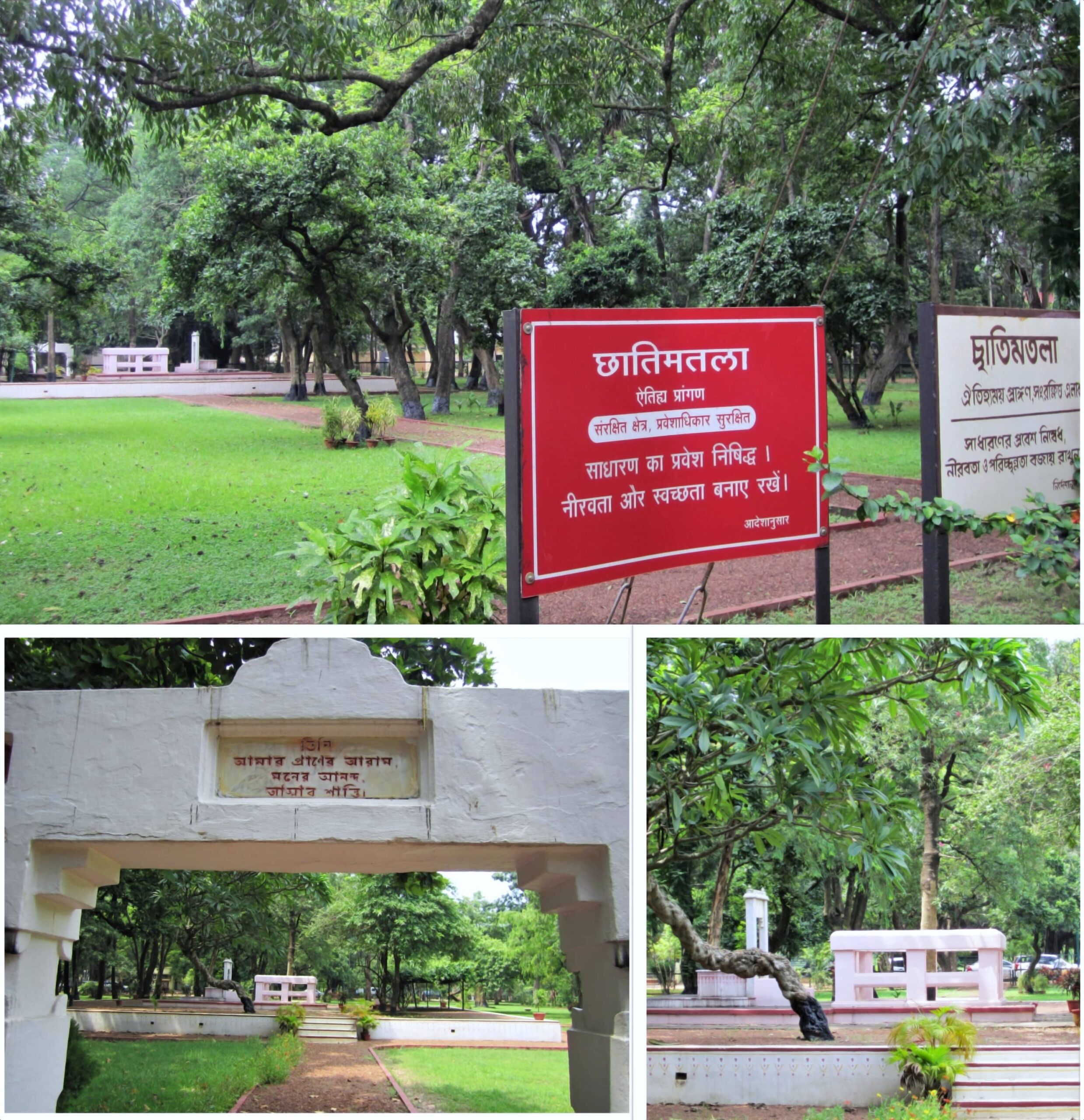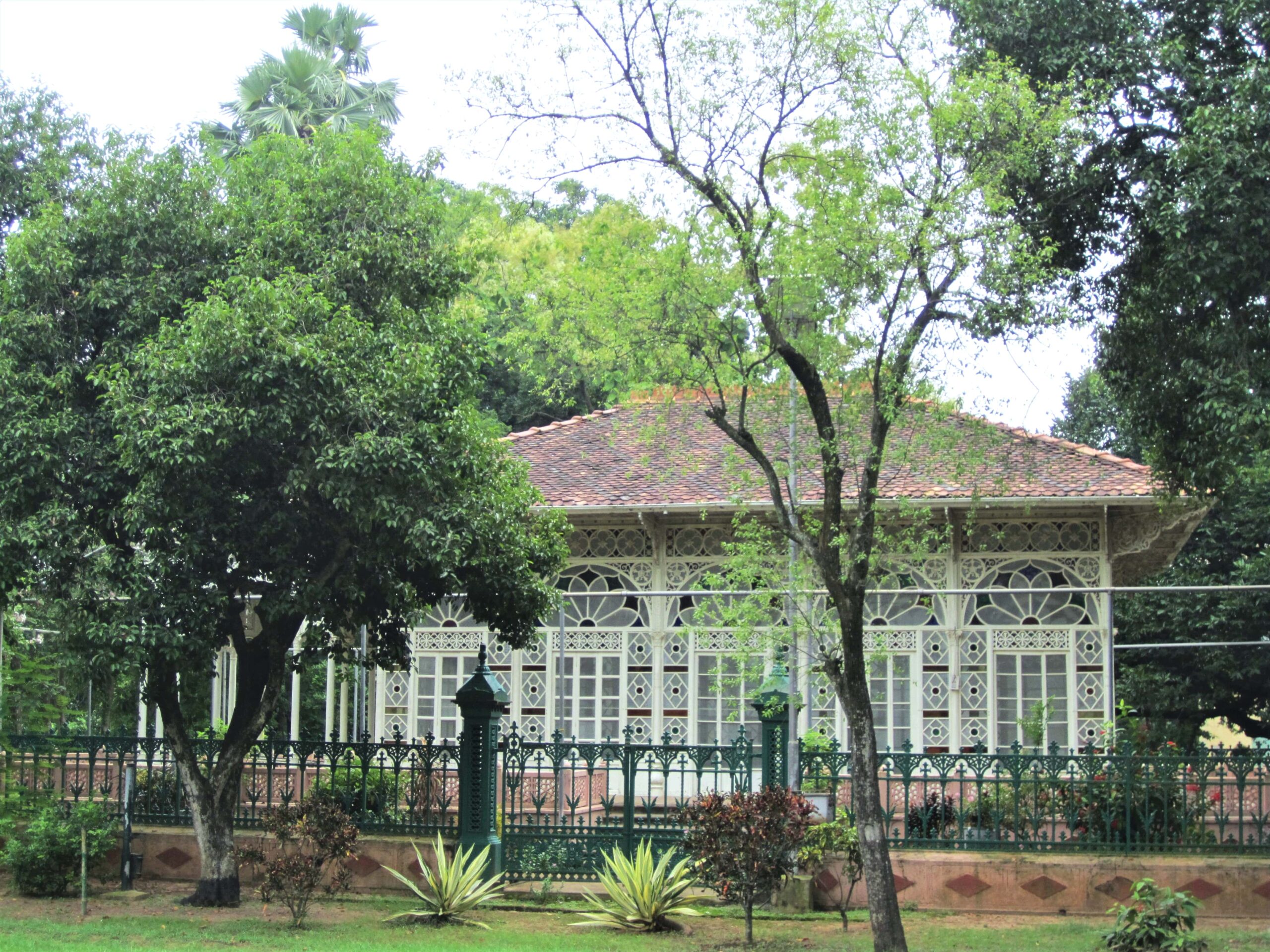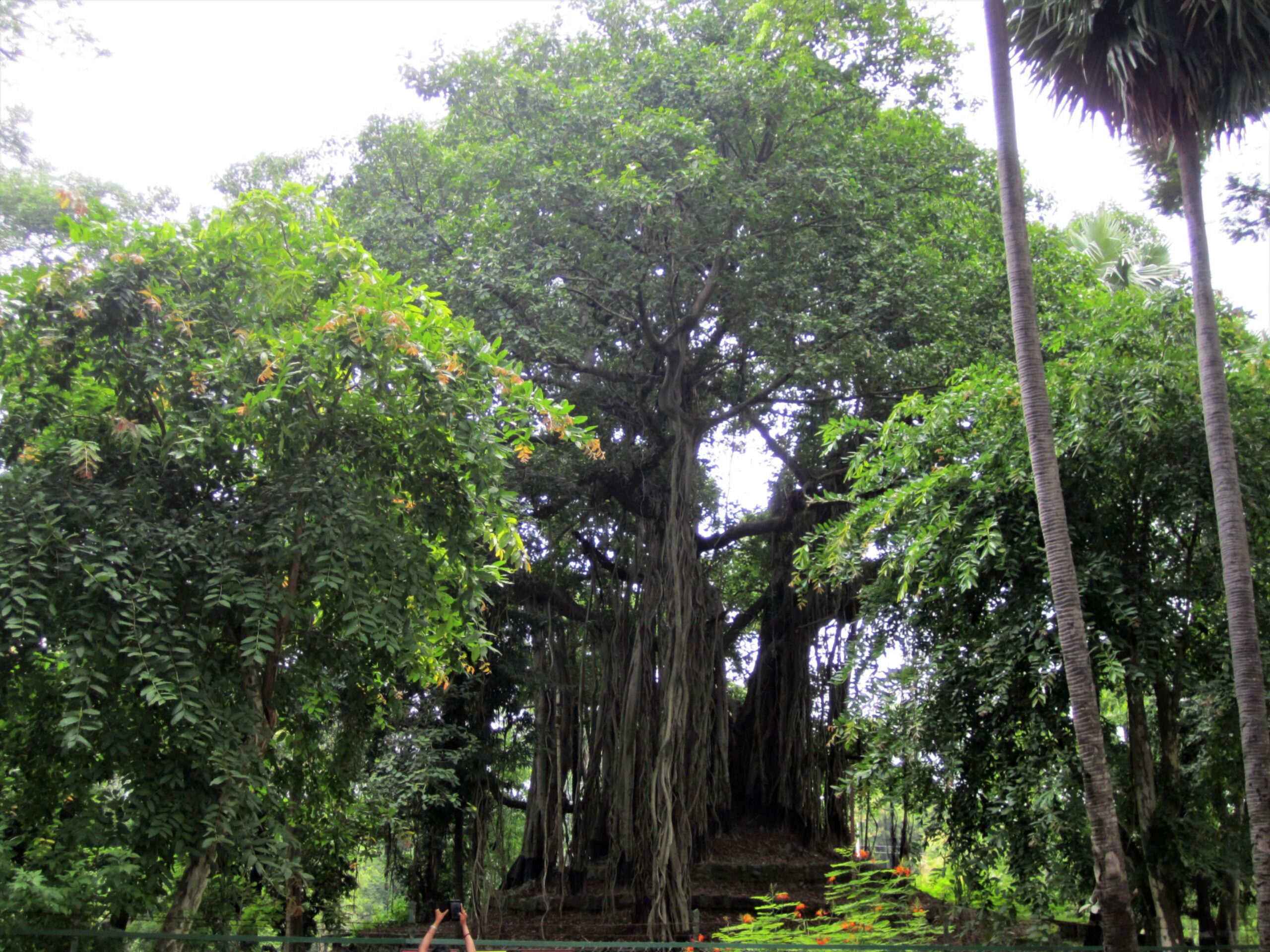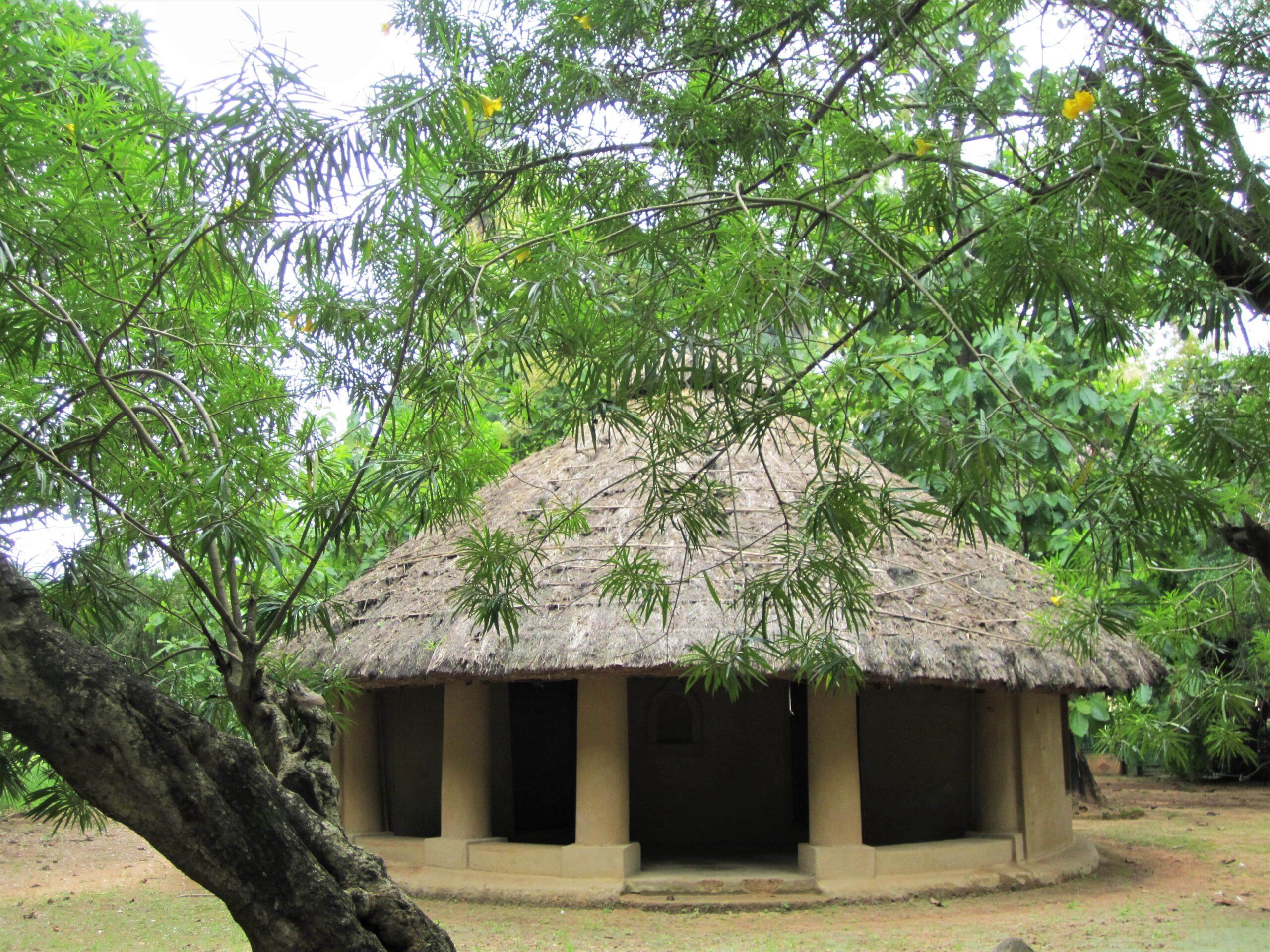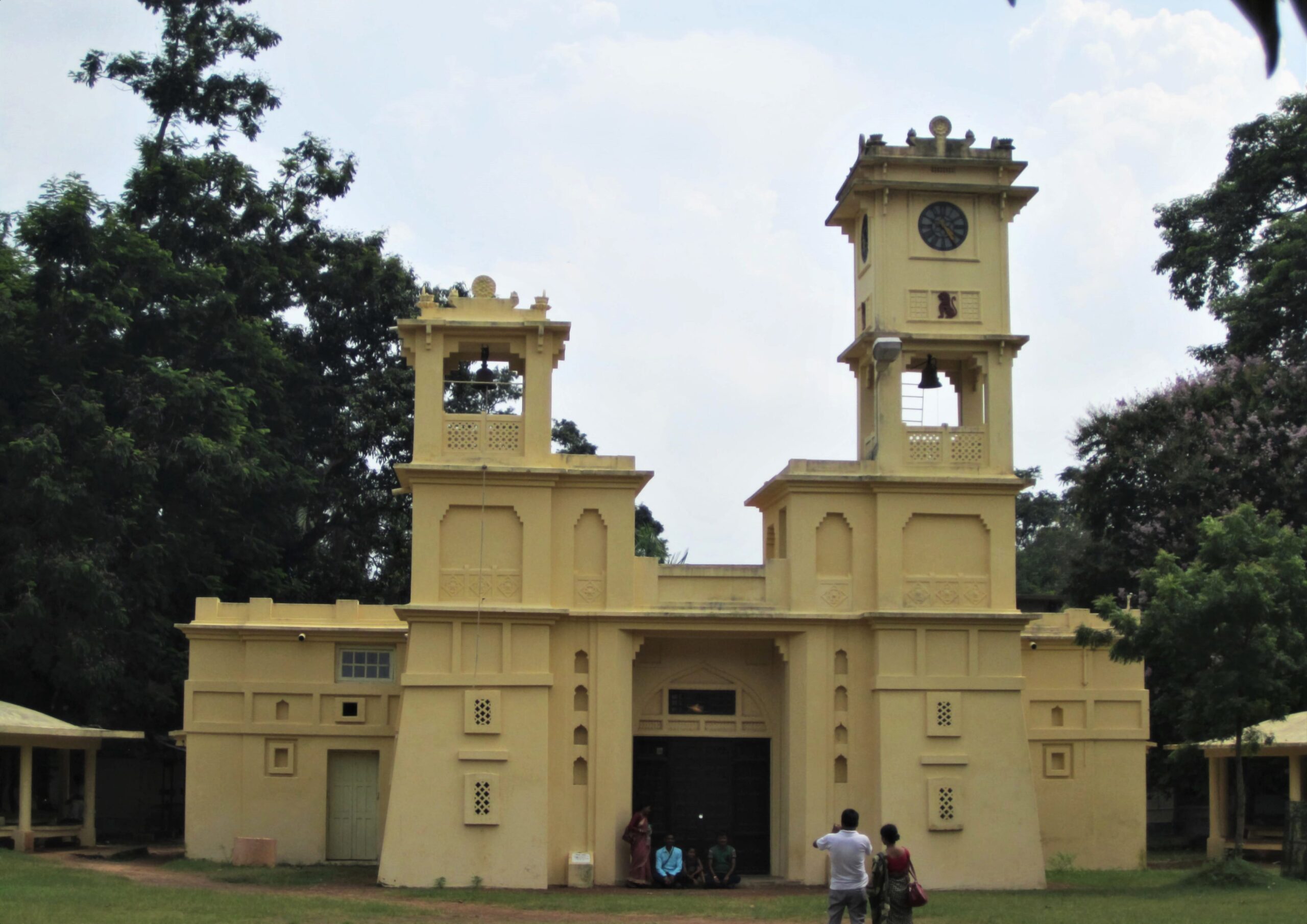 Since it was the lunch time and the ticket counter was about to close, after spending an hour in the complex without making further delay, we went to Rabindra Bhavan which is in the Uttrayan Complex. There are 5 buildings in this complex, all turned into museum, displaying the utensils, dresses, furniture, books used by Kabiguru. This complex also displays the replicas of some famous art works like The Sujata, The Santal Family of the famous artist Ramkinkar Baij.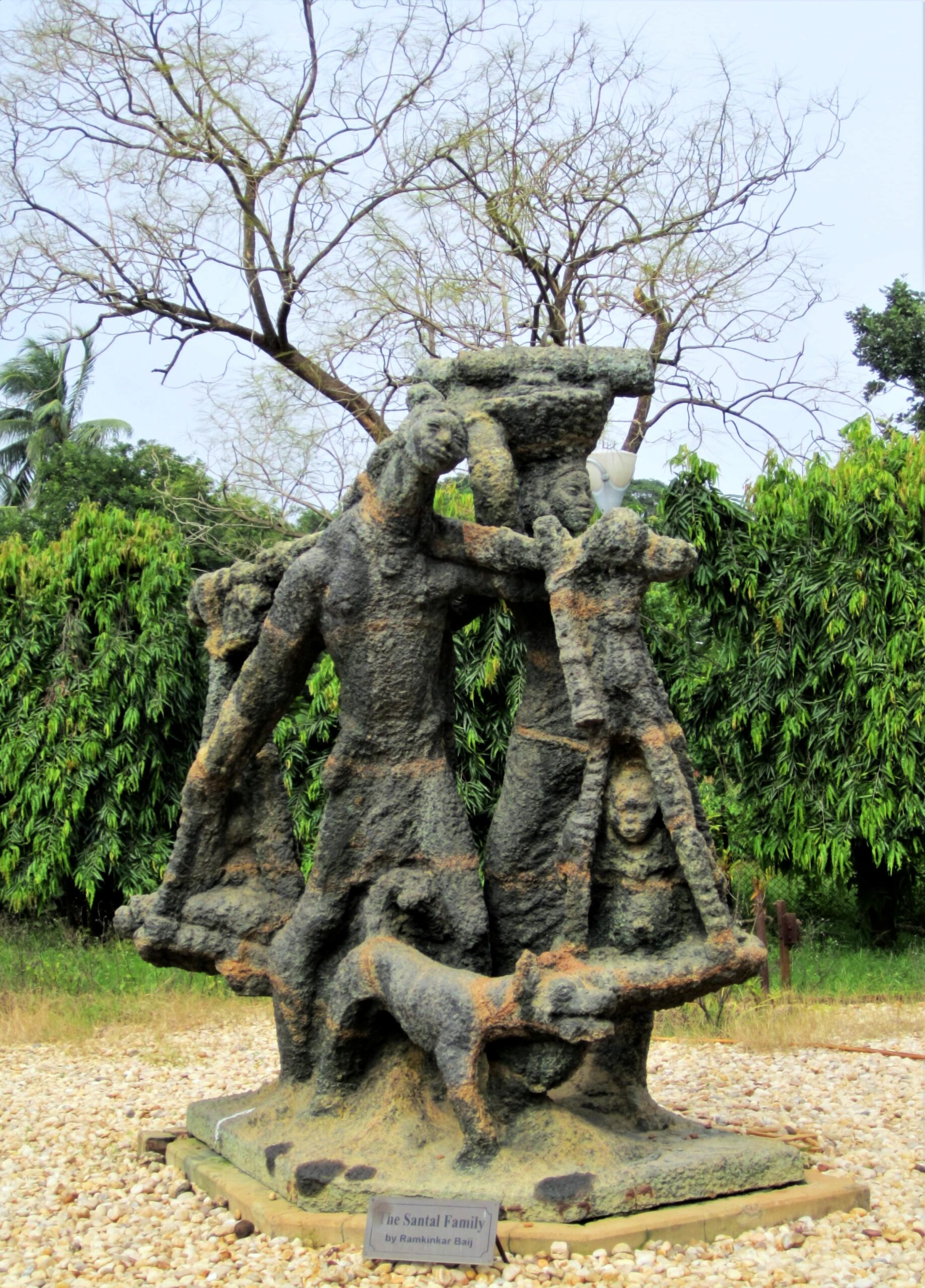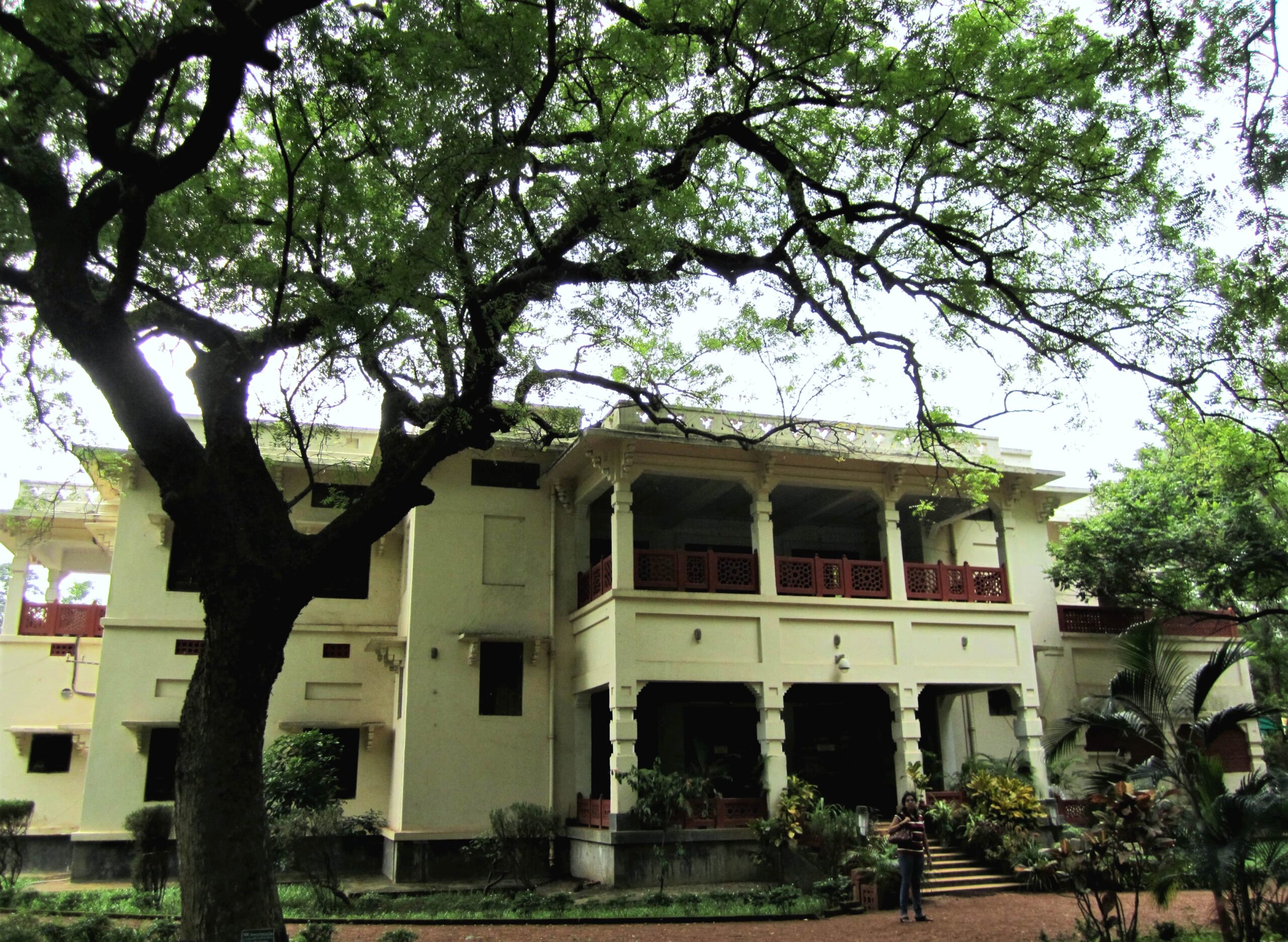 It was already late afternoon when we realized that we need to fuel ourselves with some food and water to continue further. Our Toto driver was too kind to take us to the Kharimati resort. Considering the ambience and the mood of our trip, we opted for the Bengali Thali. The food was delicious and reasonable and the best part was they served the food on traditional Kansha (Bell metal) utensils. After lunch we thought of closing our day, but our driver insisted us to go to Amar Kuthir.
Amar Kuthir is a cooperative society for the promotion of arts & crafts. The showroom displayed leather goods, kantha stitched sarees, Dokra showpieces, batik etc. Though, there was not much difference in the prices of the fabrics between Amar Kuthir and Khoai Haat, but leather goods were comparatively cheaper in the Haat. If you are not much fond of shopping but like to collect some souvenir, you can go for leather bag/ small boxes, batik scarfs or traditional Dokra items.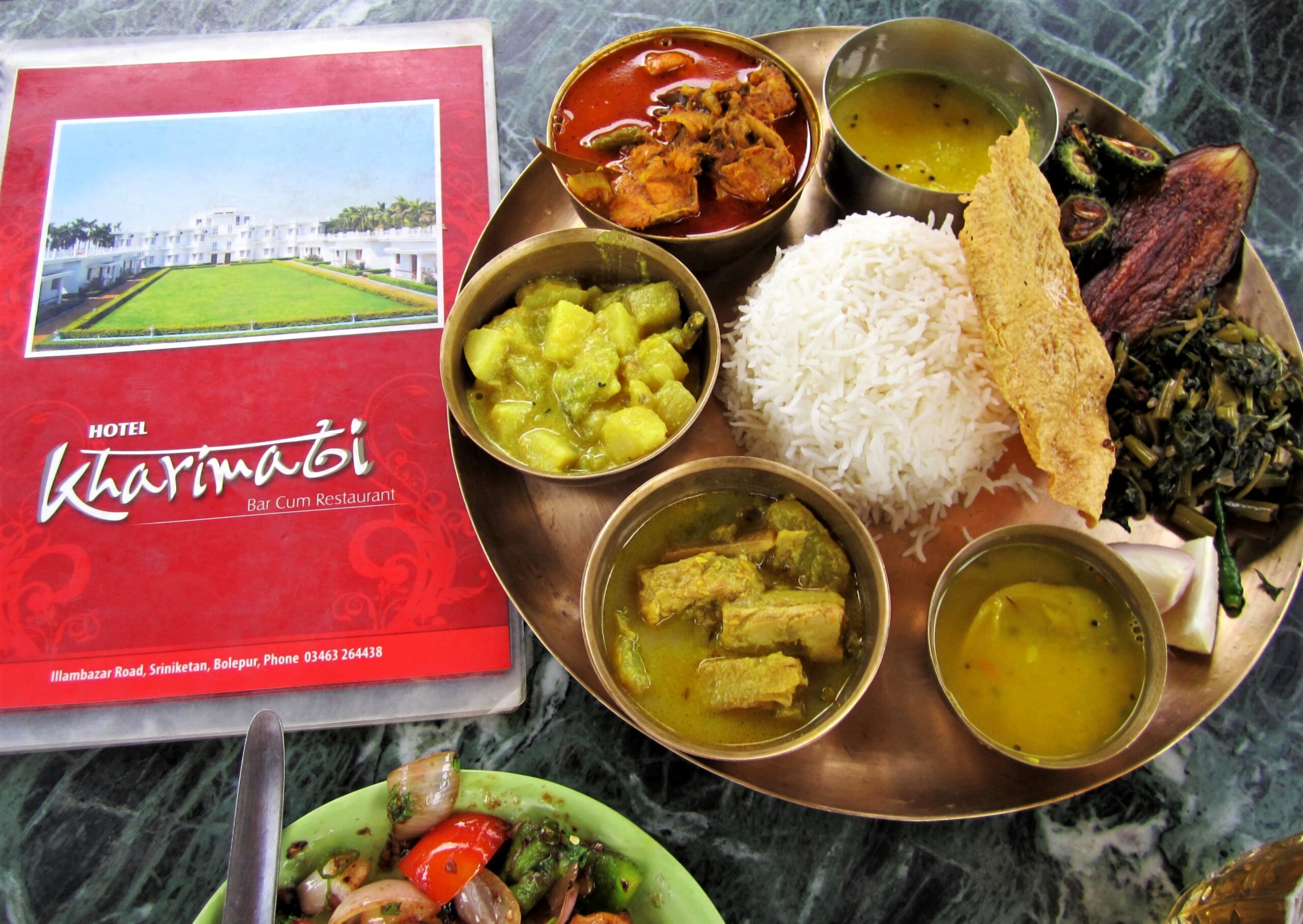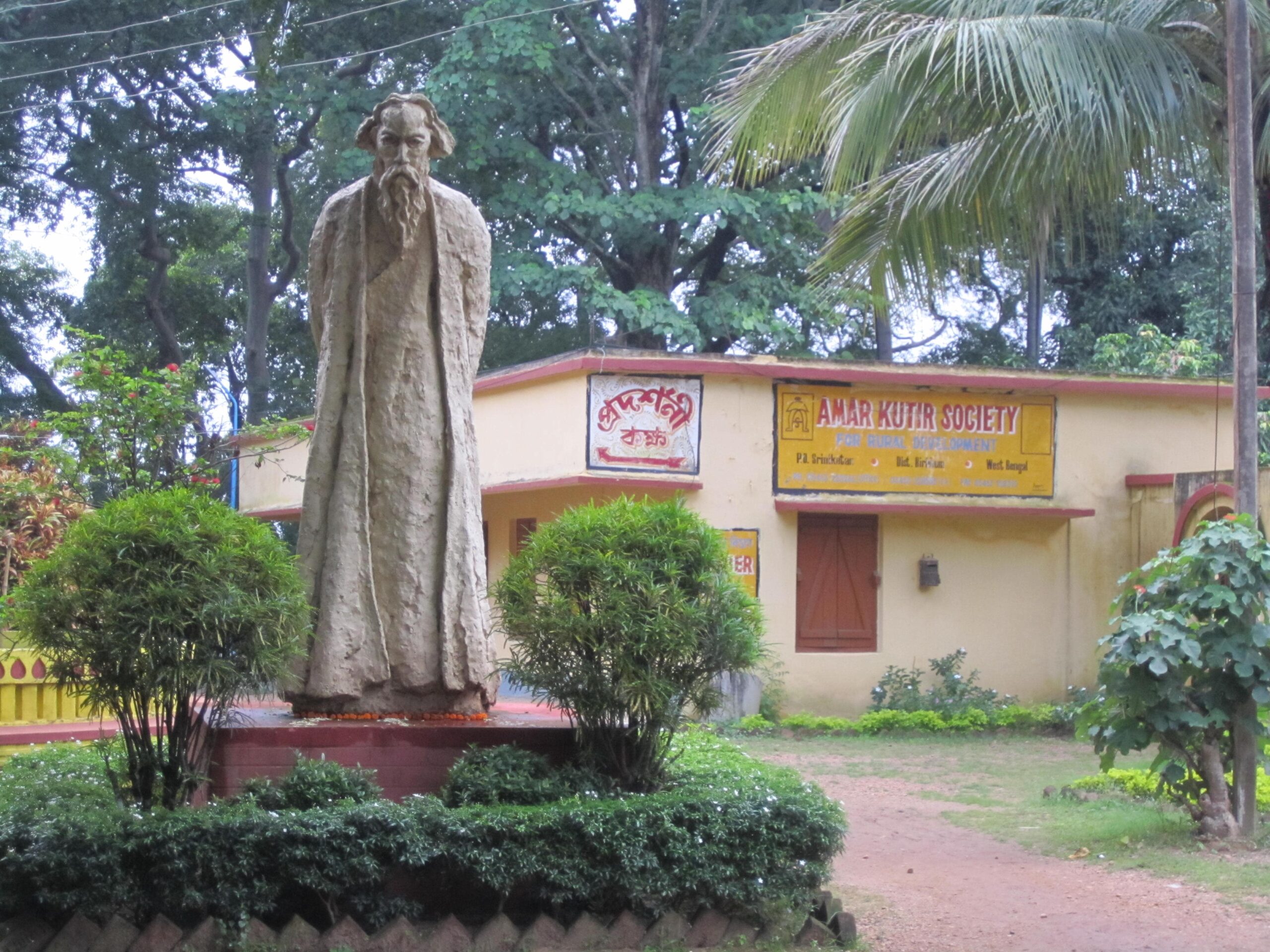 Next day, on the way back to Kolkata, we covered the Geetanjali museum. It's just outside the Bolpur railway station. Even if you are travelling by bus or car, make sure you don't miss this one.
The museum displays many unseen pictures of eminent personalities with Tagore, his family, his work & his inspirations of writings. The main attraction of this museum is the Train Coach in which Rabindranath travelled from Bolpur to Kolkata just before his death. The coach is a beautiful suit with all the basic amenities.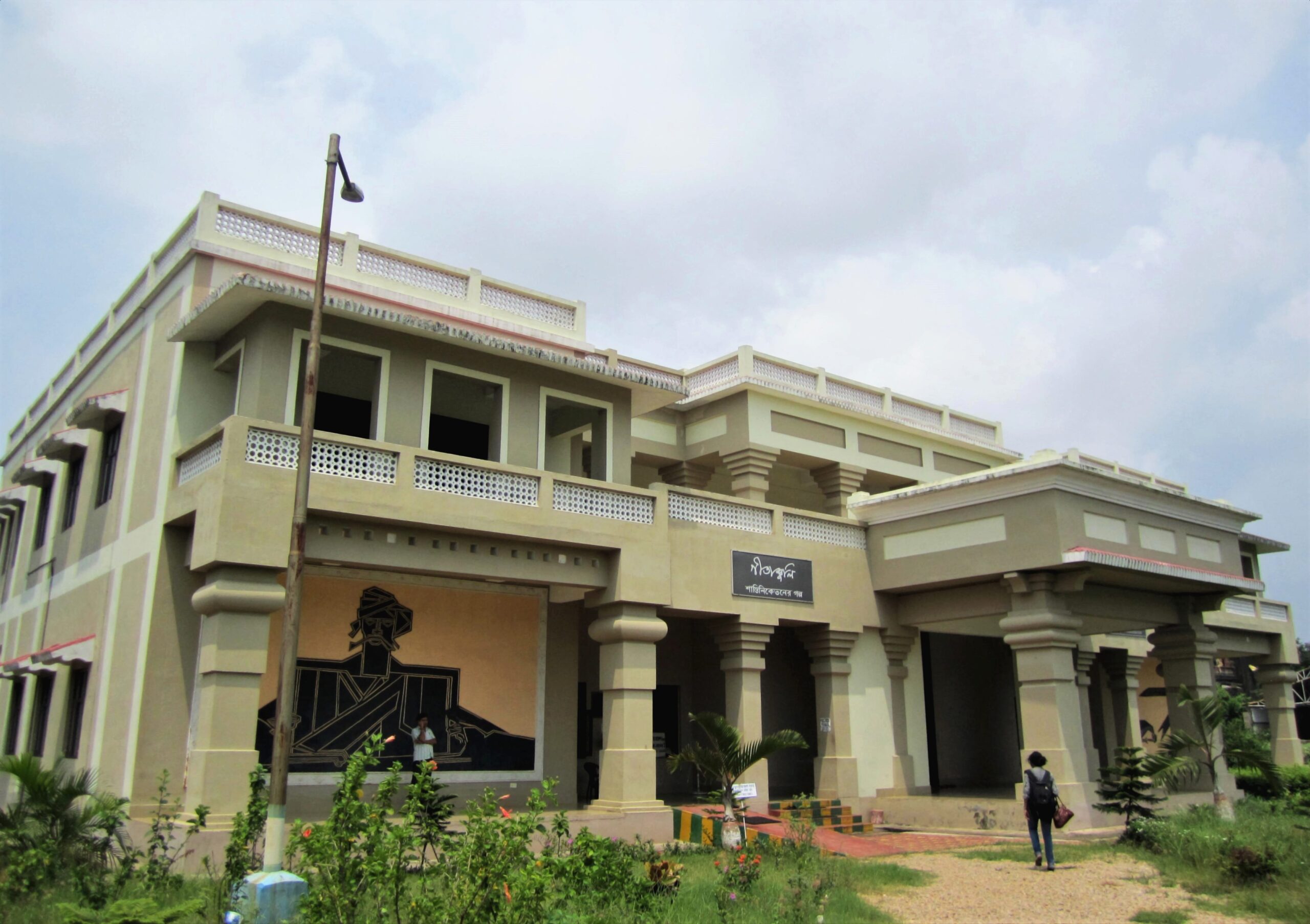 Our trip was in the month of August, hence we missed both the Poush Mela and Holi (Vasanta Utsav). These two festivals attract tourists not only from different parts of the country but also from abroad as well. Poush Mela (Poush Utsav) is the annual fair & festival of Shantiniketan. This six-day celebration commences on 7th Poush of the Bengali calendar (the 3rd week of December). The main attraction of this fair is the live performances of Baul, folk songs, dances and tribal sports. Each day of this festival is filled with different activities and more than 1000 stalls selling handicrafts, fabrics etc. take part in this fair.
Unlike other parts of India, here Holi is celebrated with colour accompanied by beautiful performances by the students of Vishva Bharati on the songs composed by Kabiguru. "Ore Griha Bashi…" is the song which marks commencement of this celebration. So if you want to be a part of this grand event, plan your trip in Spring, during Holi. Due to huge rush, getting accommodation that time might be a bit challenging. So, if you want to experience Vasanta Utsav here, do book your stay beforehand.
We didn't realize when this trip ended. Hopefully will try to come here again but either during the Vasanta Utsav, Kobi Pakkha (Tagore's Birthday) or Poush Mela.
---
Photographs, unless otherwise specified, are captured by 'My India thru' Lenses' team