Reading Time:
4
mins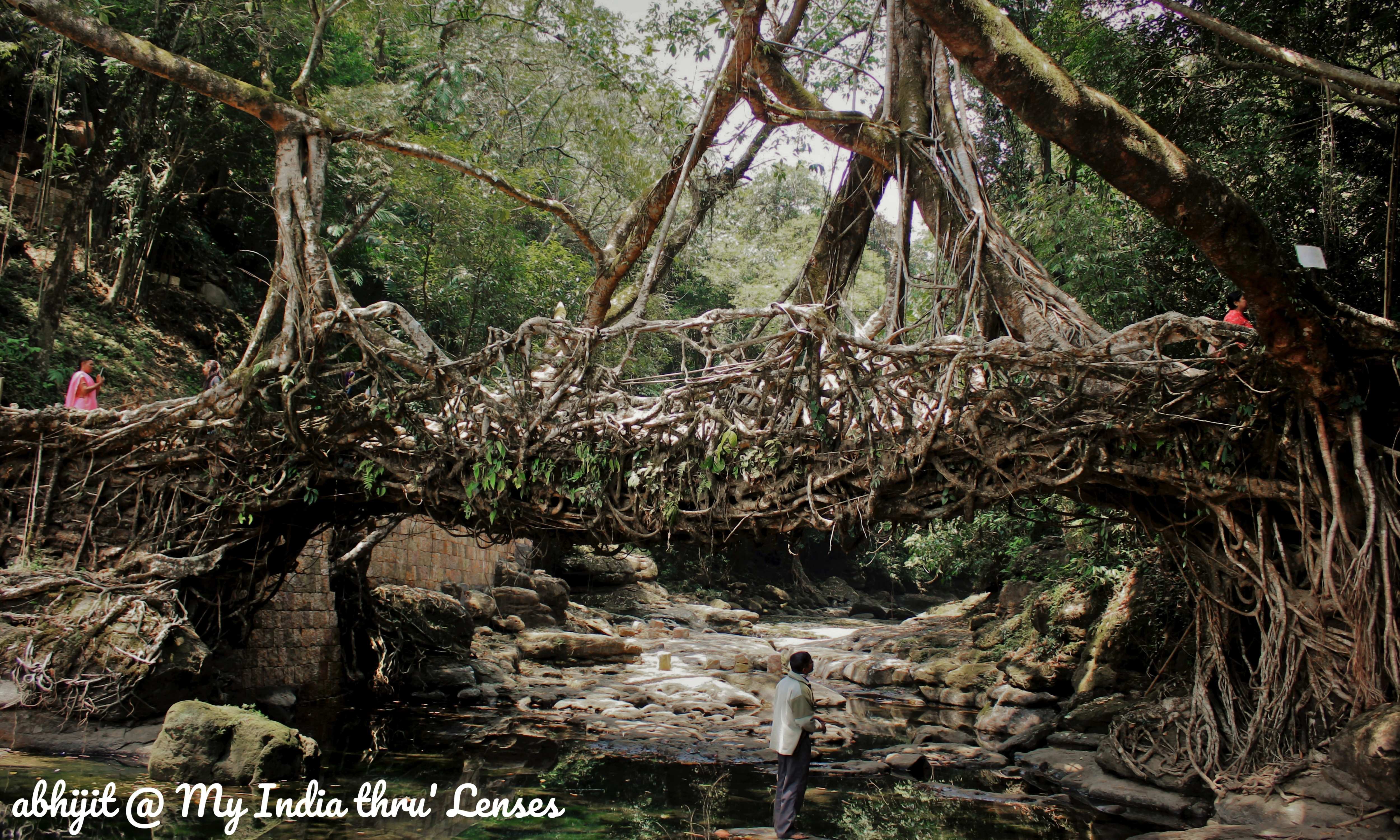 This is my 2nd post on Northeast India, after I wrote 'Umgot River at Dawki, two months back. Meghalaya is such an amazing state that you can write probably hundreds of posts on. We actually planned for Mawlynnong and Dawki on the same day and started quite early in the morning from our hotel in Shillong. Our first destination was the Living Root Bridge in Mawlynnong. Mawlynnong is around 80 kms from Shillong and it took us around 2.30 hours as we wrapped up a few viewpoints that comes in the way.
---
Wow! was the word, which I don't remember how many times I uttered during our Shillong- Guwahati trip. The beautiful waterfalls, lush green Khashi Hills, and the grand canyons of Cherrapunji were not the end. There were more to come and the Living Root Bridge of Mawlynnong was the next in the row.
Years back the local tribes made these bridges by tangling the roots of trees mainly for crossing rivers or trenches. The bridges used to be single decker or double decker. In order to conserve these natural wonders, at present most of those are not used and only few of those are open for tourists. Open for tourists, however, doesn't mean that those are easily accessible. Last year one of my colleagues hiked to the double decker root bridge. It took them around 6 hours to climb up and down. Nevertheless, as per him it was worth. The pictures, which he showed me, were amazing. In spite of having the urge to trek the way to the double decker, considering my slip disk issue, we dropped that bridge and went for the single decker which was around 15-minute walk (rocky steps) from Mawlynnong.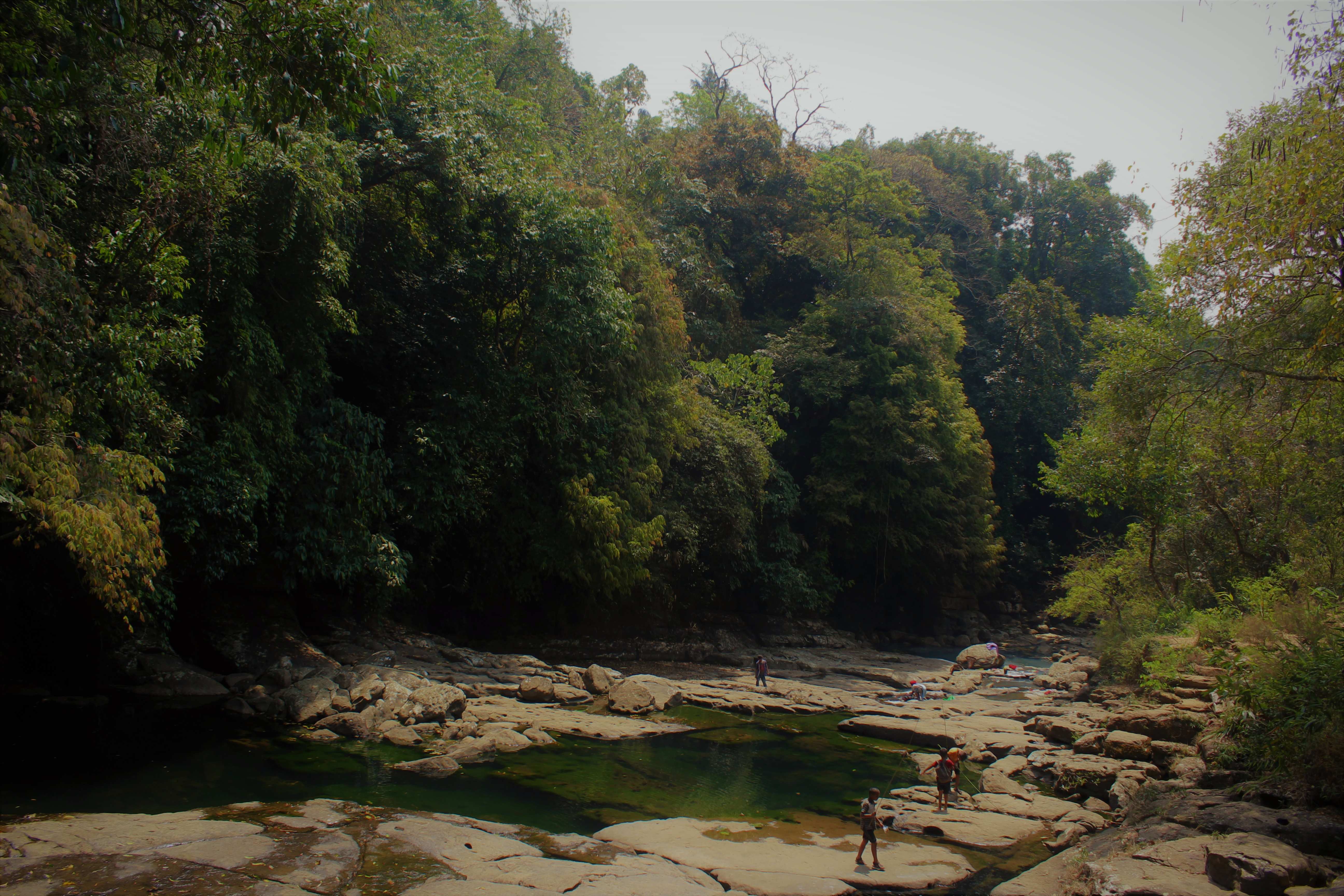 Unlike Shillong, Mawlynnong was hot and sunny. Throughout the way down to the bridge, I was panting and trying to hide from the sun. But the first glance of the bridge made me forget about the sun. There were two big age-old trees whose roots were entangled in the form of a bridge in a backdrop of greens and potholed stream. Everything was green and fresh. It was serene. There were local people issuing INR10 tourist pass. We were allowed to cross the bridge but not stand on it. We crossed the bridge, came down a few steps and was able to capture the best picture of this trip.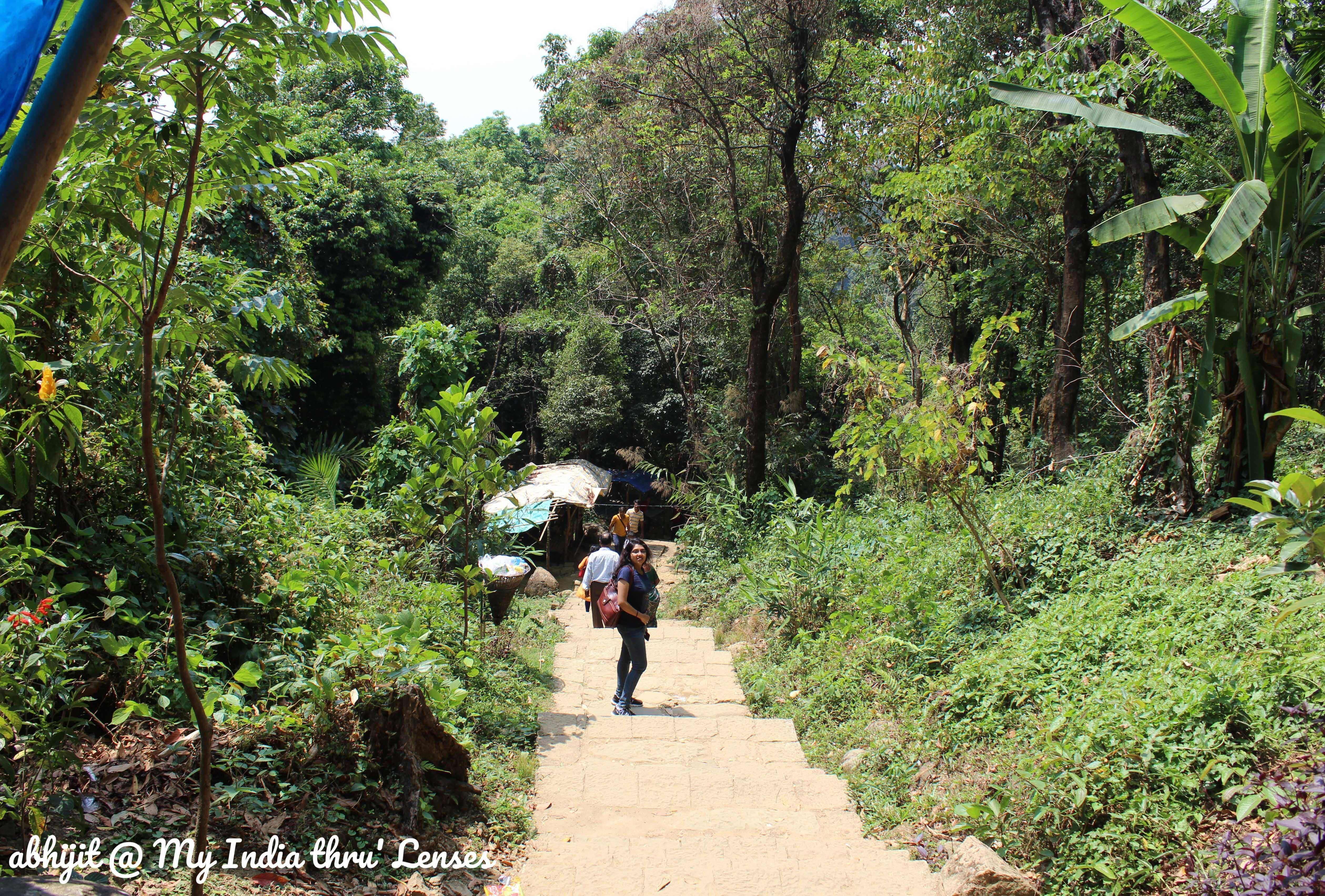 On the way to the bridge, there were makeshift stalls from where we bought a couple of showpieces. Whatever we bought, bargaining was the common factor. Initially I felt I might have got cheated, but trust me, next day only I repented for not buying the wall hanging of miniature Khasi weapons and musical instruments from there.
There were a couple of local restaurants serving basic Bengali and Khasi food like rice, roti, chicken etc. I would not say much about the taste of the food because at that time that food was a savior.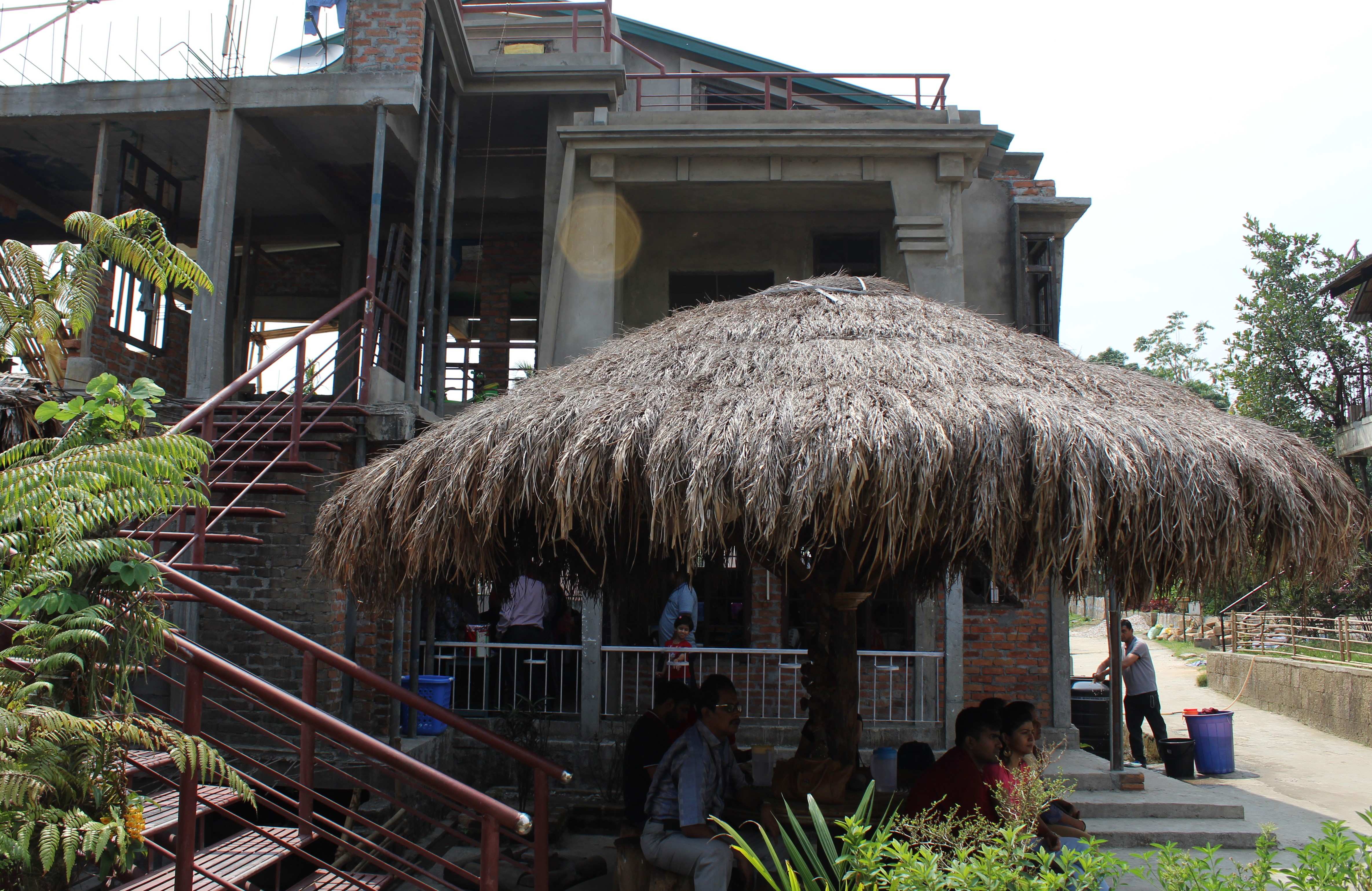 After lunch we went for a walk across the village. In the year 2003, the travel magazine Discover India declared the village as the cleanest in Asia. The roads, houses, gardens were clean enough to claim this status. I felt someone might have swept away the dirt few minutes back! There were bamboo baskets at every corner to discourage people from littering. I wish not only these handful people but also, all the citizens to India in near future will understand the importance of hygiene and will make India the cleanest country of Asia.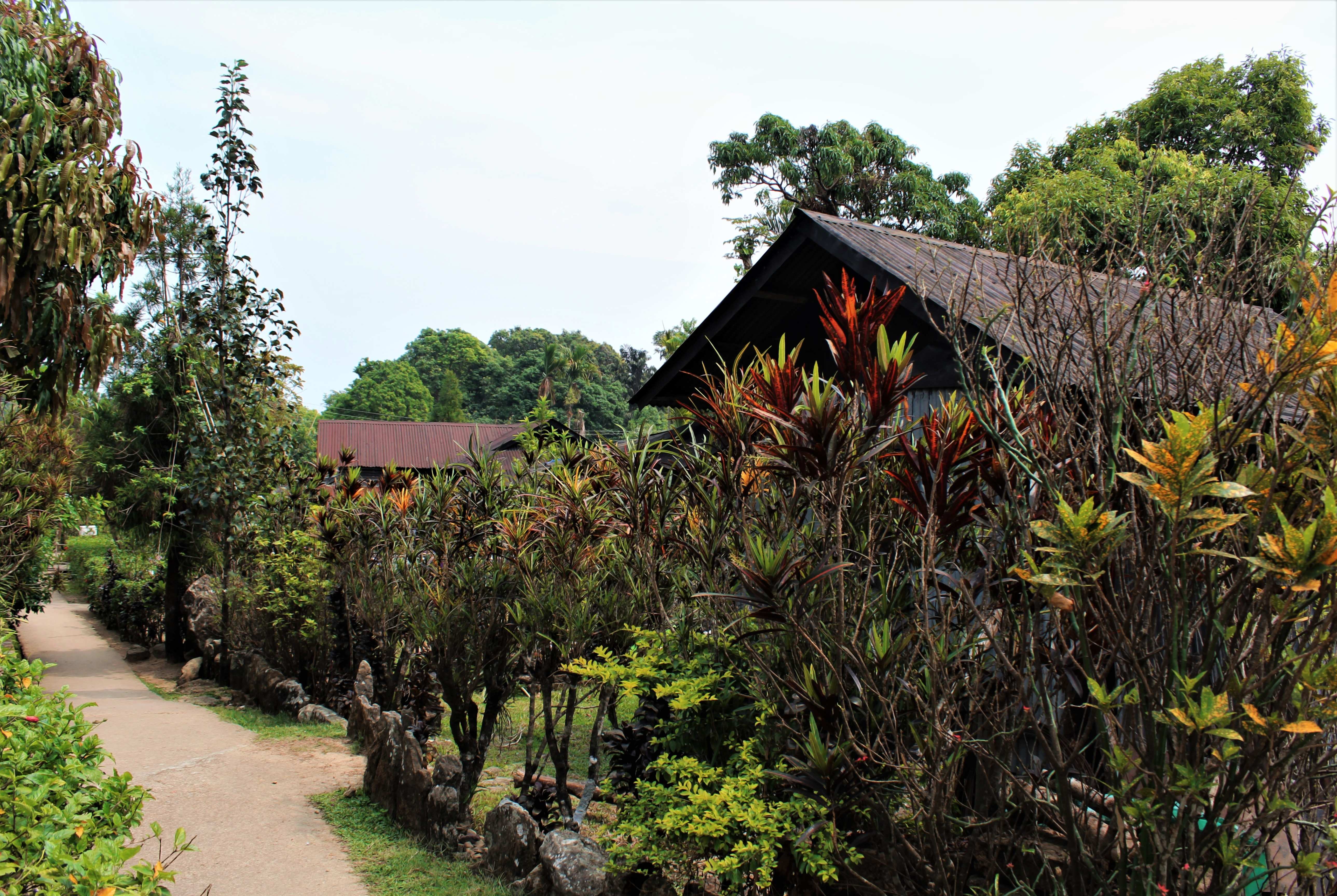 The next amazing thing of Mawlynnong was the balancing rock, where a big boulder perfectly balanced on another small boulder. There was also a view-point from where you would get a bird's eye view of the Bangladesh border. To get the view, one has to climb a steep bamboo bridge, better to call it a pole. The look of the pole scared me, so I parked the 'Bangladesh Darshan' for my Dawki trip.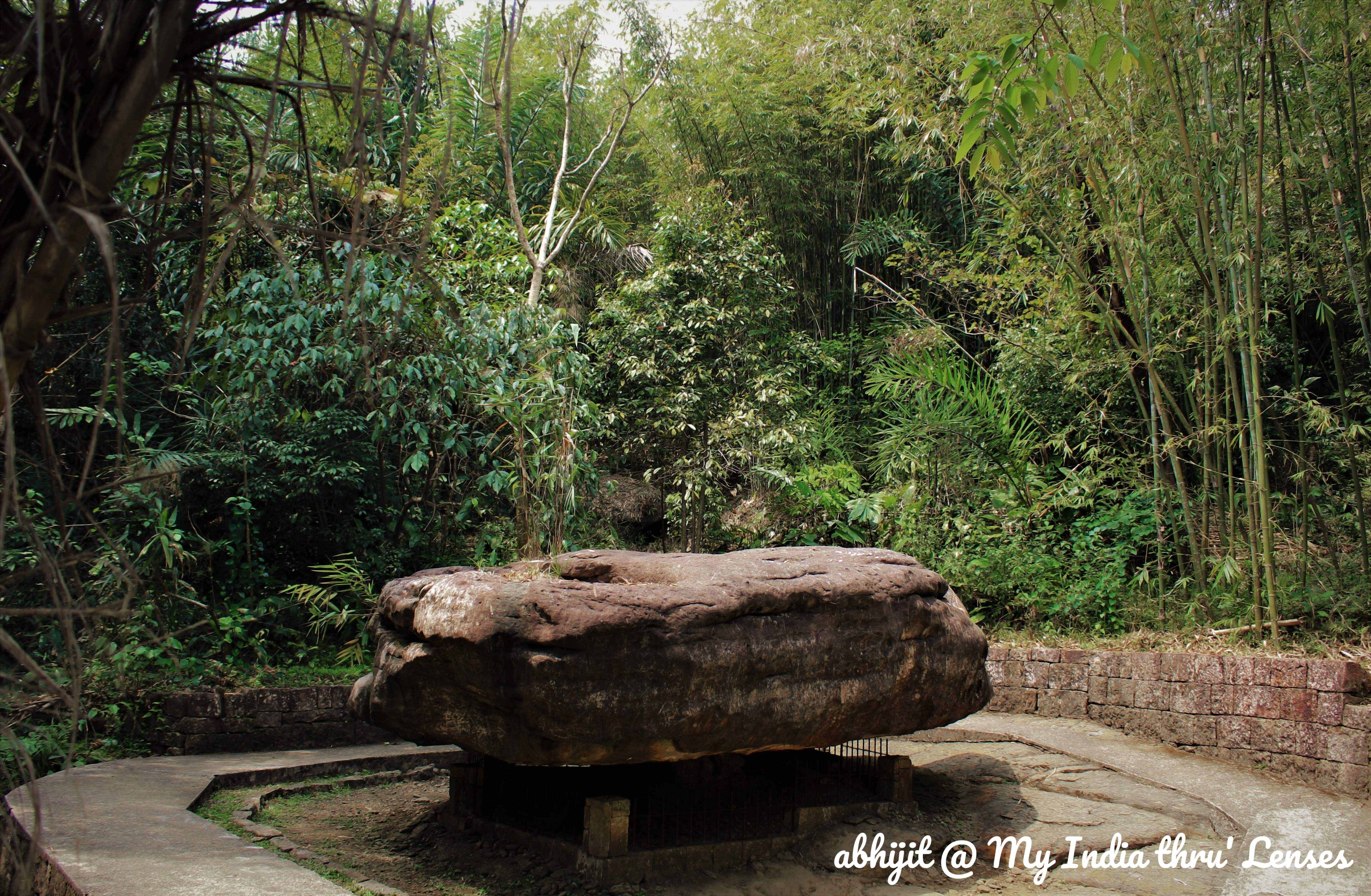 Few things I would like to mention here are, since lots of walking is involved in this trip, you need to be in a good pair of comfortable shoes. If you are fussy about food, better to carry your own morsel. Carry water as that would be needed.