Reading Time:
7
mins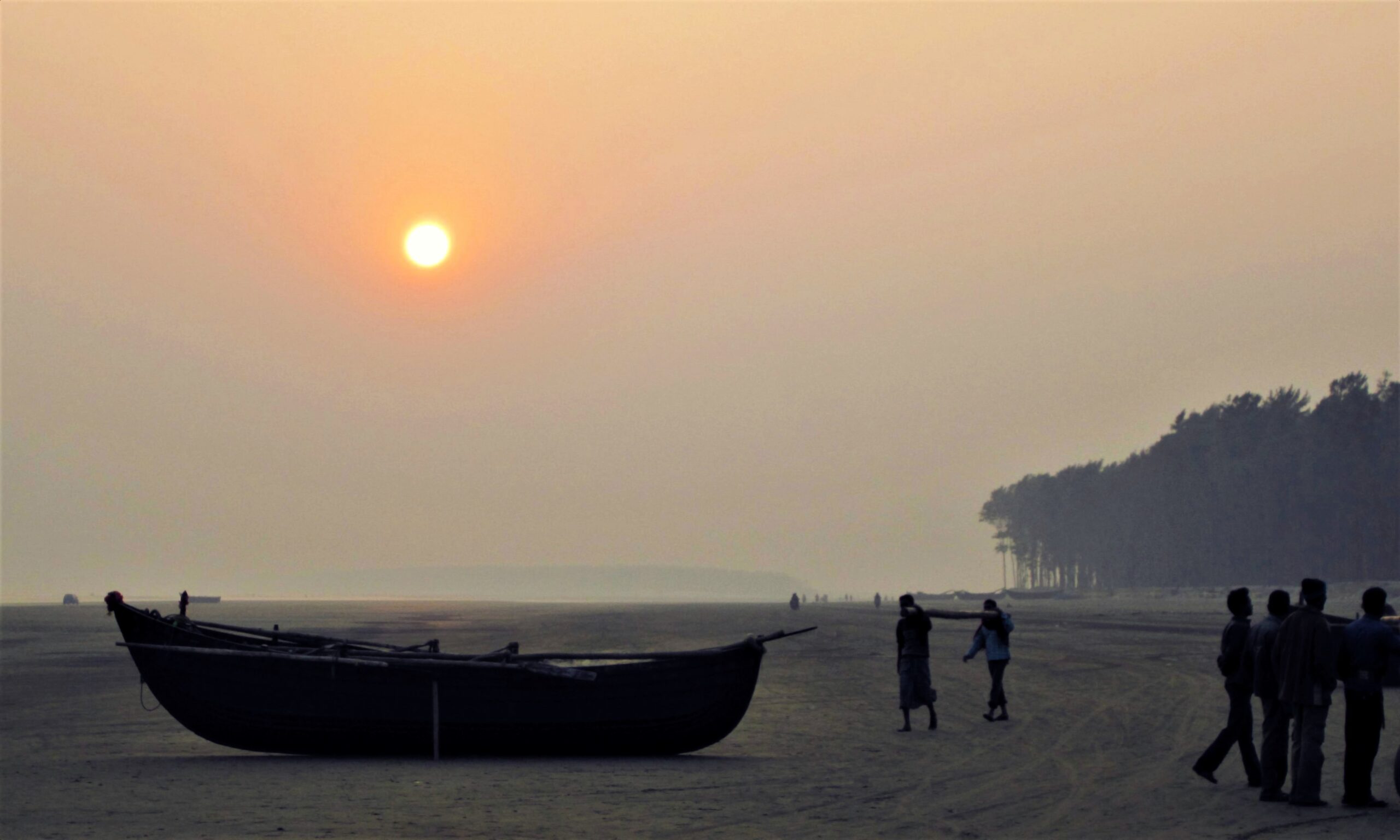 Most of the times when we talk about beaches of India we often end up with Goa, Kovalam, Puri or Andaman & Niccobar. In a country, which is surrounded by seas & oceans on the three sides, it will be injustice if we only focus on these top beach destinations. There are several other serene beaches, which often act as a relaxing gateway for the locals.
Though Kolkata is not a typical coastal city, there are multiple beautiful beaches lying within 50-200 km from the city, like Tajpur, Digha, Bakkhali, Shankarpur, Mandarmani etc. which are good as weekend destinations or ideal for a day's trip. Among these Digha has always gained preference. Digha is located in the East Midnapore District of West Bengal and is around 187 km from Kolkata. This beach was discovered by the British during the late 18th century. Earlier known as Beerkul, the place was described as the 'Brighton of the East' by the first Governor-General of India, Warren Hastings, in one of the letters that he wrote to his wife.
From Kolkata one can reach Digha by train, bus or car. There are multiple trains running between Kolkata and Digha from Howrah station. There are daily local buses as well as Volvo luxury buses available for Digha (most of the buses leave from Esplanade). Also one can book bus tickets using redBus. Digha is not only well connected with Kolkata, but also with all the southern districts of West Bengal and northern parts of Odisha.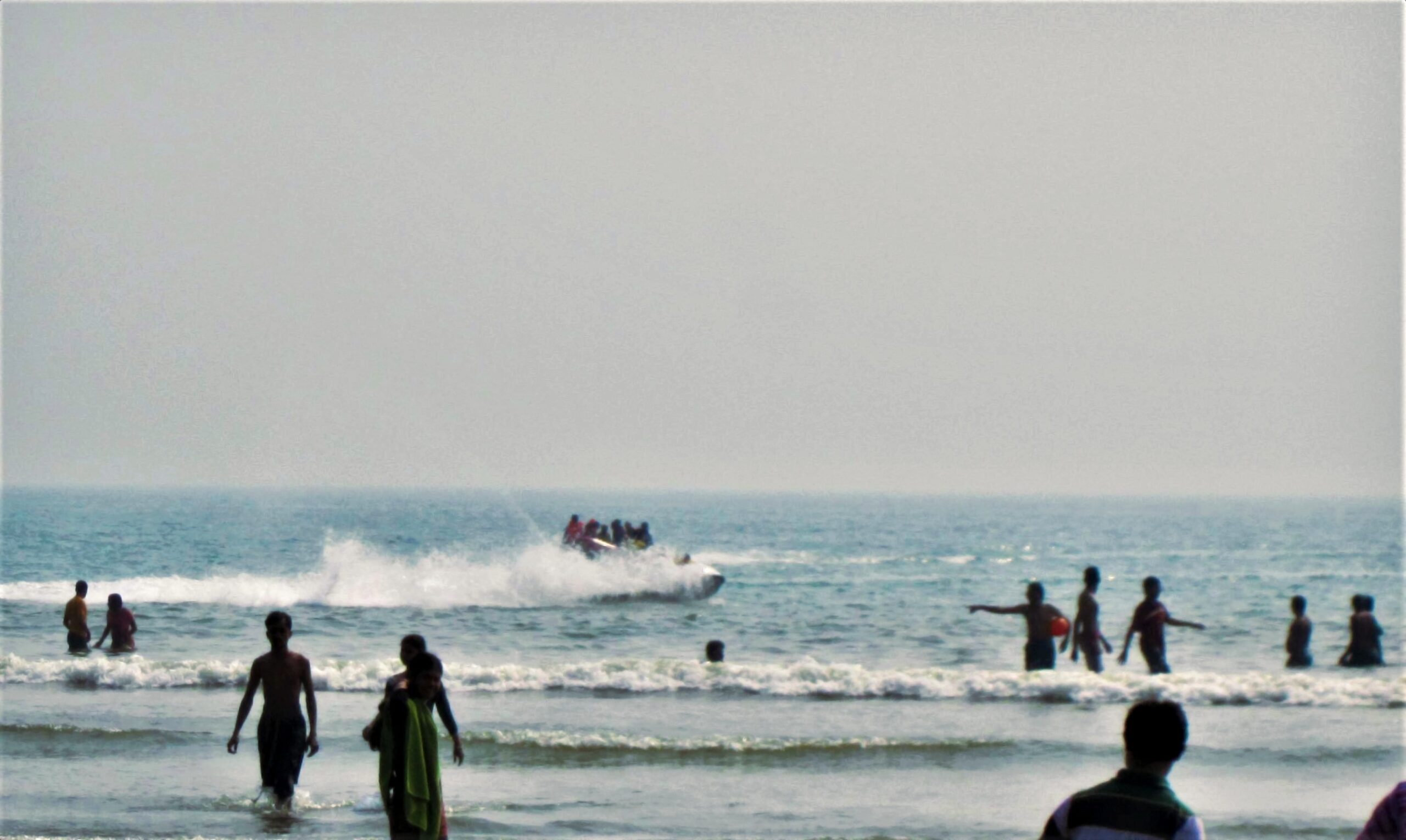 Due to its proximity from Kolkata, Digha has always been a very popular destination for the people of Kolkata and nearby areas. Though people visit Digha throughout the year, due to its hot & humid weather my preference has always been the winters. I have been there in August as well as in December, experiencing two different Digha, turbulent during August and soothing during December.
There are multiple hotels, ranging from budget to 3-star hotels, available in Digha, however unfortunately, very limited options are available for online booking till now. So you have to either call and book the rooms or have to visit their offices for booking.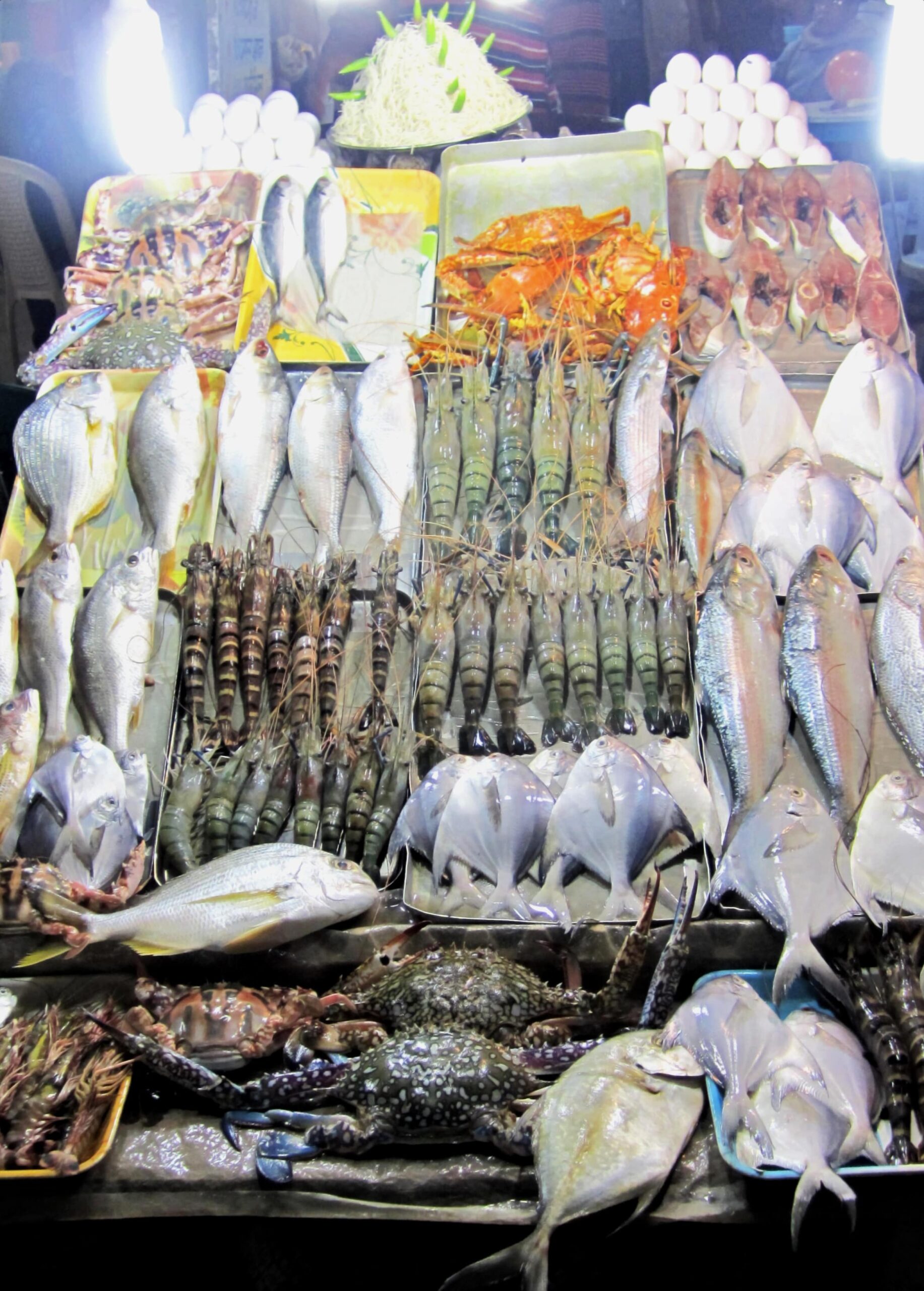 In Digha tourists have the option to relax, shop, eat, roam as well as to play. If you are a 'fisheaterian', in Digha you will find plenty of options for your test buds. There are number of stalls near the sea beach where the local fishermen sell fresh fish in the evening. You can choose your fish and ask them to cook for you. To many, it may seem unhygienic, but we are on an outing, far away from the comforts of our home…street foods will never be yummy if you try to maintain the hygiene of your home there!
We were in Digha for 2 days. Reaching Digha by 2 pm, on the 1st day we did nothing much except enjoying the sunset while sipping coconut water on the New Digha beach followed by relishing fresh lobsters, barramundi or Asian seabass (locally Bhetki) etc. as evening snacks.
Digha is small place where one can take a walk to see the nearby market and other attractions. Next day morning we went to the "Amarabati Park" and "Kajaldighi Park". Both these spots are the initiatives of West Bengal government to promote tourism. If you are a nature lover, you will like the Amarabati Park. Here you can enjoy paddle boating, wander around with your loved ones or can just simply relax under the trees. Inside the park premises there are some small cafés as well. Unlike Amarabati Park, Kajaldighi Park is not that well maintained, however, for a few minutes, it took us back to our childhood days! There is a Toy Train!! All the passengers of the train were kids accompanied by their parents except me, who was accompanied by my husband! It's always good not to lose any opportunity where you can giggle again like a kid.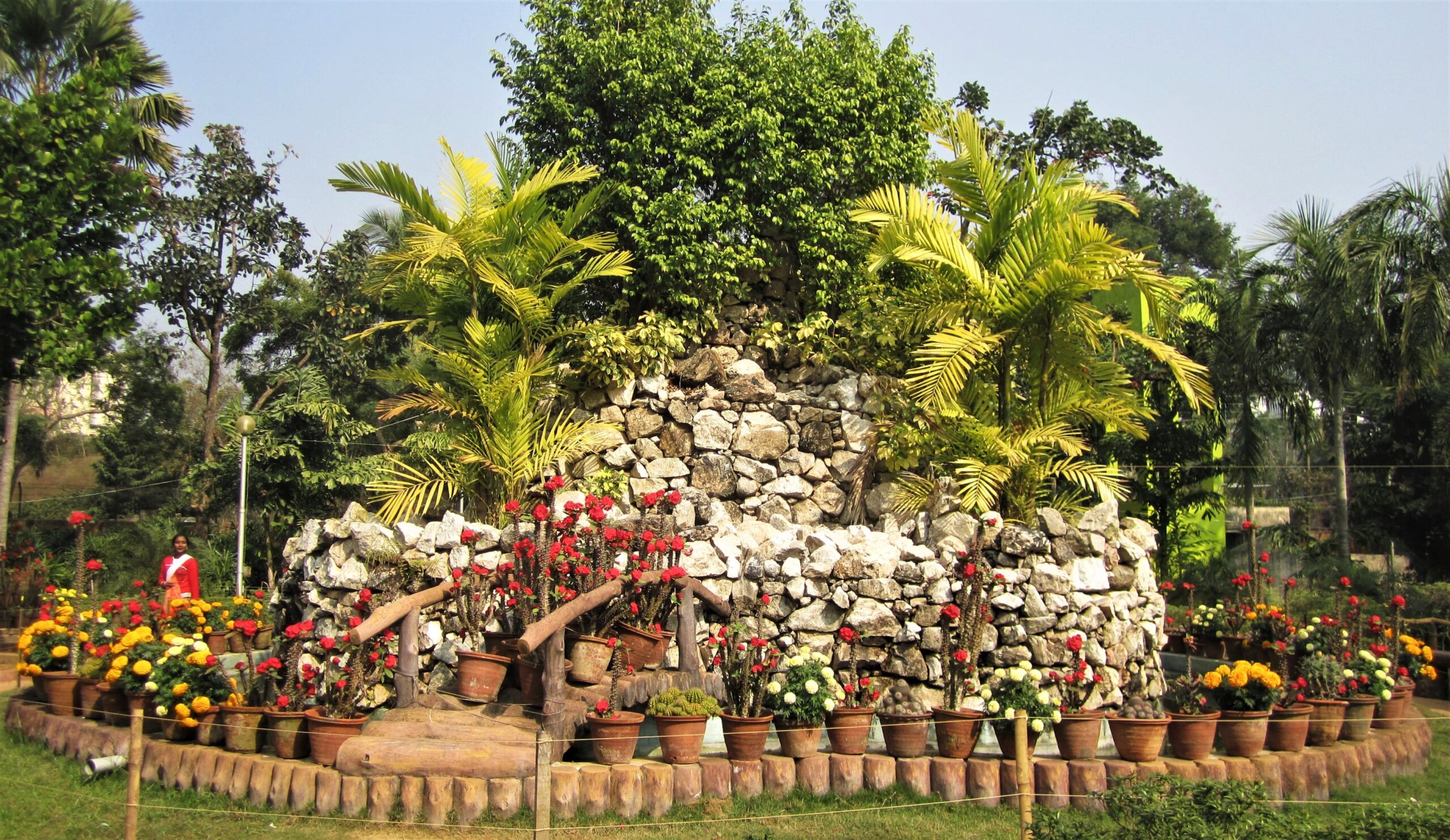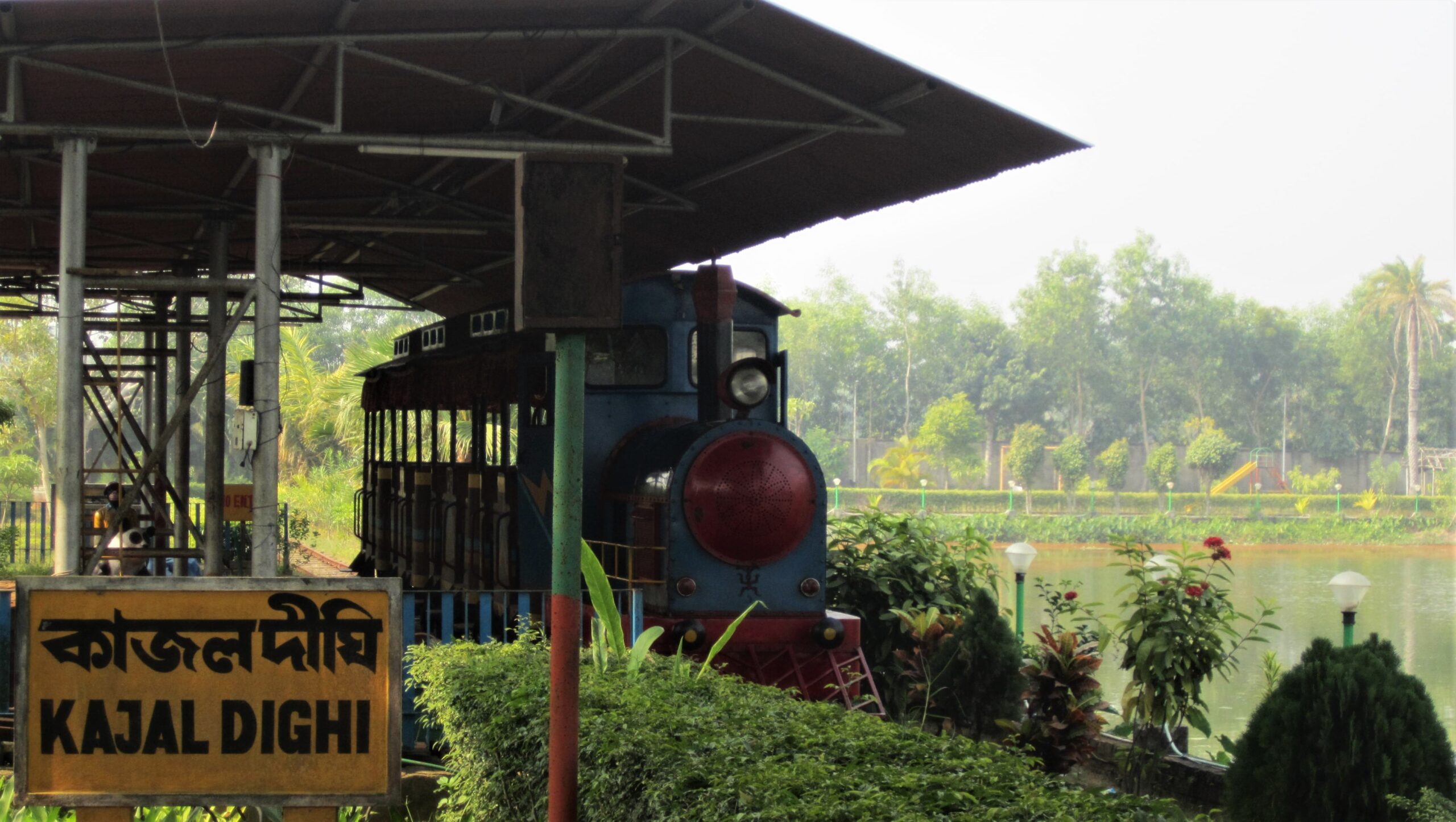 Although there are some other spots like Science Centre, Marine Aquarium & Research Centre, we decided to skip those due to time crunch. To add some spice to our trip we opted for lunch in a road side small hotel. The hotel was very small and it offered us really good crabs and fishes at a very nominal rate.
After lunch, based on the suggestions of the restaurant owner, we headed towards Chandaneshwar Temple followed by Talsari Beach and Subarnarekha River. These spots are a bit far away, but well manageable as a half-day tour. Tourists prefer to avail cabs to reach there but we thought of taking a local van cycle rickshaw! Turbulent ride, however, wonderful experience. We actually crossed the state border riding a rickshaw. Both Chandaneshwar Temple and Talsari Beach fall in the state of Odisha (Balasore District). Digha, located in East Midnapore District of West Bengal, marks the border of the two states.
Chandaneshwar Mahadev Temple is an old Shiva temple very famous among the local people. If you want to offer puja there, you can get the puja items from the stalls outside the temple.
From there we went to Talsari Beach, which is around 10 km from Digha. It is a serene beach where you can enjoy the beauty of calm sea. During early morning, to visit this beach you have to take a boat ride as there is high tide, but during late afternoon to explore the beach you will have to rent two wheelers as there is no water. In case you are not comfortable riding a bike yourself, the bike owner will help you with the ride. Our biker first took us to the red crab zone of the beach. It's a part of the beach where you will find thousands of red crabs crawling. Unfortunately you have to watch these small creatures from a distance. They are highly sensitive to vibrations, so a light tapping of feet makes them hide in their safe den.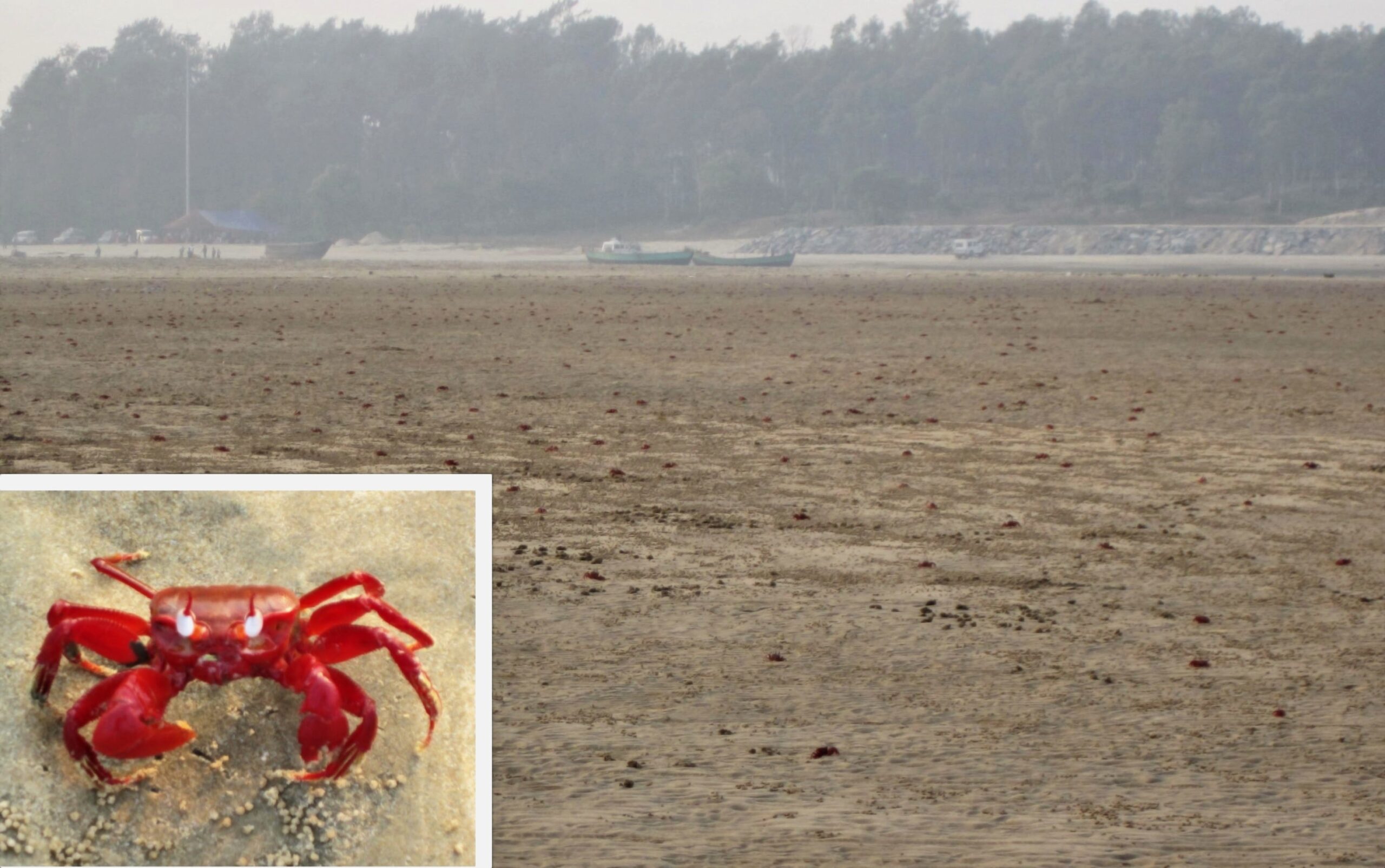 Our next destination was the estuary of the river Subarnarekha. We went there around 3 pm, at that time the river bed was shallow, we were able to stand in mid of the mouth however, within 10-15 minutes the water level reached closed to our knees.
From the Talsari beach our rickshaw puller took us to the Udaipur beach. It's just an extended part of the Talsari beach which is a hub of the local fishermen. You can smell fish in the air. Like the Talsari beach, this beach is also secluded, so people like us, who are keen to spend some time with self or want to walk hand-in-hand and enjoy the beauty of sun setting behind the casuarina trees, will like this place. We realized that time is passing by only when our chauffeur (rickshaw puller) called us. Another bumpy 45-min rickshaw ride took us back to New Digha by 5.30 pm.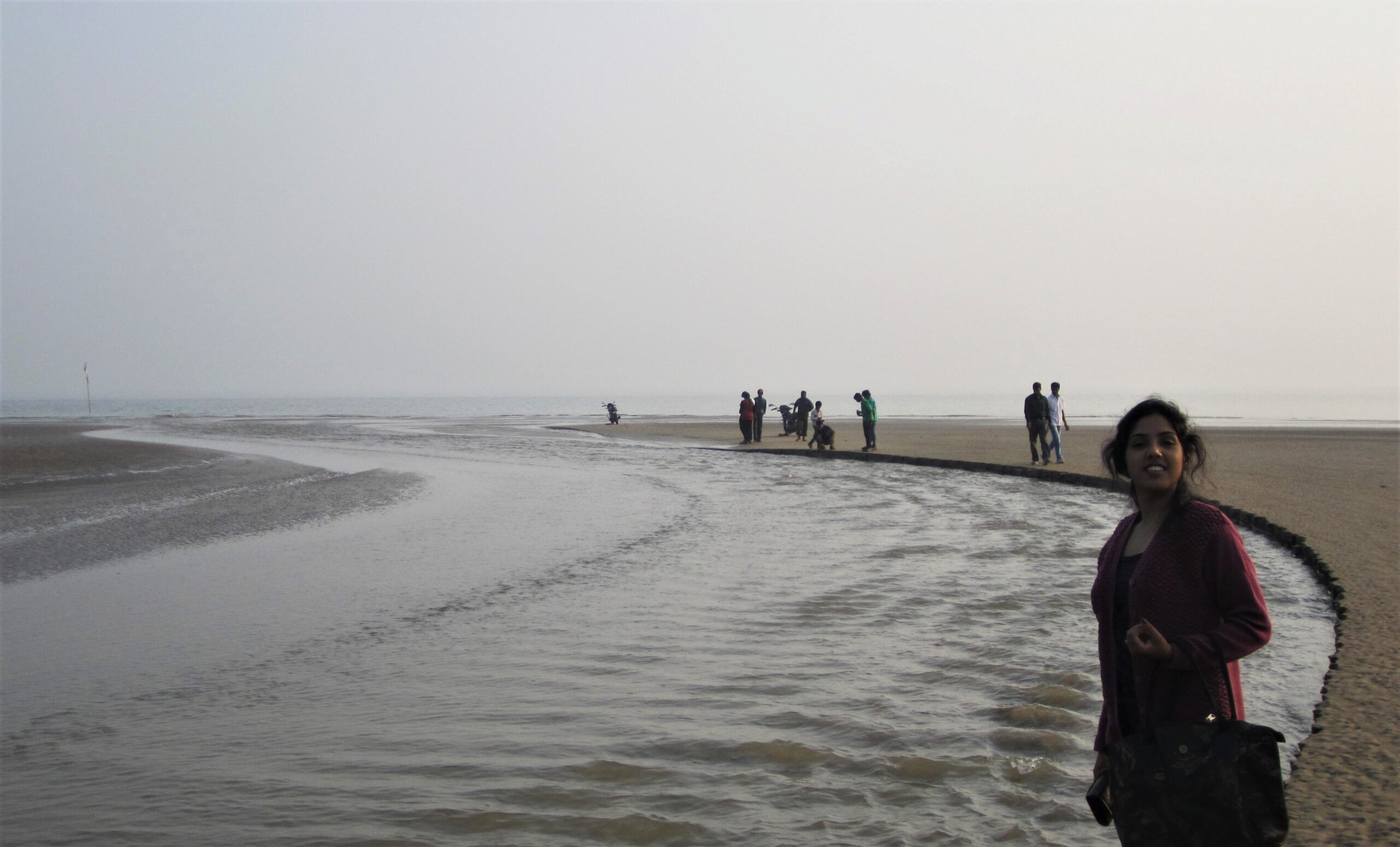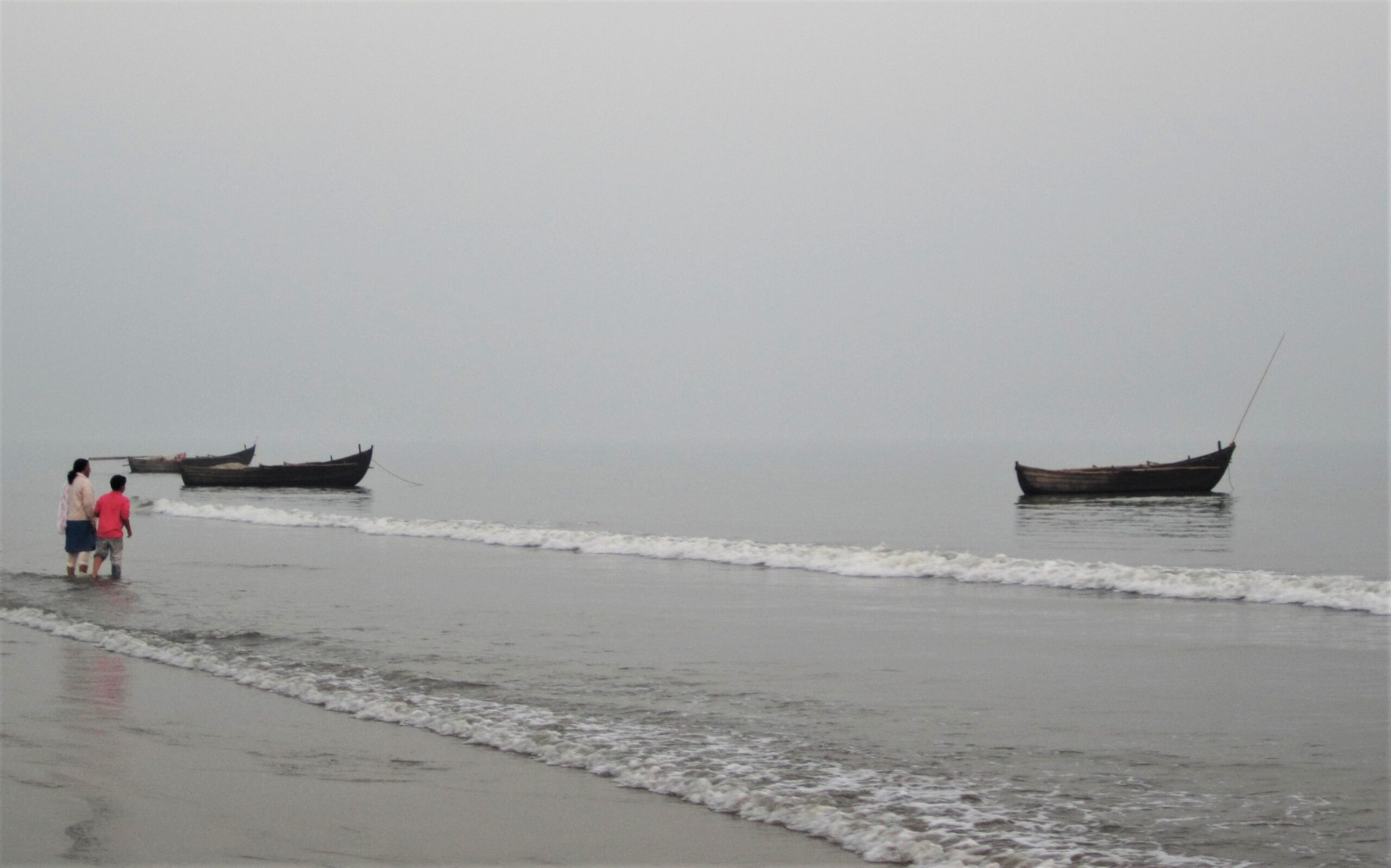 On the New Digha beach there are many small stalls selling show-pieces, jewelleries, accessories made of seashells, corals, cane etc. Wherever I go I try to buy something as a souvenir. Though the price of goods might seem reasonable there is no harm in bargaining. Otherwise in some cases you may land up paying more.  On the way to the sea beach you will find local people selling some sweets like coconut barfi, cashew ladoo etc. You can try those. Though you may not find these very delicious, but it's good to try something local. Finishing our shopping we were to hotel by 8.30 pm.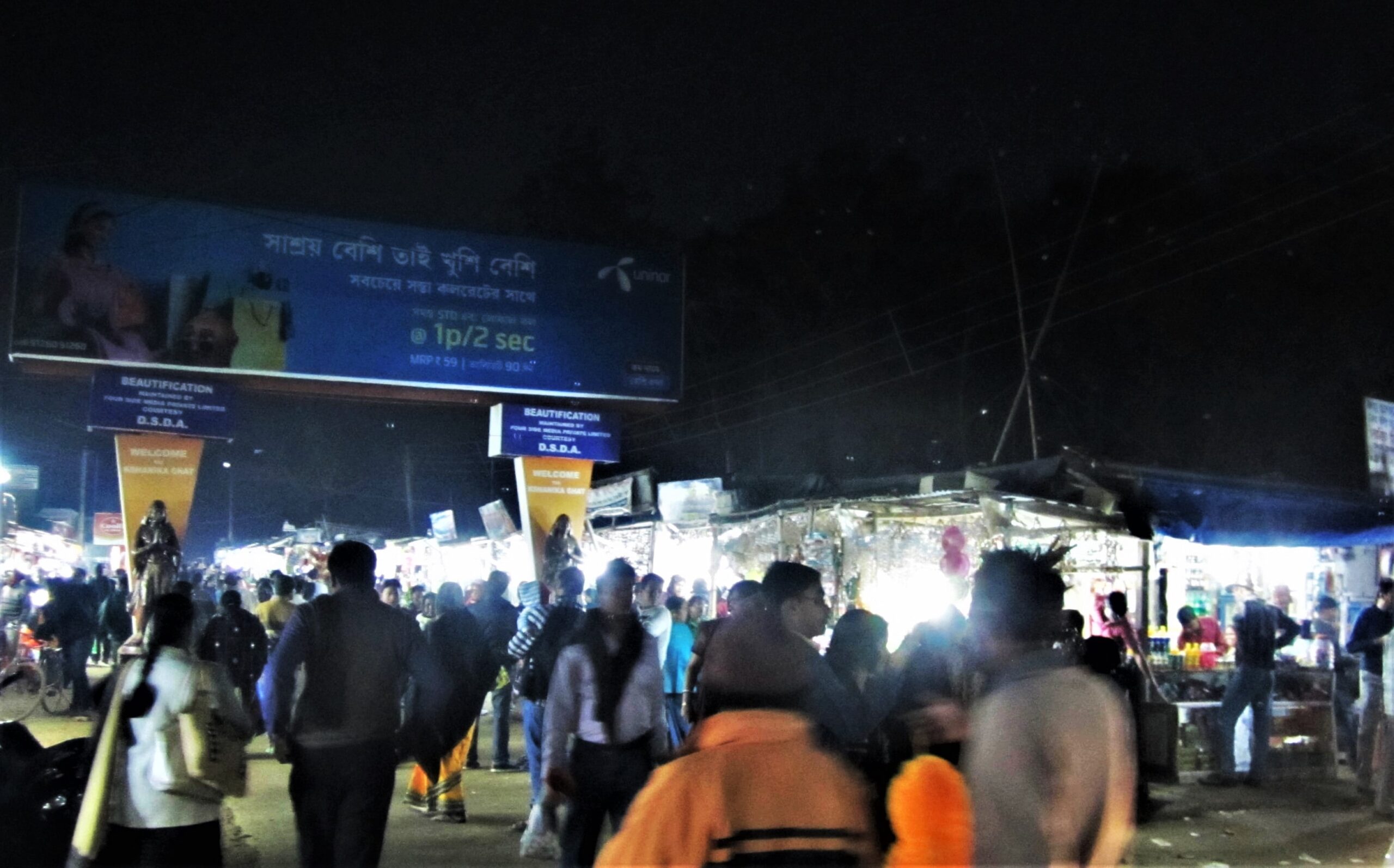 Next day our train was at 3:35 pm and so we decided to go to Old Digha, which is only 2 kms away from New Digha. Even a decade back, 'Digha' meant 'Old Digha' for the visitors, however, now it has become an overcrowded & congested place. Old Digha has lost its 'old' charm. Unlike New Digha, Old Digha sea shore is covered with boulders. The sea is a bit turbulent and in some places, there are quicksands as well. Tourists are, thus, restricted from going deep inside water. So, tourists now prefer staying in New Digha, where you can enjoy stretched sand beach with almost no swimming restrictions, water sports, shopping and decent hotels. We were in Old Digha only for an hour, mainly to take some pictures and reminiscing childhood memories. If you are interested to buy cashew nuts, you will get some good shops here.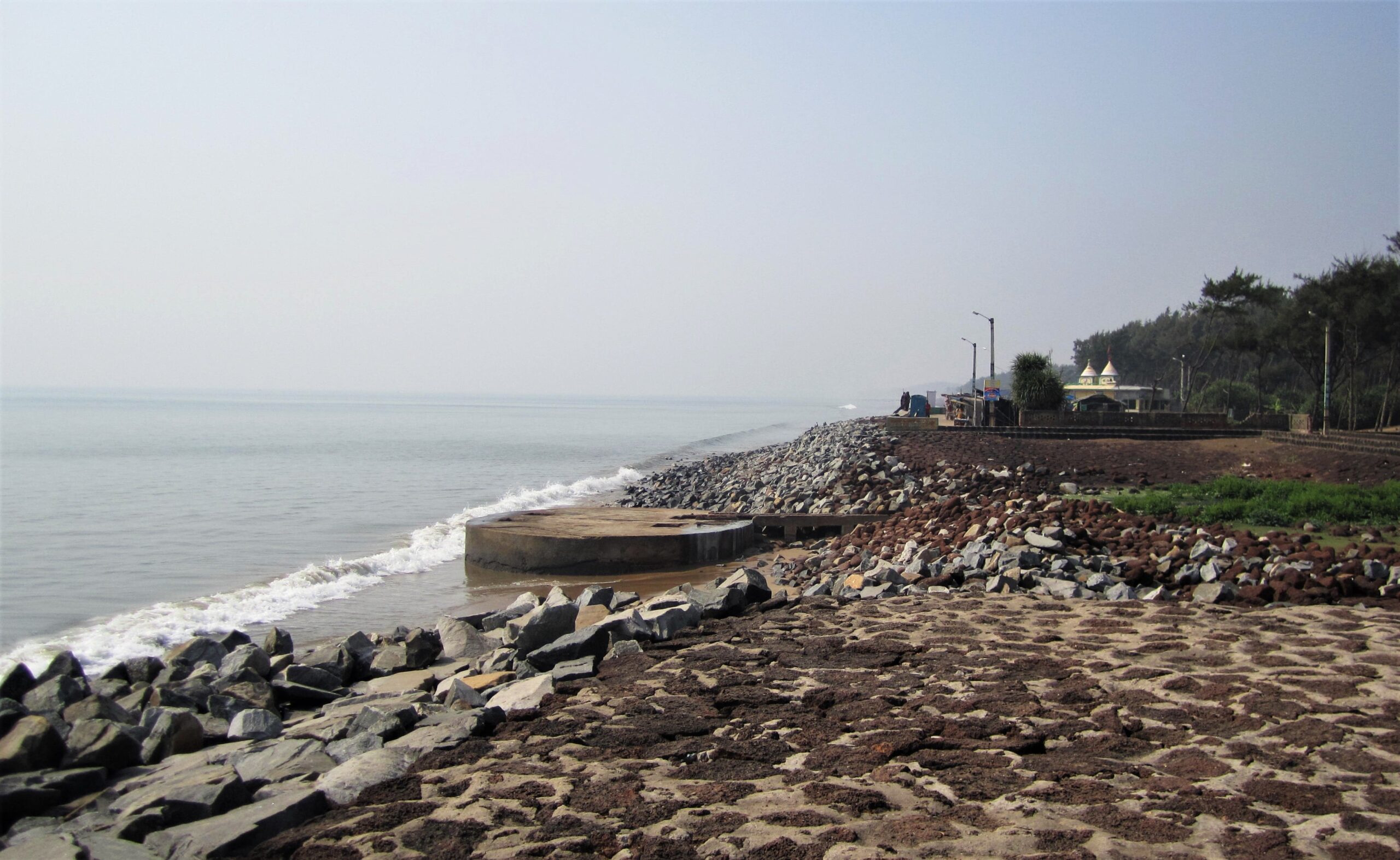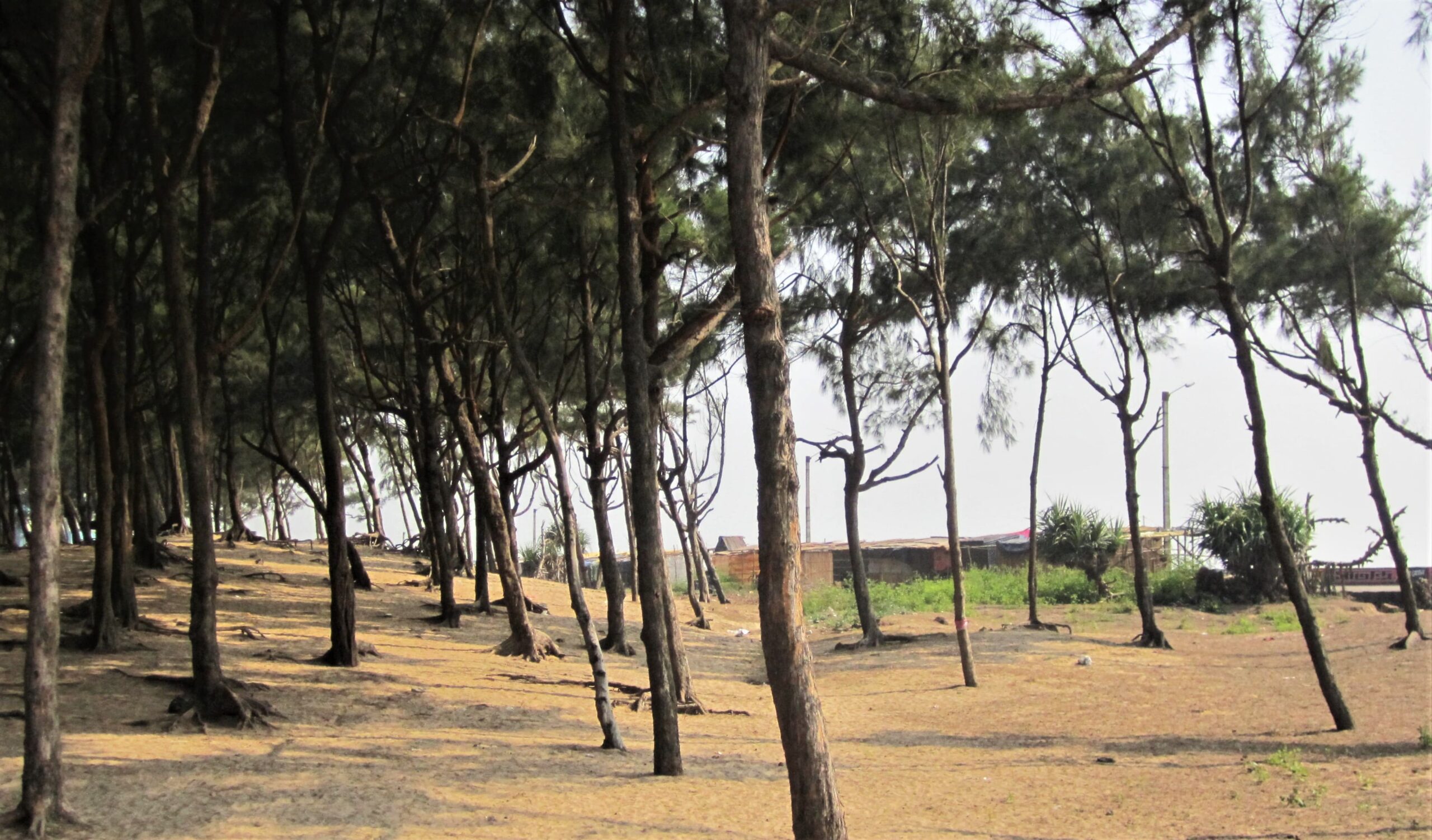 Finally our trip came to an end as we had our train back to Kolkata that day at 3:35 pm. We didn't realize when, a not-so-glamorous place like Digha, became so memorable to us. Though there are not much highly rated tourist spots, we enjoyed every bit of it. It may never come in comparison with the famous beaches, but it has its own beauty and is highly pocket friendly.