Reading Time:
9
mins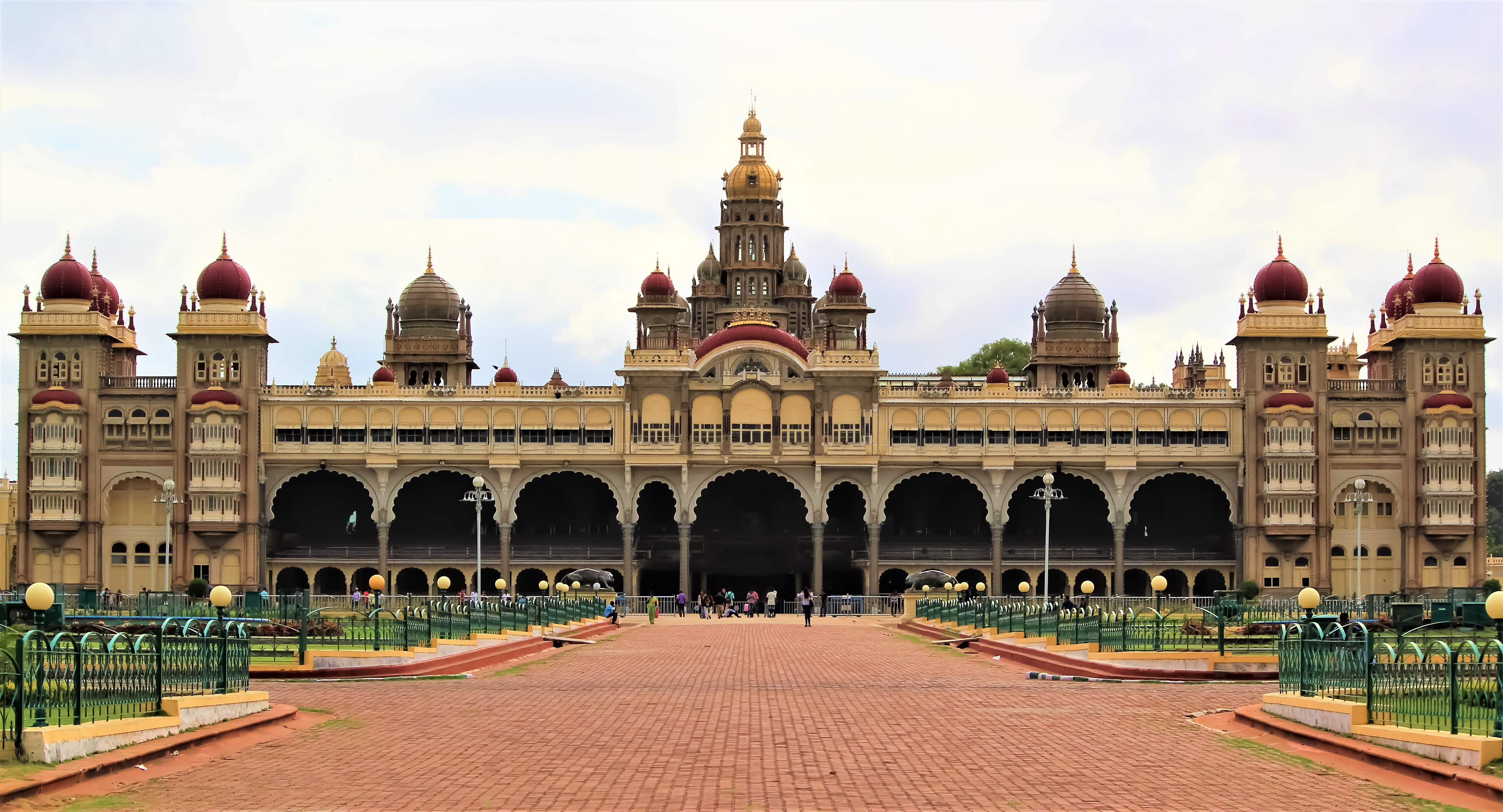 Mysore, the Southern Delight, is in the heart of Karnataka. It is around 160 kms from Bangalore which is around 4 hours journey by car. Buses are also available from Bangalore. It's also accessible by train and airways.
"Mysore has plenty of things for the tourists and at least 2 days are required to cover it completely"
PLACES TO VISIT
Mysore has a number of attractions for the travellers. It took us 2 days to get the flavour of this beautiful city. We reached Mysore around 3 p.m. and so that day we were able to cover only Mysore Palace (it remains open till 5:30 p.m.).
We covered the remaining spots next day. We started early around 7 a.m. for the Sri Chamundeshwari Temple and Nandi Hills, followed by Sri Chamarajendra Zoological Gardens and St. Philomena's Cathedral.
Then we left for Srirangapatnam (20 kms from Mysore), which is famous for Dariya Daulat Bagh (Tipu Sultan's Summer Palace), Tipu Sultan's Tomb (Gumbaz) and Tipu Sultan's Fort (destroyed by the British).
After spending an hour there, we left for Brindavan Gardens. It is one of the most beautifully laid out terrace gardens in the world located in the Krishnaraja Sagar dam site. Like the Shalimar Gardens of Kashmir, it is structured in the Mughal style.
Garden Timing: 6 am – 8 pm

Music Fountain Show: 6:30 pm – 7:30 pm, 6:30 pm – 8:30 pm (Weekends)
"Brindavan Gardens has remained favourite among the Bollywood Directors for as long as 5 decades, with a number of all-time-hit song sequences and famous scenes from Hindi movies shot there"
Several hit song sequences and famous scenes from Bollywood movies have been shot at Brindavan Gardens. A well-known humorous scene from the movie Padosan (1968) featuring veteran actors Mehmood (Masterji) and Saira Banu (Bindu) was shot here. Some of the famous song sequences shot here were: Mere Naina from Mehbooba (1976), Keh Do Ki Tum from Tezaab (1988), Tumhe Apna Banane Ki Kasam from Sadak (1991) and Kitna Pyara Tujhe from Raja Hindustani (1996).
Next day, on the way to the Bangalore airport we covered Channapatna & Ramnagar. Again, Ramnagar is the place where Bollywood blockbuster Sholay (1975) was shot. So Sholay's Ramgarh was actually Ramnagar.  No one can forget Gabbar's epic dialogues from Sholay: "Tera kya hoga, Kaliya? Kitne Aadmi they?" Yes, those rocks and that valley is Ramnagar, a small town you will cross while travelling between Bangalore and Mysore.
THINGS TO SHOP
I'm not shopaholic, but I love to collect the souvenirs, which will connect me to the places even after years. Though Mysore is famous for sandalwood, there are much more to shop. In my opinion, the best place to shop is Cauvery Handicrafts Emporium, a unit of Karnataka Government. You may try out Mysore Silk saree, Sandalwood and Ivory show-pieces, Hand crafted wooden wall hangings, Sandalwood sticks, perfumes & soaps and Chocolates. Channapatna Toys are very famous. You can choose it to buy from Mysore or Channapatna itself.
Read more about Channapatna Toys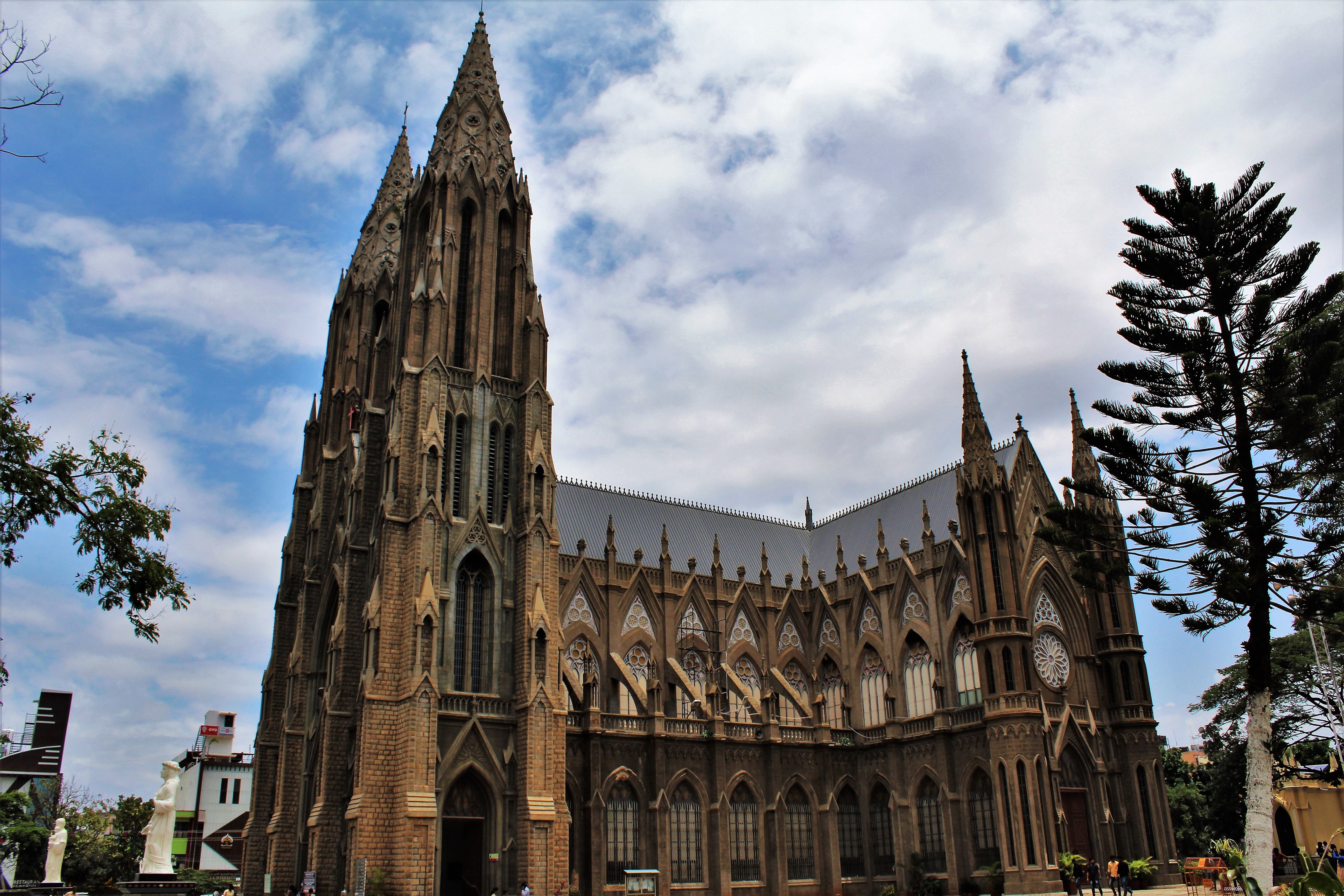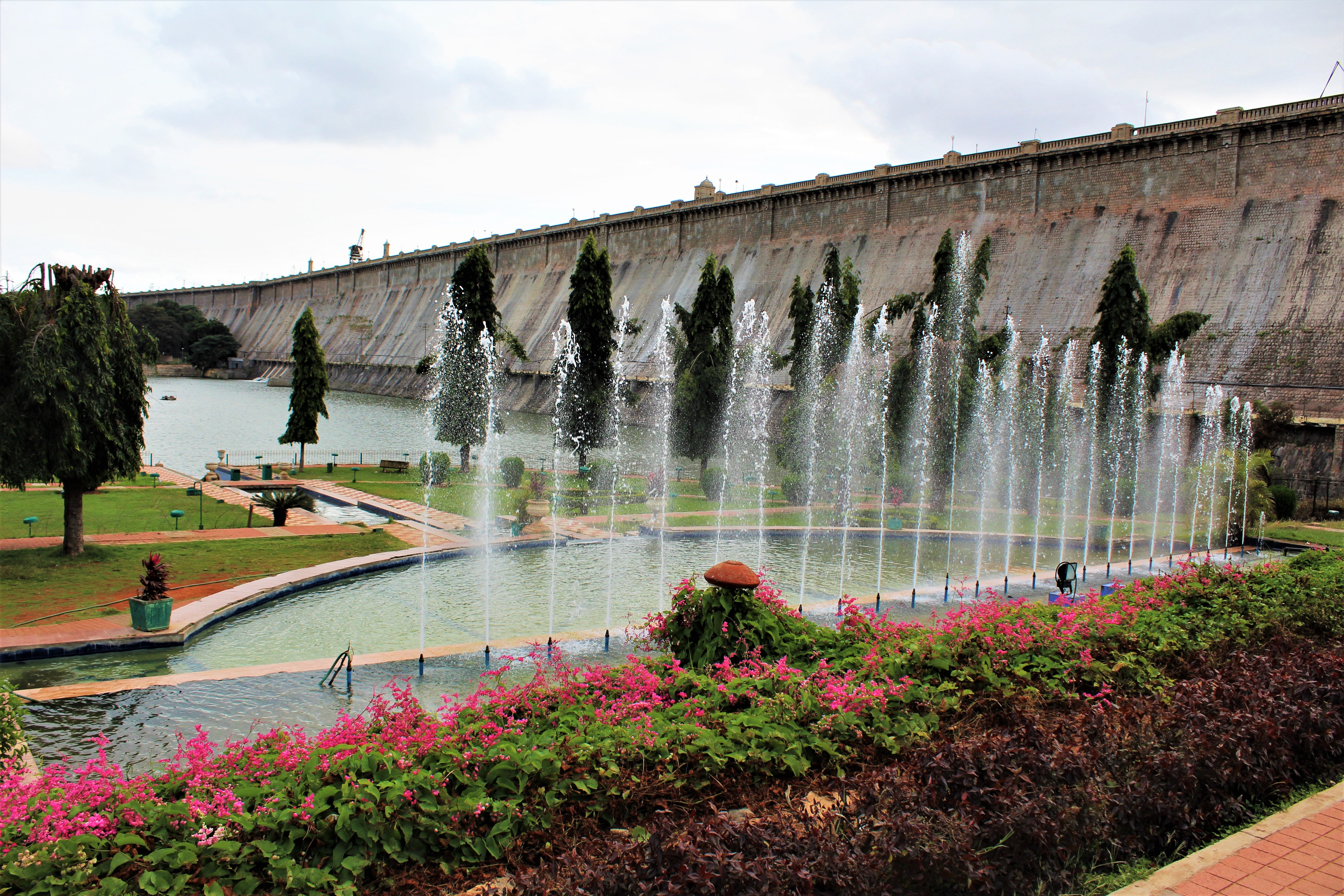 PLACES TO STAY
Mysore is a small city with decent hotels. We stayed at Grand Mercure, which was around 2 kms from the Mysore Palace. Though the city is well connected by auto rickshaws and cabs, it's better to stay near the palace as most of the spots, shopping arcades, restaurants would be in close proximity.
TRAVEL TIPS
Dussehra is the most important festival here. So, if you want to see the beautifully illuminated Mysore Palace and the grand Dussehra procession (Jumbo Savari), then the best time for travel would be during Navratri. Otherwise winter would be a better option.

Also while shopping do bargain before you purchase anything.

Try the famous Mysore Pak.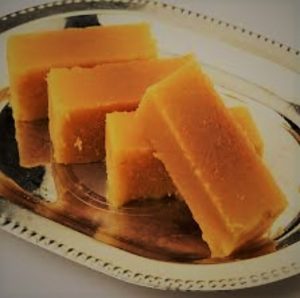 Mysore Pak is a sweet made of ghee, besan and dryfruits. First you need to prepare the syrup by simmering sugar with equal amount of water and then it is flavoured with various spice essences like cardamom, rose, honey etc. (Just google it to have the full recipe). Although most of the sweet shops have Mysore Pak, Mahalakshmi Sweets is famous for the same. Try it out. We tasted it and finally ordered for 3 big boxes. Mysore Pak was first prepared in the kitchens of the Mysore Palace during the regime of Krishna Raja Wadiyar IV.
"Buy Mysore Silk Saree, Sandalwood show pieces, perfumes & soap and Channapatna Toys. Do try Mysore Pak."
ASSOCIATED MYTHOLOGY
Mysore derives its name from the demon-king Mahishasura, who used to rule the place. The demon was killed by the Goddess Chamundeshwari, whose temple is situated atop the Chamundi Hills. The name of the place became Mahisuru, which later changed to Mysuru (present name in the Kannada). Mysore is the English version.
RELATED HISTORY
A. MYSORE KINGDOM & ITS RULERS
Mysore was ruled by the Ganga Dynasty from 2nd century till 1004, which does not have a traceable history. Next, the Cholas ruled the region for about a century. The Cholas were followed by the Chalukyas and the Hoysalas.
In 1399, the Yadu dynasty (Wodeyars) came to power in Mysore as feudatory of the Vijaynagar Empire. From 1399 to 1553 Wodeyars ruled Mysore as feudatory of Vijaynagar Empire. However, from 1553 to 1761 Wodeyar Dynasty ruled Mysore Kingdom as independent ruler.
For the period 1761 to 1799, there was a notable change in the history of Mysore kingdom. It became Sultanate of Mysore under Hyder Ali and his son Tipu Sultan. They shifted the capital to Srirangapatnam and Mysore remained the second most important city. The capital was shifted back to Mysore with the death of Tipu Sultan in the 4th Anglo Mysore War in 1799. The British re-instated the Wodeyars as the Titular kings and it remained under the control of the British till India's independence in 1947. It remained as a Princely State during 1947-1950 and finally became a part of the Indian Republic on 26th Jan 1950.
MYSORE PALACE
Today's Mysore Palace is probably the third or the fourth version. Older structures were destructed because of many reasons ranging from calamities, accidents and politics (shifting of power). There are many stories and legends associated with it.
The Original one (actually a bastion) was probably built by Yaduraya Wodeyar in 14th century. If you visit the place, you can see the remains of fort walls and some of the ditches on either sides of the main gateway (Jayamathanda Gateway). The destruction of this version of Mysore Palace was due to a lightning. Reconstruction of a new palace was done by king Narasaraja Wodeyar in the year 1638. This was probably the Second Version.
"Mysore Palace was rebuilt several times as the older structures got destructed due to calamities, accidents and political power shift"
A century later in 1761, power shifted to Hyder Ali and Tipu Sultan. Tipu didn't destroy the Palace entirely, but demolished some structures inside the palace to give way to his new capital - Nazarabad. He built his own Fort and Palace. Mysore became the City of Nazarabad. With the death of Tipu Sultan in the 4th Anglo Mysore War in 1799, the Wodeyars were reinstalled as the rulers of Mysore, under the British Empire. The 4-year-old Krishna Raja Wodeyar III was coronated as the King of Mysore. The fortifications Tipu Sultan built around Nazarabad was dismantled - the stones were used to build another fort and inside that a New Palace was built in 1803 (the Third Version). This was a wooden Palace built in Hindu style.
In 1897, a fire broke out during the wedding ceremony of Princess Jayalakshmanni destroying the Palace again. Vani Vilas Sannidhana, queen of Chamaraja Wodeyar X, employed the British architect, Henry Irwin to build a new palace and by 1912 the new palace was completed (Current Version).
Presently the palace is under the administrative control of Mysore Palace Board created by the government.
The current structure is 3-storeyed. The architecture is unique in many ways. It borrows heavily from Indo-Sarsanic style and then there are blends of Gothic, Rajput and Muslim style. Thus, the palace does an excellent job of integrating India's Culture.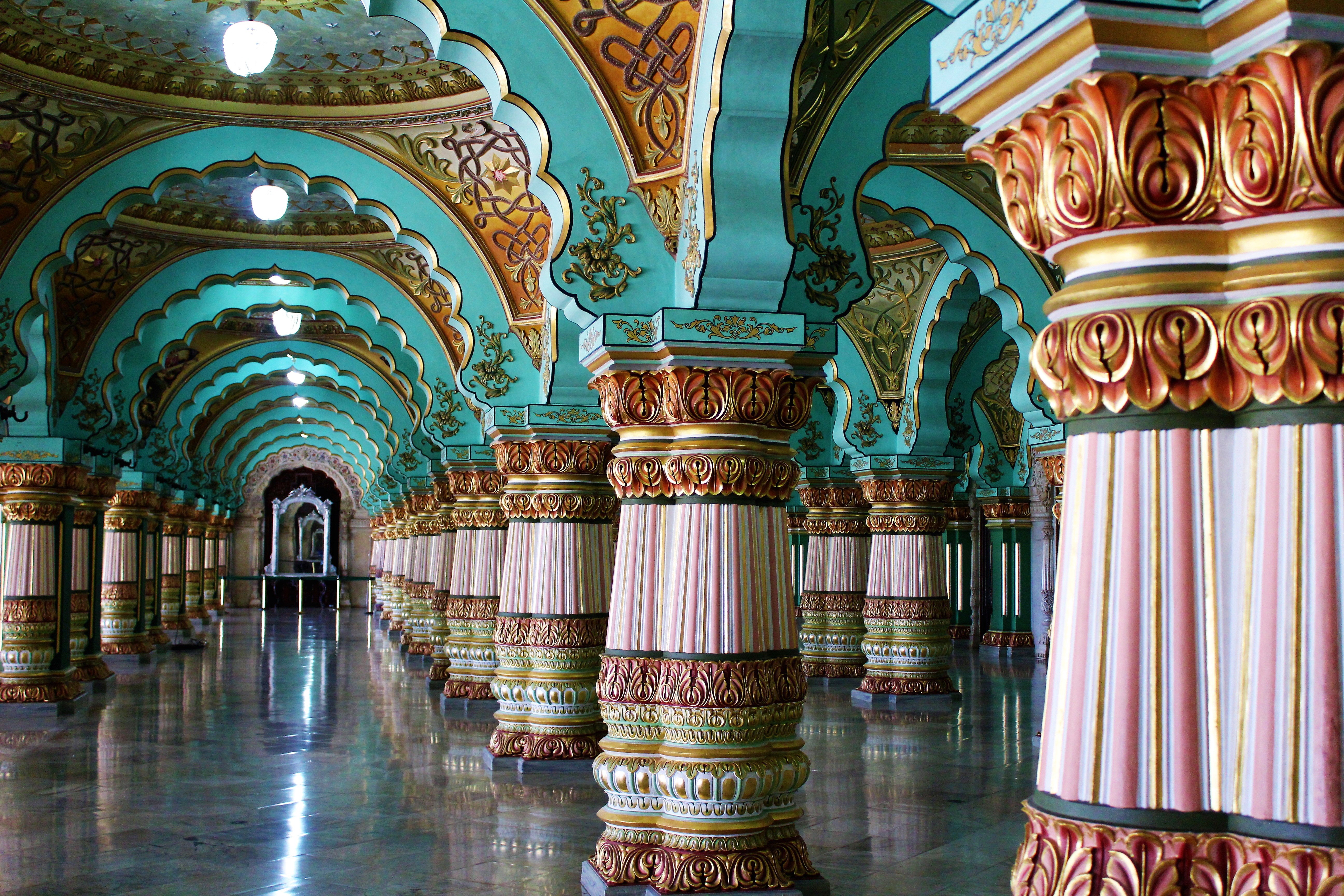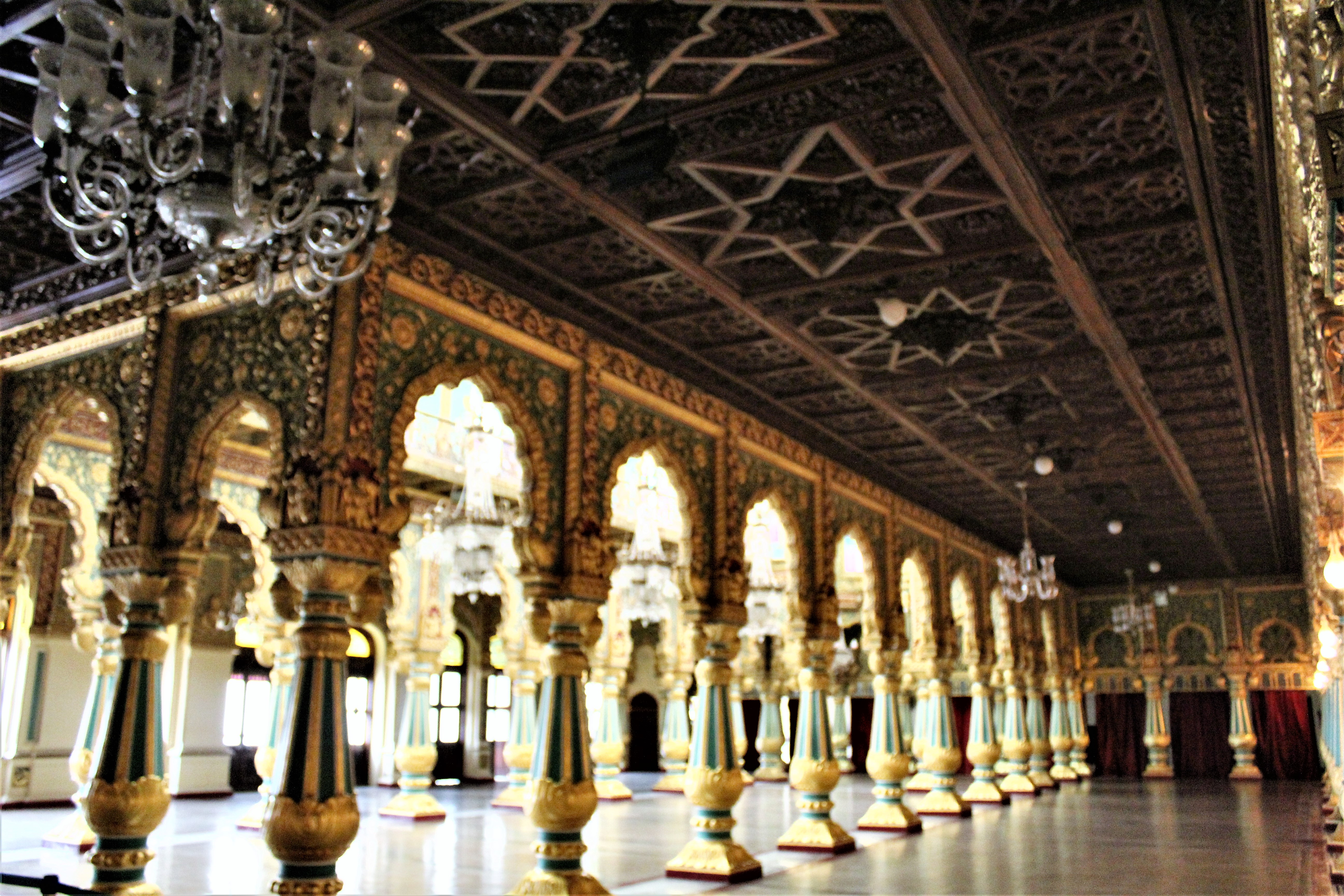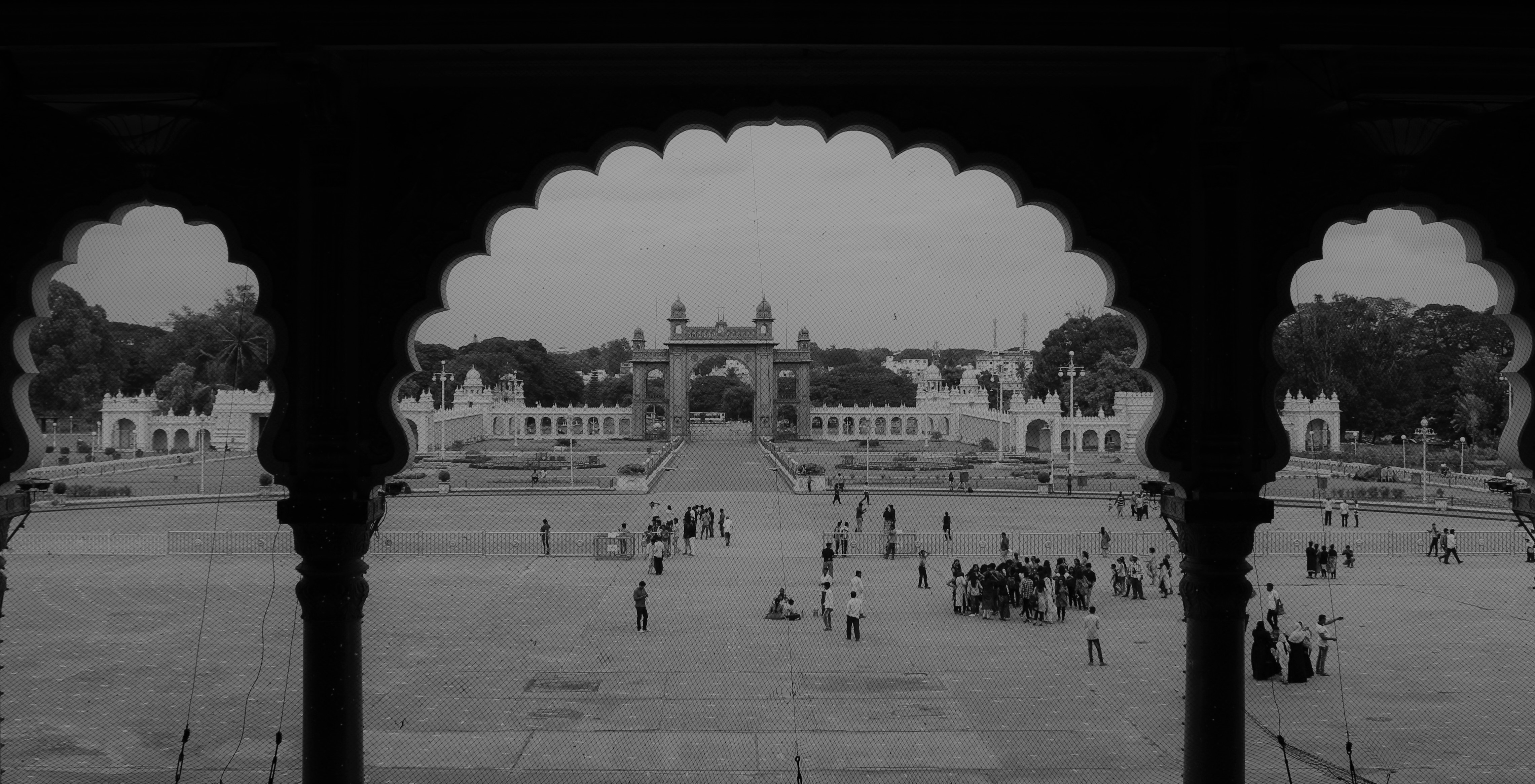 C. HYDER ALI, TIPU SULTAN AND SULTANATE-E- KHUDADAD (GOD GIFTED KINGDOM)
History of Mysore is probably incomplete without Hyder Ali and Tipu Sultan. Out of several hundred years, only 39 years (1761-1799), which these two ruled is so prominent in Indian History. Conclusions of the events happened during this short period is colossal.
Hyder Ali started as a sepoy in royal army of Mysore and was raised to the post of commander-in-chief during Krishnaraja Wodeyar II because of his excellence in military warfare. Finally, he became the de facto ruler of Mysore in 1761. He and his son Tipu Sultan challenged the expanding British Empire in India and put up one of the most formidable resistance against the British forces. Hyder died in 1782 when Tipu Sultan took over as the ruler of Mysore. During their reign the capital of Mysore kingdom was shifted to Srirangapatnam. The boundaries of the Mysore kingdom expanded significantly and it became a very powerful kingdom. Tipu used to call his kingdom Sultanate-e-Khudadad or God Gifted Kingdom. Hyder and Tipu fought a series of 4 wars against the British, which are called the Anglo-Mysore wars.
First Anglo-Mysore War (1767-1769): Hyder Ali defeated East India Company. Treaty of Madras was signed and Haider Ali occupied almost the whole of Carnatic.
Second Anglo-Mysore War (1780-1784): First Hyder and then Tipu (after death of Hyder in 1782) fought with East India Company (Governor General was Warren Hastings). British had to face one of their worst and humiliating defeat in battle of Pollilur. Treaty of Mangalore was signed.
Third Anglo-Mysore War (1789-1792): Tipu was defeated by the British (Governor General was Cornwallis), with the aid of Marathas and Nizam. The war ended by signing of Treaty of Srirangapatnam. In this treaty, Tipu had to give half of his territories and two of his son's as a hostage of war.
Fourth Anglo-Mysore War (1799): During Governor General Lord Wellesley the British army attacked and defeated Tipu Sultan in a brief but fierce war. Defending his capital Srirangapatnam Tipu died on 4th May 1799 and Mysore Kingdom became a part of British Empire.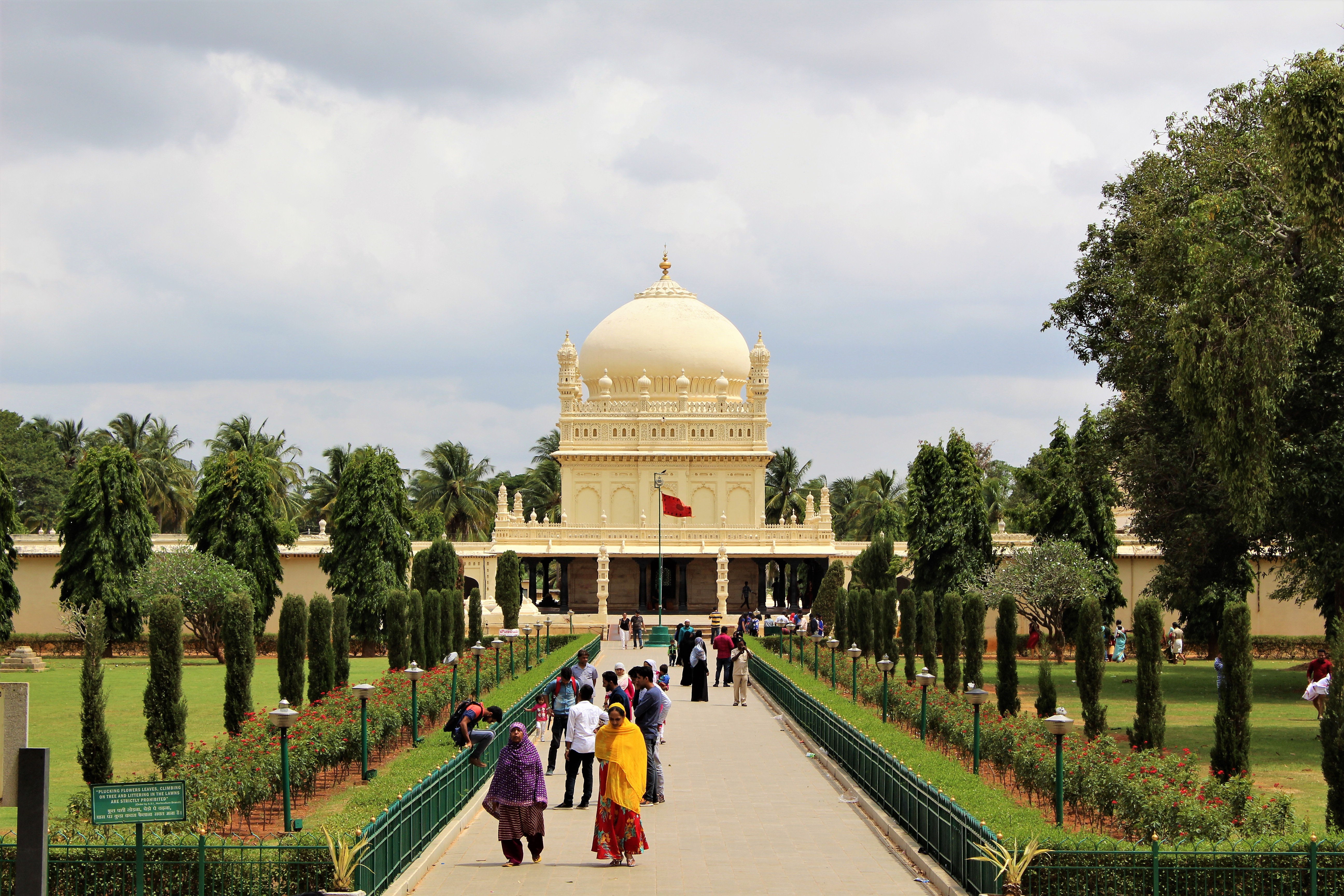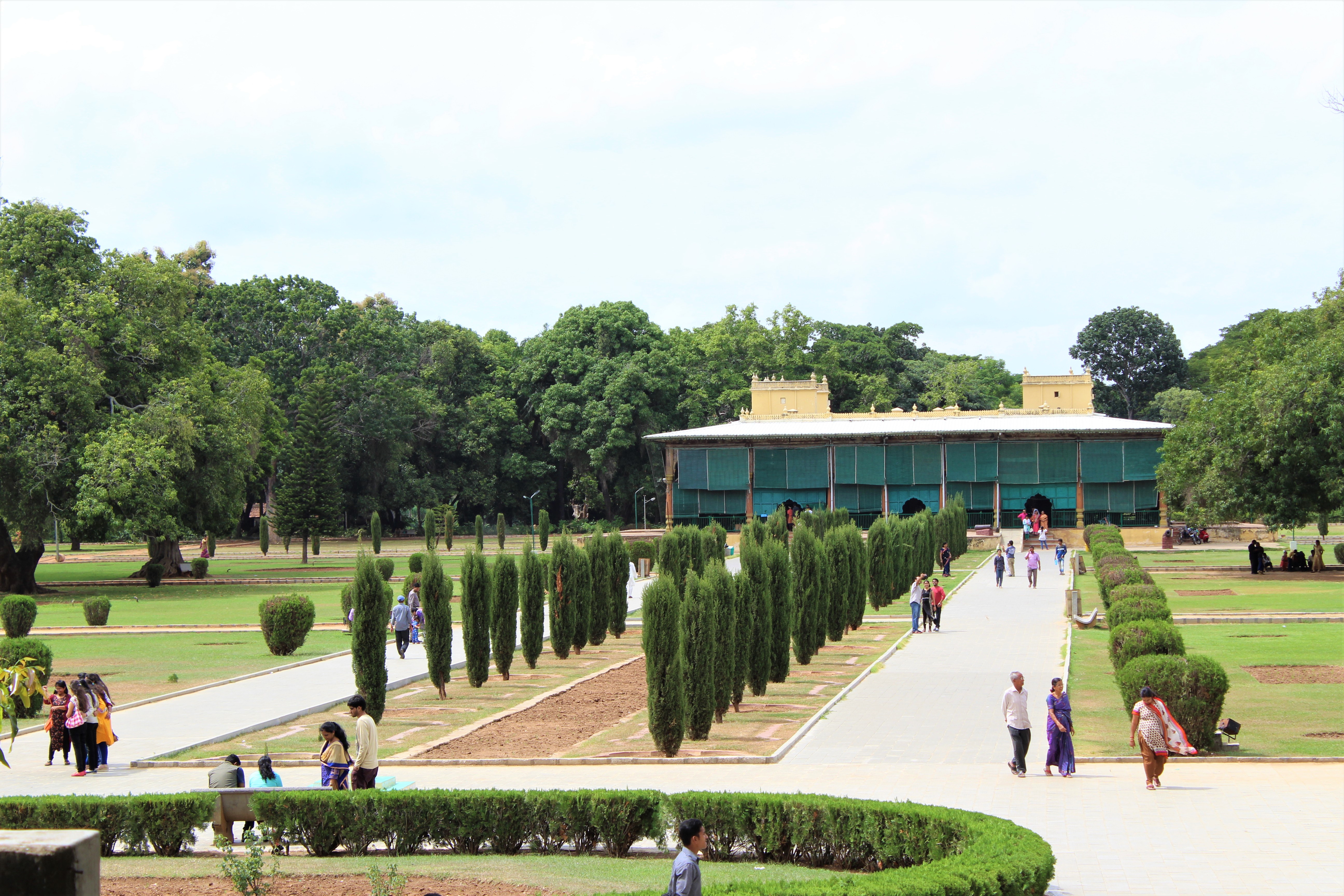 "Out of thousand-year-old history of Mysore Kingdom, only 39 years ruled by Hyder and Tipu is most prominent with colossal consequences"
Tipu Sultan is probably one of the most-researched personality in National and International Level with innumerable research articles, documentaries and books on him (even a TV serial on Doordarshan in the 90s – The Sword of Tipu Sultan by Sanjay Khan based on the book by Bhagwan S. Gidwani). There is a lot of controversy on whether Tipu is a National Hero or Religious Bigot. His character probably lies somewhere in between these two extremes.
No doubt Tipu was a great military might and was probably the biggest threat to the British conquest of India, as General Harris, who lead the British force in 4th Anglo-Mysore war rightly said after Tipu's death "Today India is Ours". Britishers agreed that their defeat in Pollilur during 2nd Anglo-Mysore war was the worst and most humiliating defeat of British army in Indian soil. Thus, the fall of Srirangapatnam and death of Tipu in 1799 was celebrated in London. Numerous poems, plays and memorabilia were created in England that time and the memories of Tipu lingered with the Britishers for centuries. Some historians have compared Tipu with Alauddin Khalji and Akbar in terms of war strategy and military might. However, it would still be improper to accept Tipu as the First Freedom Fighter of India (as said by former CM of Karnataka) since he fought and died to save his own kingdom and not India as a whole. He was a great pioneer of technology and his locally assembled 'Mysorean rocket' was one of the most advanced rockets in those days, which surprised the British army. There is a painting of 1780 Anglo-Mysore war displayed at NASA which in turn has recognized Tipu Sultan and his father Hyder Ali as pioneers of modern rocket technology. Mysore's economic power was at its peak under Tipu Sultan and he is said to have initiated the Mysore silk industry.
However, there were some dusky sides in his personality. Several have described Tipu as a religious fanatic, bigot as well as a tyrant. He is accused of vandalizing Temples and Churches. He is also infamous for cruelty and ill-treatment with the prisoners. Siege of Coorg and Malabar were two examples, where captives had to face torture, forcible conversions to Islam or death.