Reading Time:
6
mins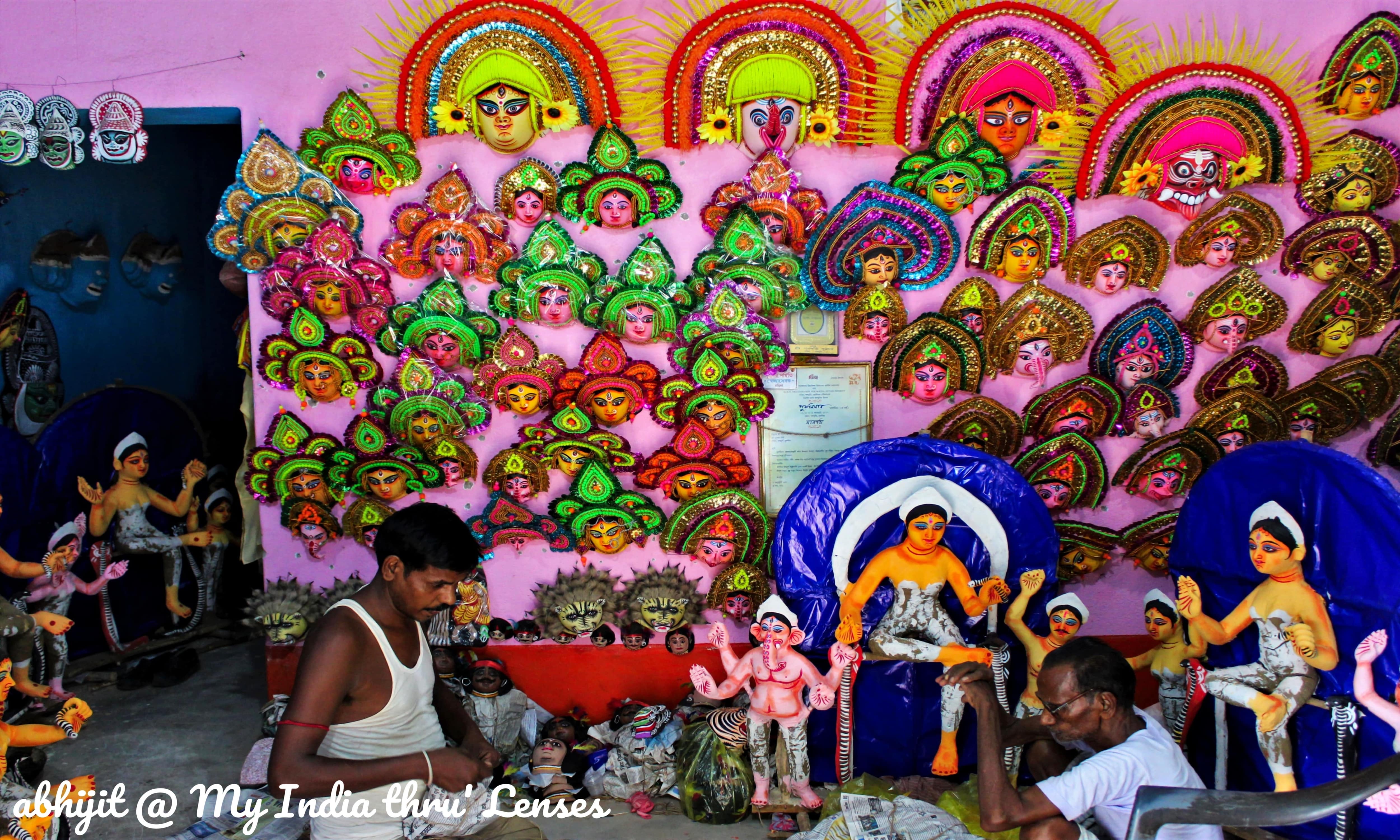 Charida, a small village of Purulia district in West Bengal, is home to around 300 skilled mask-makers of Chhau Dance - the celebrated dance form of the region.  Locally known as 'Mukhos Para' (Mask Village), the quaint village in the land of red soil is located at the scenic foothills of the Ajodhya Hills, about 5 kms from Baghmundi. In India, apart from the classical dance forms, we have a number of folk & tribal dances, which speak about the local rich culture. Chhau is one such prominent folk dance of Eastern India. Huge masks, gaudy costumes and swift movements - these things make Chhau stand apart (although there are some locational variations). The tradition of Chhau mask making started in Charida about 150 years back during the rule of King Madan Mohan Singh Deo of Baghmundi. Just 2 years back, Chhau Mask received the Geographical Indication (GI) tag. A Rural Craft Hub has been developed at Charida by the State Government's department of Micro, Small & Medium Enterprises & Textiles, in association with UNESCO. While paying a visit to the village you will not only be able to buy the vibrant & colourful Chhau Masks, but also watch the tedious & intricate process of mask making and interact with the artisans.
---
It was already 2 pm and we were hungry, but we decided to go ahead without stopping for lunch at the roadside Dhaba. The cab driver, probably a bit angry with our decision, said that it would take at least another hour to reach our destination. We ignored his words as we were very much eager to reach Charida village, a small village locally known as the Mukhos Para (In Bengali, "Mukhos" means "Mask" and "Para" means "Locality"). Charida village of Purulia district, West Bengal is the home of Chhau Mask.
The itinerary was completely unplanned. When we started from Kolkata, we only planned for a weekend trip in Garh Panchkot & the nearby areas. We boarded the Black Diamond express from Howrah in the morning. We had limited time so immediately after lunch at our hotel we left for sightseeing.
Read related post(s)-> Nature, History & Snippets of Untold Stories come together at Garh Panchkot
Collecting a big Chhau Mask for our drawing room was something I longed for long and I have had the information that at Garh Panchkot there are a few shops where I would get my long-lusted thing. But unfortunately, except a few old, discoloured masks, nothing was available at Garh. So, without giving a second thought I asked Amit, our driver contact, to arrange a car for a trip to Ajodhya Hill and Charida village next day. As expected from a finance professional, Abhijit (my husband) tried to show me the cost benefit analysis of spending 3000 bucks, travelling almost 300 km back and forth etc. only to have a Chhau Mask - though, finally he gave up to my determination of getting a big Durga mask for our drawing room.
I have mentioned about "Chhau Mask", but many of you might not be knowing what's Chhau. In India apart from the classical dance forms, we have a number of folk & tribal dances, which speak about the rich culture of the people of that area. Chhau is one of the prominent folk dances of Eastern India. Huge masks, gaudy costumes and swift movements, these are few things which make Chhau stand apart. Though I am trained in Bharatnatyam, which is itself a bold & majestic classical dance form, the striking appearance of the Chhau performers have always interested me.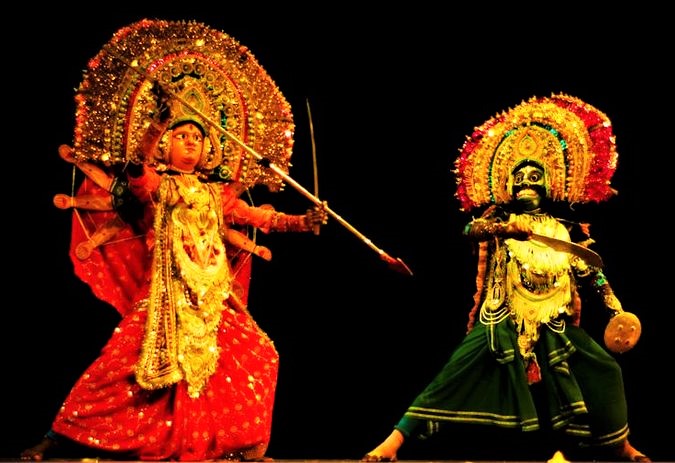 As per many, the word "Chhau" originated from the Sanskrit word "Chaya" since masks form an integral part of the dance. However, when I asked one of the local artisans of Charida village, he said, it is the modified form of the word "Cho" which, the tribal people used to say at the time of hunting or war.
There are three forms of Chhau based on the place of its origin: Purulia Chhau of West Bengal, Mayurbhanj Chhau of Odisha and Seraikella Chhau of Bihar. In addition to the locational difference, the dance forms, dance accessories & makeup are also different among these three dance forms. Though mask forms an important part of Chhau, the same is not used in the Mayurbhanj form. In addition, the mask used in the Purulia Chhau is much elaborate and ornate compared to the one used in Seraikella Chhau.
The storyline of the dance is mainly based on our Hindu Mythology & Puranas. It is mostly performed during Hindu festivals and in fairs by the male dancers, who wear gaudy costumes, with live musicians. Instruments like Dhol, Dhamsa & Kharkai are used along with Mohuri & Shehnai to make the dance lively and striking.
Coming back to Charida village. The village is around 5 km from Ajodhya Hill. Dozens of shops displaying the beautiful masks on both side of the road is what we saw first thing when we entered the village. The masks were mostly of Hindu gods, goddesses & demons, all wearing the fierce expression of war. As informed by one of the artisans (locally called sutrodhar), all the members of their family are involved in the process of mask making.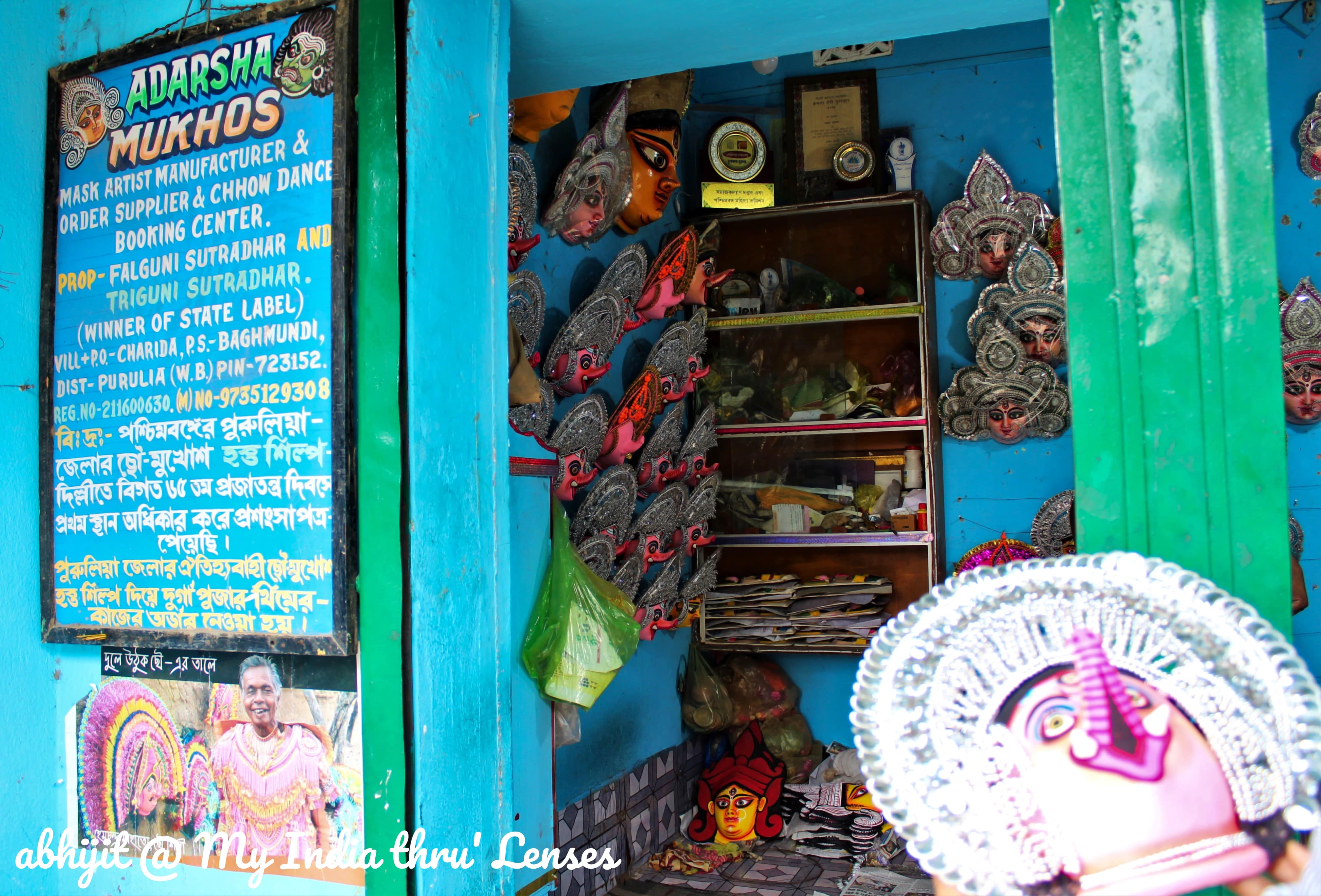 Before we started, I was a bit skeptical on the availability of the mask, because it was not the time of mask festival. So I was literally overjoyed when I got my piece. We bought one original mask, which is used in the dance performances. Considering its size and the elaborate decoration, I thought it would be heavy, but it was manageable.
We were lucky to have a brief discussion with one of the artisans there, who was busy in making masks when we entered his outlet. He told us how the masks are made from layers of mud, paper pulp, dye, glue, beads, colourful ribbons, artificial flowers etc.  The mask making process requires at least 5-7 days. He told me how often he visits our Kumartuli (for those who are unaware of Kumartuli, it is a traditional potters' area in northern Kolkata, famous for manufacture of clay idols for various festivals including Durga Puja). The best part was he made me do some touch ups on one of the masks! In his shop the masks were gorgeous and quite reasonable. Apart from the masks of the Hindu gods, there were masks of Kirat-Kiratin (incarnation of Shiv-Parvati) / santal couple, Kathakali dance also.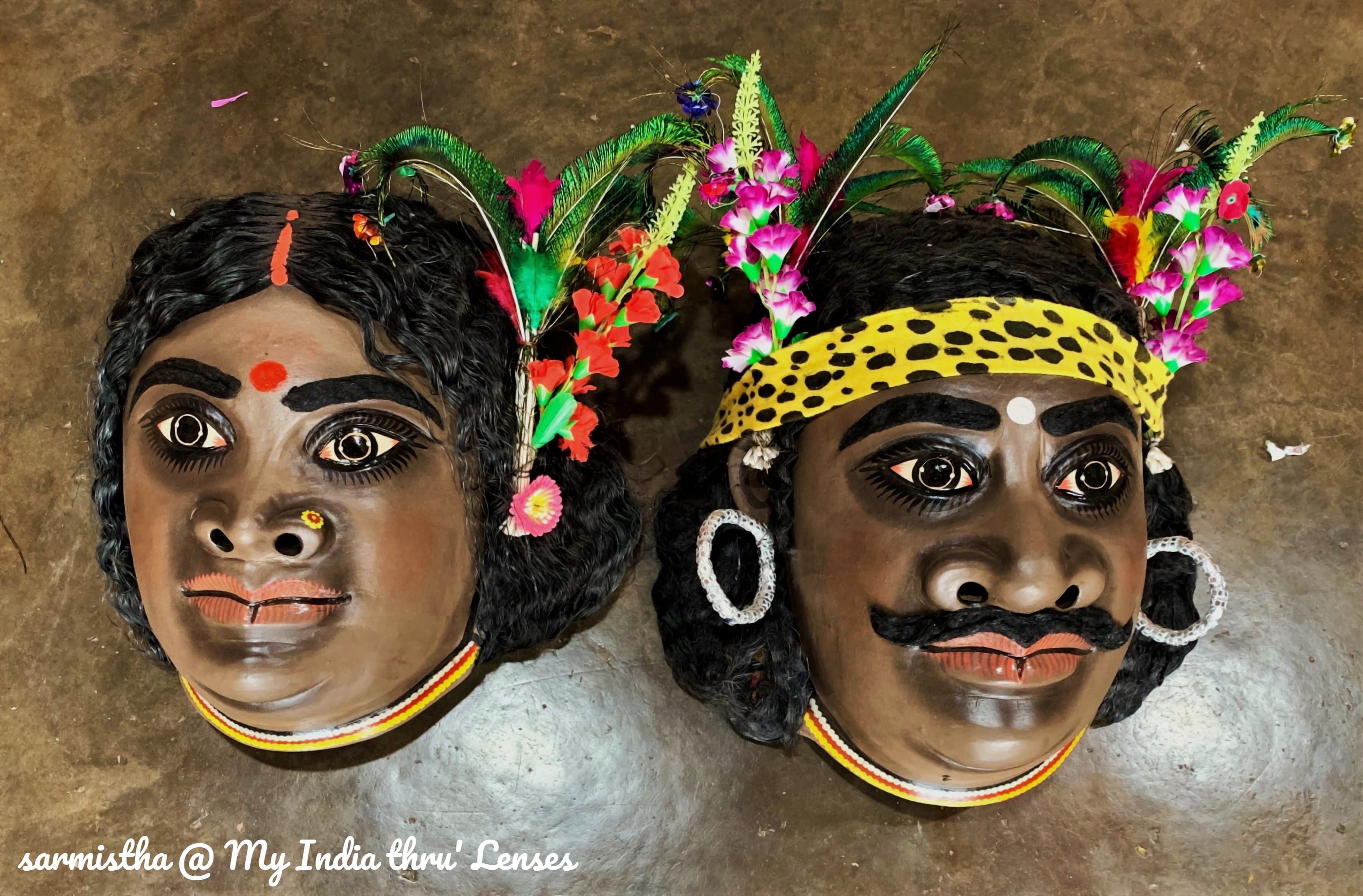 In 2017-18, Geographical Indication (GI) tag was awarded to the Chhau masks. In the village there were a couple of shops, who are the suppliers of Chhau Mask for the Biswa Bangla outlets. Today the use of Chhau masks is not only restricted to the dance performances. It has got easy access to the drawing rooms of many as beautiful show piece/wall hanging.
The best time to visit Charida is during the artists' annual village festival held every year in December. It's the best time when you can visit, buy masks, enjoy the Chhau performances. Though you may get the masks in many outlets of Biswa Bangla, Manjusha, Tantuja etc. in Kolkata and other big cities or in different fairs, variety and price that you will get at Charida would be much better.