Reading Time:
10
mins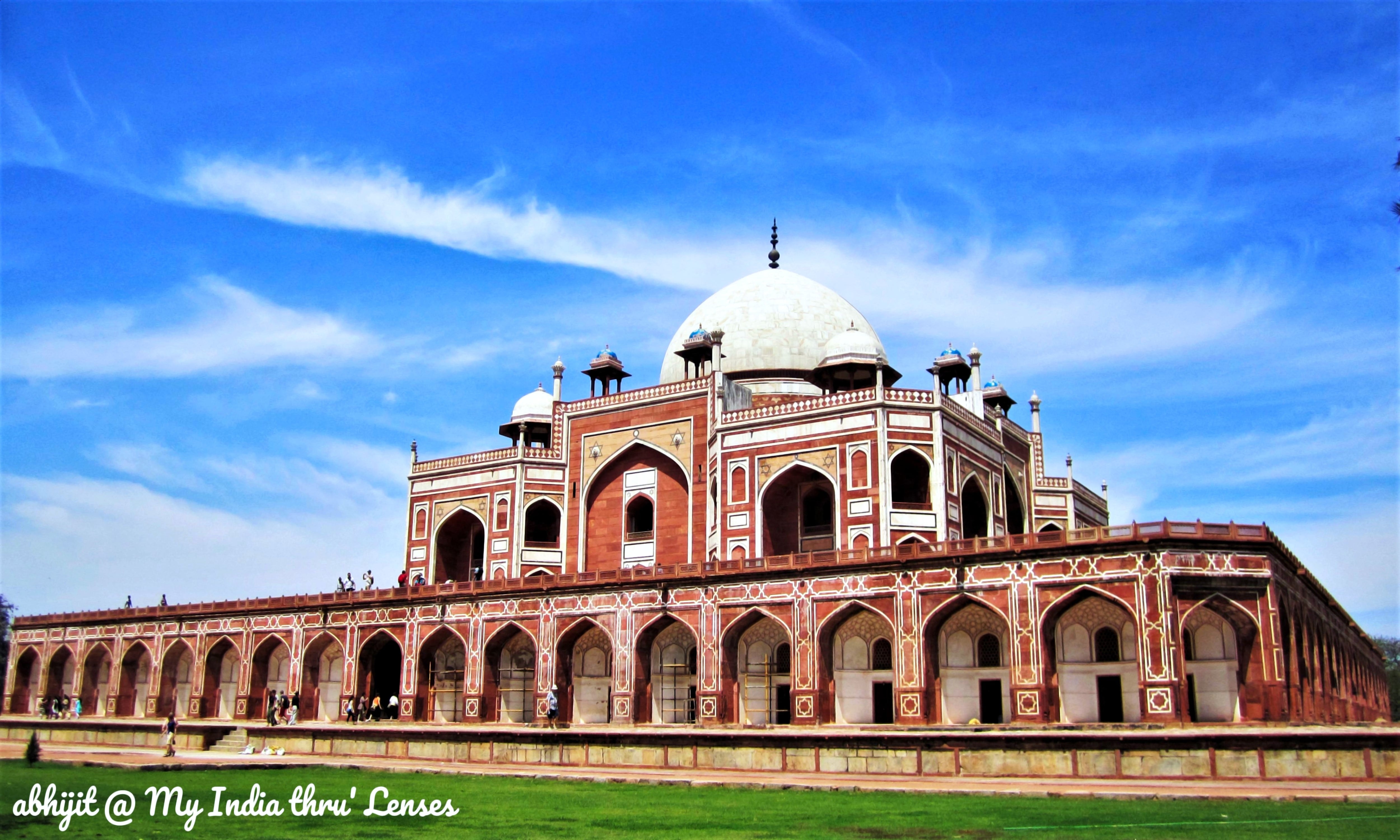 Constructed during 1562 - 1571 CE, the Humayun's Tomb is the first garden-tomb in Indian subcontinent and is one of the finest & best-preserved examples of Mughal architecture. Built by Persian & Indian craftsman, this royal mausoleum represents a brilliant synthesis of Persian and pre-Mughal Indo-Islamic architectural styles. Its grand scale, ornate design and beautiful garden setting became a hallmark of subsequent Mughal architecture, which reached its zenith around seven decades later with the construction of Taj Mahal. With several other contemporary structures in the complex (Afsarwala's Mosque, Isa Khan's Tomb and Nai Ka Gumbad), the Humayun's Tomb in Delhi is an ideal place to spend a day with your family & friends. Presently maintained by Archaeological Survey of India (ASI) and Aga Khan Trust for Culture (AKTC), the Humayun's Tomb Complex is a UNESCO World Heritage site since 1993.
---
"Spectacular" was the word that Barack Obama, the then US President, said about Humayun's Tomb when he, alongwith his wife Michelle, visited the 450-year-old monument soon after landing in Delhi during his first trip to India in 2010. Obama kicked off his engagements in Delhi with the visit to this 16th century architectural marvel - the resting place of 2nd Mughal Emperor Humayun.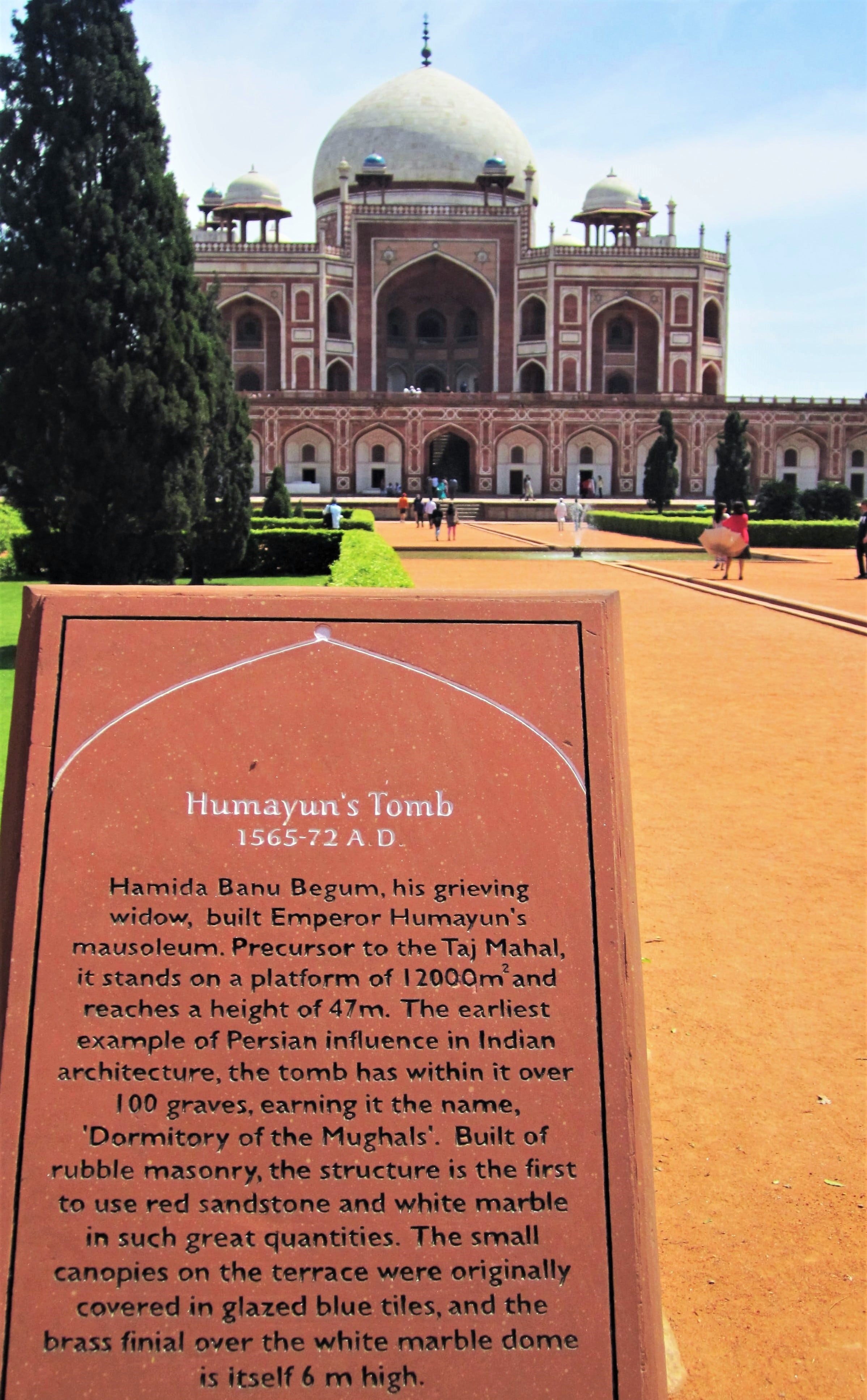 Six year after Humayun's death in 1556 CE, his senior wife, Haji Begum (aka Bega Begum) commissioned Persian architect Mirak Mirza Giyas to build this royal mausoleum to inter Humayun's mortal remains. It took nine years (1562 - 1571 CE) to complete the construction of the tomb and the cost of construction was close to 1.5 million rupees (in those days). Other than Humayun, several other members of the Mughal royal family including Haji Begum & Hamida Banu (Humayun's two wives) and Shah Jahan's son Dara Shikoh are said to be interred in the tomb. Constructed with red sandstone, along with black & white marble, the Humayun's tomb is 47m (154ft) high and 91m (299ft) wide (plinth width). It was the first Indian building to use the Persian double-dome on a high neck drum, measuring 42.5m (139ft) topped by a 6m (20ft) high brass finial.
HUMAYUN'S TOMB - HISTORICAL BACKDROP
Although the word "Humayun" means "fortunate", the 2nd Mughal Emperor, Nasiruddin Muhammad Humayun (1508 - 1556 CE), with an extremely chequered life, was probably the most unfortunate of all the rulers of Mughal dynasty. He ascended the throne in 1530 CE after the death of his father Babur, who founded the Mughal Empire only 4 years back defeating Ibrahim Lodi, the last sultan of Delhi in the First Battle of Panipat (1526 CE). An affable & cultured person, Humayun lacked the military acumen of his father Babur (or his son Akbar). With a courageous but easy-going personality, Humayun didn't make much efforts to consolidate the newly formed kingdom except a few campaigns against Malwa & Gujarat.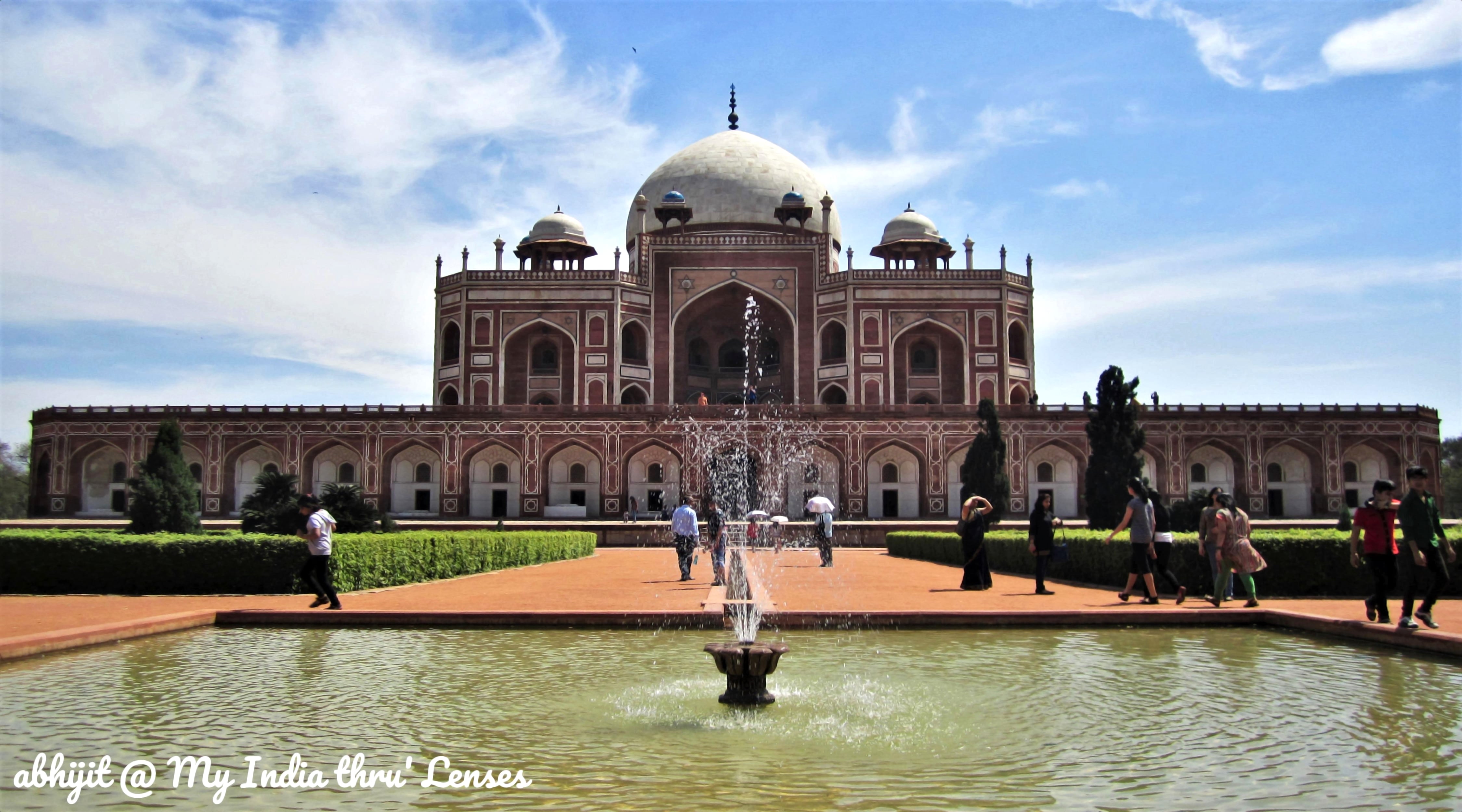 In 1540 CE, he was defeated by Sher Shah Suri, an able commander from Bihar, who founded Suri dynasty and emerged as the undisputed ruler of North India. Humayun became fugitive in western India and was forced into exile for 15 years. A homeless wanderer, Humayun finally reached Persia, where the Shah of Persia gave him refuge alongwith his family. Later, the Shah also provided him with 12000 soldiers, with which he attacked Delhi and reclaimed his territories. This happened in 1555 CE, ten years after the death of Sher Shah. However, Humayun could enjoy his kingdom only for one year. In a winter afternoon in 1556 CE when Humayun was in his library, he heard the muezzin's call for prayer. He hastened down the slippery steps, tripped & fell to his death.
Initially he was buried at his Palace in Purana Quilla (Old Fort) in Delhi. Immediately after his death Hemu (Hemchandra Vikramaditya), the Hindu General & Chief Minister of Adil Shah Suri of Suri Dynasty, attacked Delhi. Fearing that the mortal remains of their emperor would lose sanctity, the retreating Mughal Army exhumed Humayun's remains and reburied them at Sirhind in Punjab. Delhi & Agra was captured by Hemu, but only for a few months. Humayun's son Akbar and his guardian Bairam Khan attacked Hemu and the two armies clashed in the Second Battle of Panipat (Nov 1556 CE). The Mughals had a decisive victory. Hemu was defeated and killed. Subsequently, Akbar consolidated and expanded the territories, laying the foundation of a stable & formidable Mughal Empire.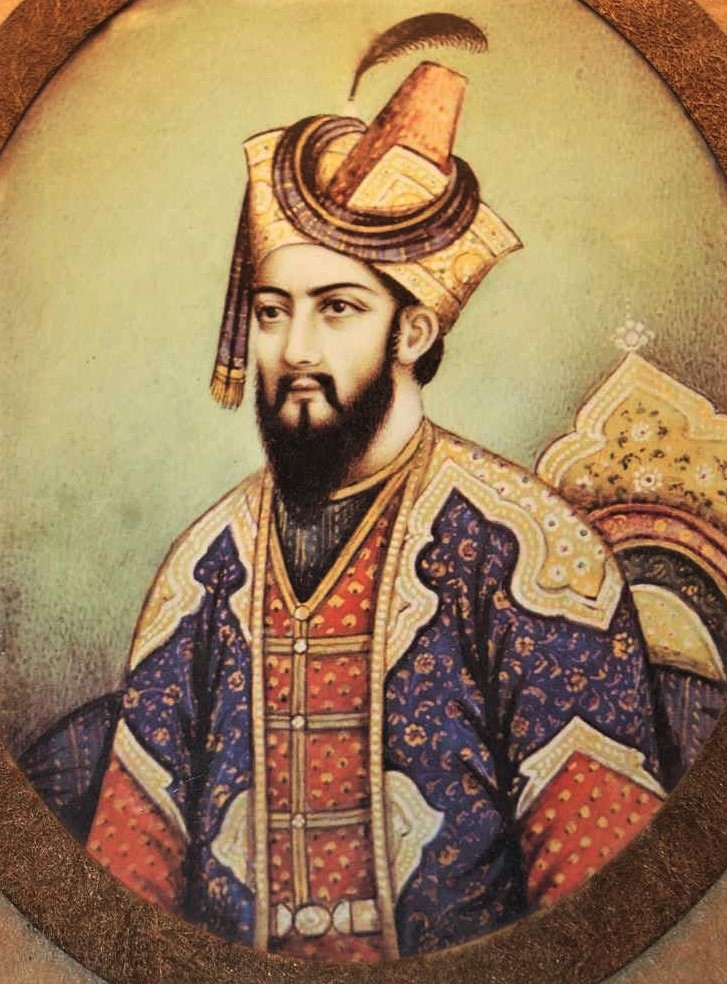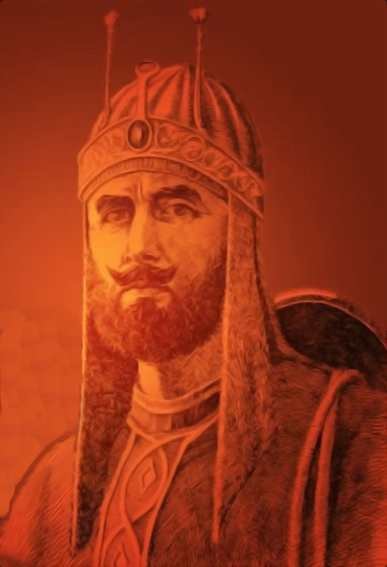 Six years after the Second Battle of Panipat, Haji Begum employed Persian architect Mirak Mirza Giyas to design a mausoleum for her husband. Within 3 years, construction work started for India's first royal garden mausoleum - the Humayun's Tomb. The site was chosen on the banks of Yamuna river and close to Nizamuddin Dargah, the mausoleum of the celebrated Sufi saint of Delhi, Nizamuddin Auliya. In 1568 CE, Humayun's body was bought back from Punjab to Delhi and interred in the tomb. Construction of Humayun's tomb was finally completed by 1571 CE.
FEW OTHER IMPORTANT HISTORICAL FACTS
During Sepoy Mutiny or

India's First War of Independence

(1857), the capture of the last Mughal emperor,

Bahadur Shah Zafar

took place within the Humayun's Tomb complex. Bahadur Shah was arrested and sent to exile, while his three sons were executed. With that, the British took over Delhi completely.

In 1860, the Mughal style garden was replanted to English style. Later, in early 20th century, on Viceroy Lord Curzon's orders, a major restoration project of the tomb complex was undertaken.

During the Partition of India, in August 1947, the Humayun's Tomb together with the Purana Quilla, became major refugee camps for Muslims migrating to the newly founded Pakistan. These camps stayed open for about five years, causing considerable damage to the gardens, water channels and certain parts of the principal structures.
Declaration of the site as UNESCO World Heritage in 1993 brought new interest to its restoration and a detailed research & excavation process began under the aegis of the Aga Khan Trust and the ASI.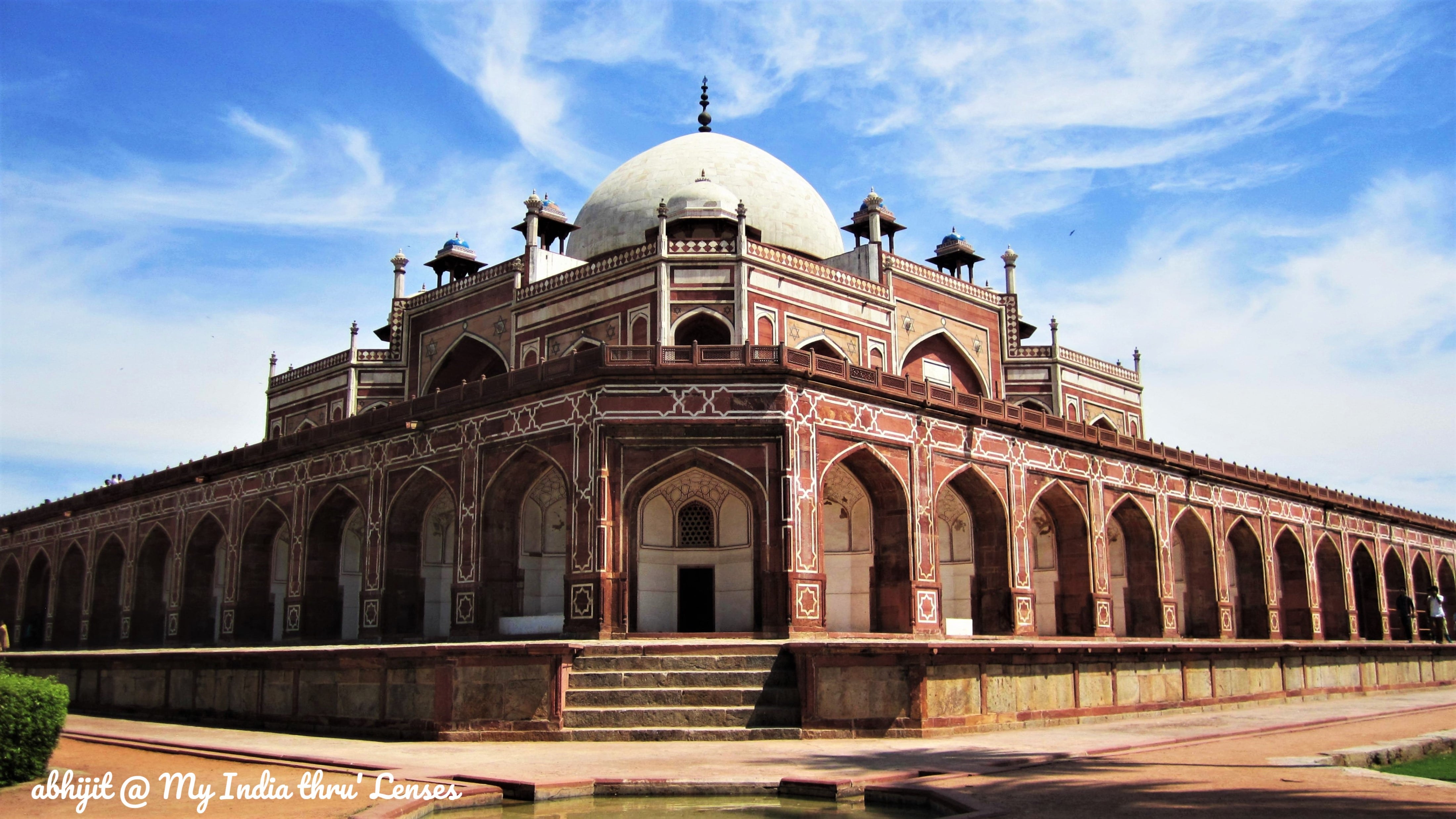 THE HUMAYUN'S TOMB - A BRILLIANT SYNTHESIS OF ARCHITECTURAL STYLES
Humayun's Tomb is one of the best examples of fusion of Persian and indigenous architecture, a style that could be observed in several Mughal structures. The architect, Mirak Mirza Ghiyas was a Persian from Bukhara. Haji Begum, who had lived with Humayun during his exile in Persia, was probably highly influenced with Persian architecture. Key Persian features of the tomb include the great arches, the high double-dome, the Charbagh-style garden, arch-netting in the vaults and geometrically arranged coloured tiles. The major pre-Mughal indigenous features are lotus bud fringed arches, jaali (lattice work) screens, chhatris (umbrella-shaped domes) and chhajjas.
CONSTRUCTION MATERIALS
Primarily 3 kinds of materials were used for the construction: Sandstone (red & yellow), Quartzite (grey) and Marble (black & white). The walls and the two gateways are built using grey quartzite together with red sandstone dressing & marble inlay. Red and yellow sandstones were used in the facing of the main tomb and flooring of the terrace. Black and white marbles were used for inlay work and surface ornamentation.
LAYOUT OF THE COMPLEX & KEY COMPONENTS
The Gateways: There are two impressive gateways to enter the complex – one on the west and another on the south. The 2-storeyed West Gate is now the main entrance for the visitors. At the centre of the West Gate, there is a large square hall, with a dome-shaped ceiling and arches on the east & west sides. The South Gate or "Royal Gate" is 52ft high and is also 2-storeyed. It was once the main entrance to the complex but now it is closed. The walls have arched recesses, with slender turrets capped with a marble lotus at the corners.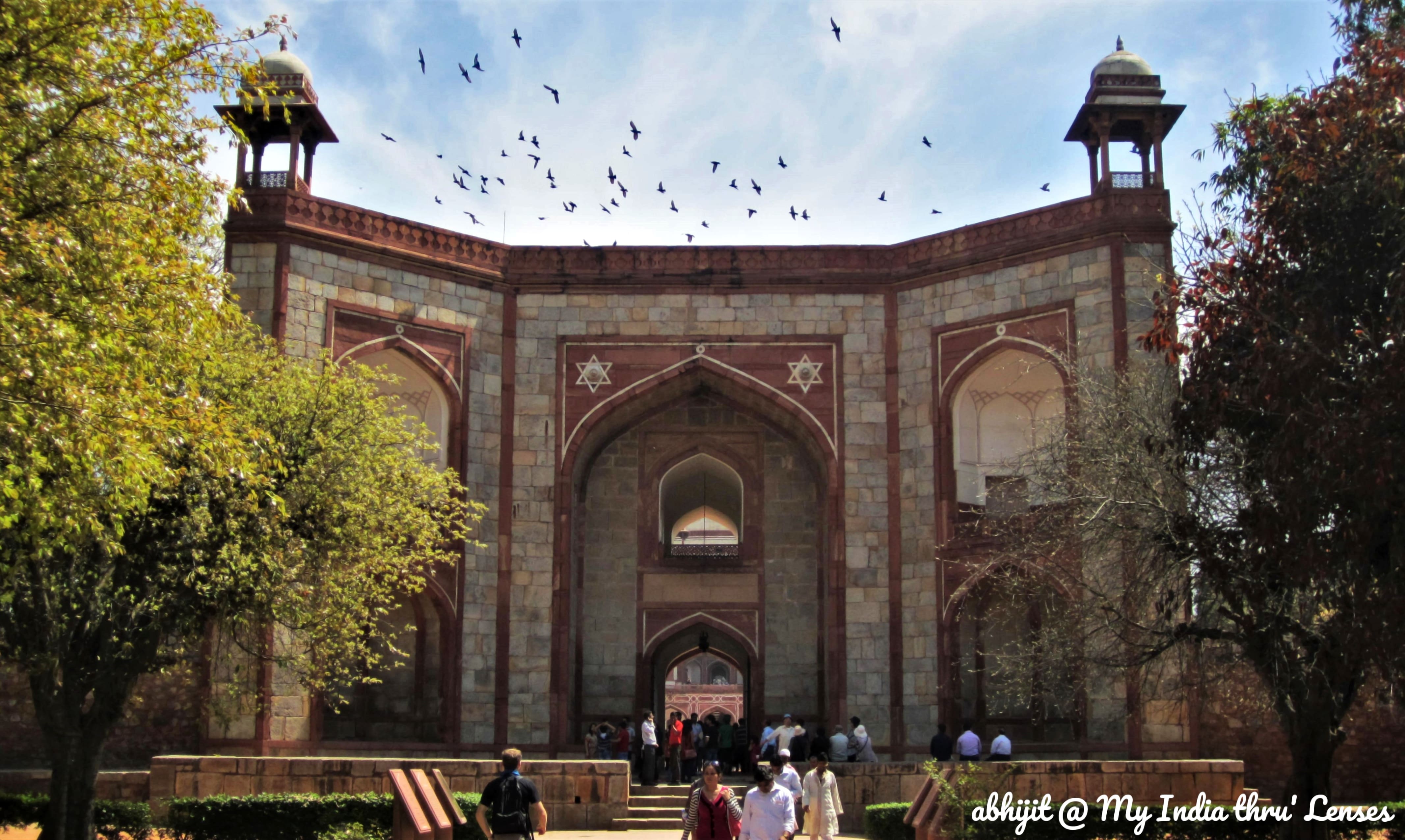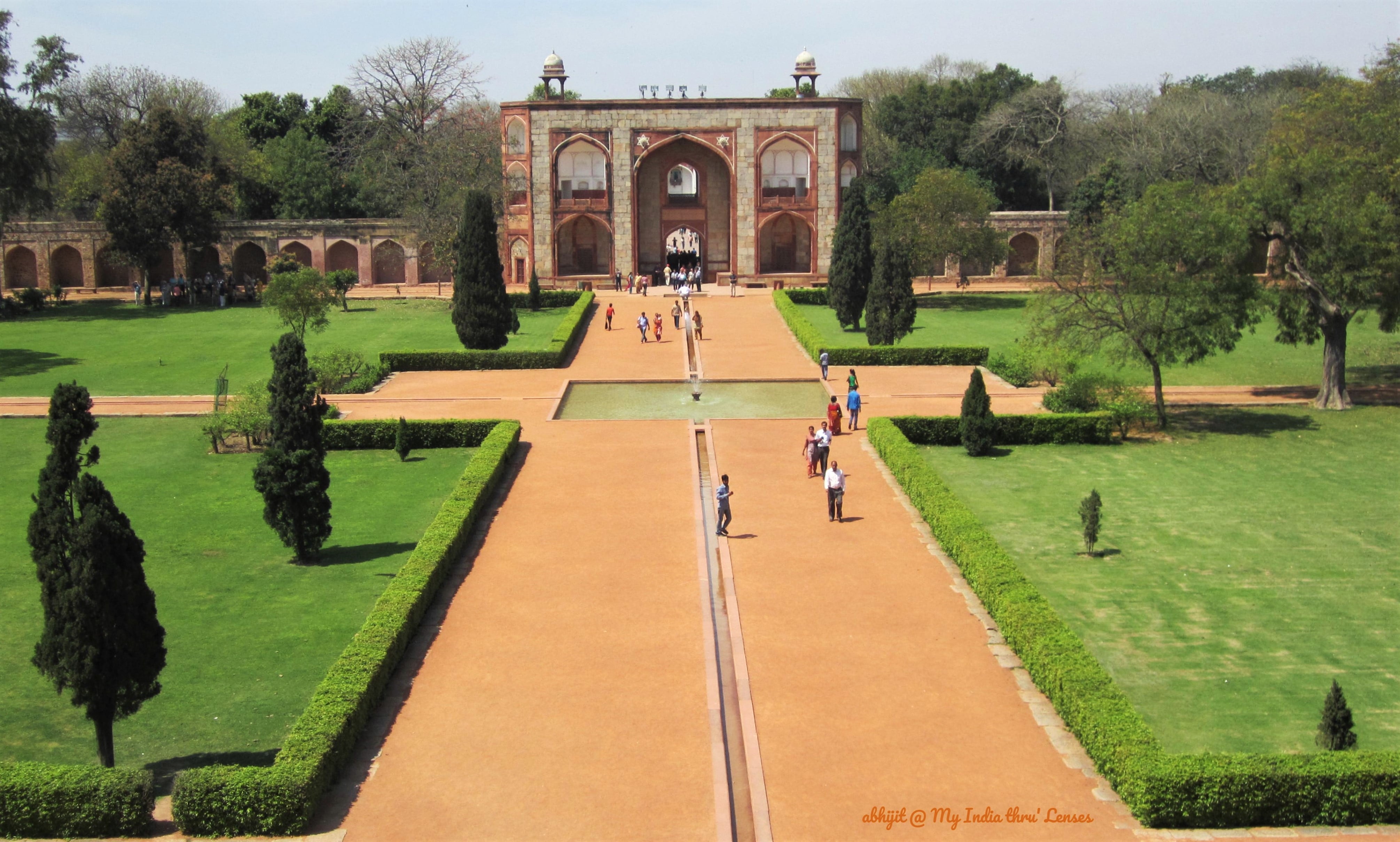 Charbagh: The Main Tomb, situated at the centre, divides the entire garden complex into 4 quadrants, which is called Charbagh. Charbagh, an earthly representation of the Garden of Paradise, Hasht-Bihisht (Persian for "Eight Paradises"), has 32 plots in all, with lined canals (signifying rivers of Paradise) all through.
THE MAIN TOMB
The main mausoleum is a finely proportioned massive structure with remarkable composition of a double-dome, several arches, chhatris, turrets, marble inlay and jaali screens. It is essentially square in shape, each side measuring 148ft. The chambered corners give it an irregular shape. The four projections are interspersed with arched recesses, which form the main access points to the central hall. On the ground floor there is the octagonal central chamber housing the cenotaph. A gallery on the 2nd floor overlooks the cenotaph.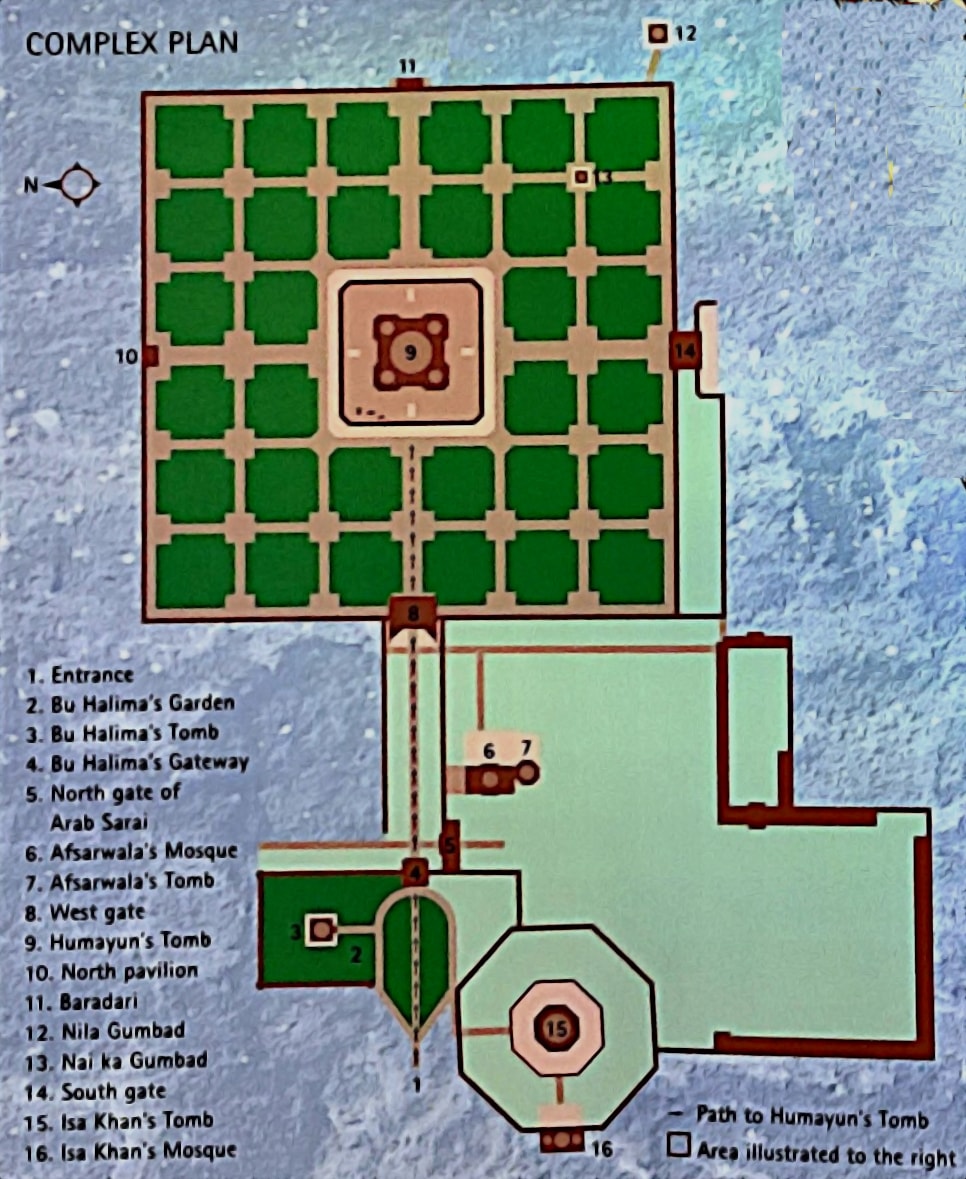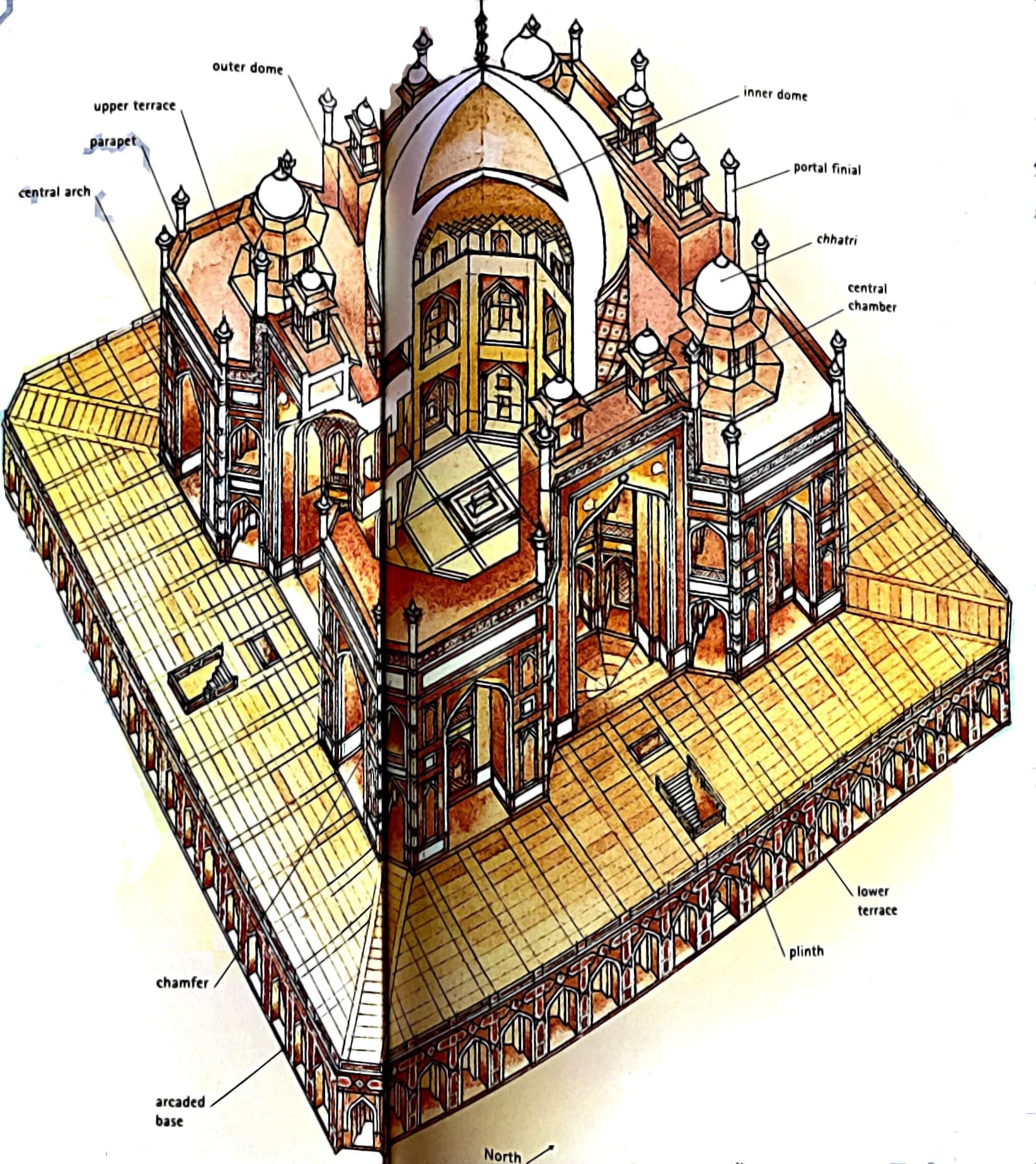 The Plinth: The imposing plinth (23ft high & 299ft wide) underneath the tomb is studded with arched alcoves (17 on each side). Composed of rubble masonry finished with red sandstone & marble, it sits on a podium built of quartzite. The plinth consists of 56 chambers containing more than 100 gravestones. Each side has a staircase at the centre that opens up to the terrace.
Terraces: The vast terraces surrounding the mausoleum offer spectacular views of the Charbagh and other monuments nearby. Finely worked sandstone jaali screens (a signature element of Mughal architecture) can be seen on all sides of the lower terrace.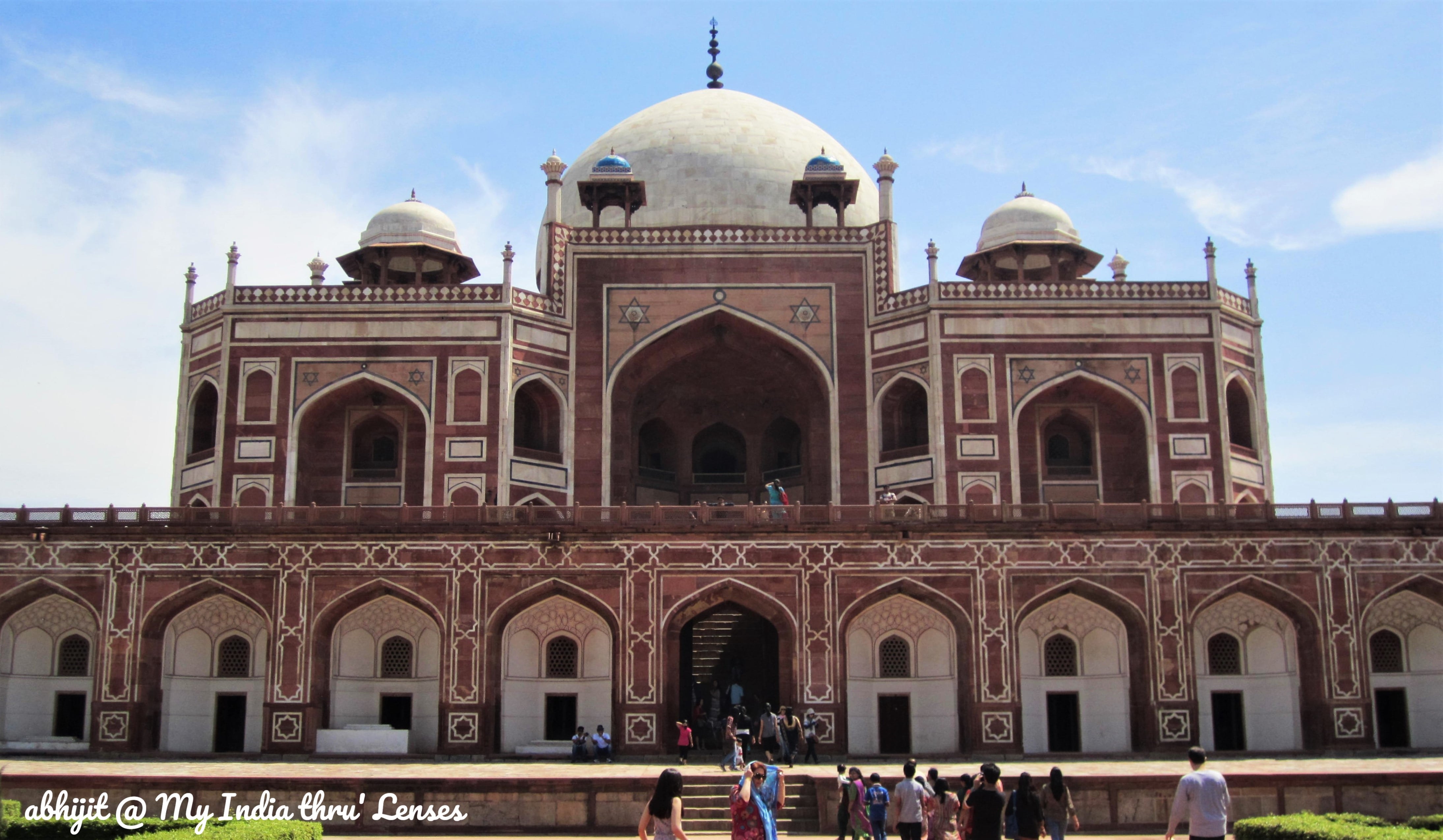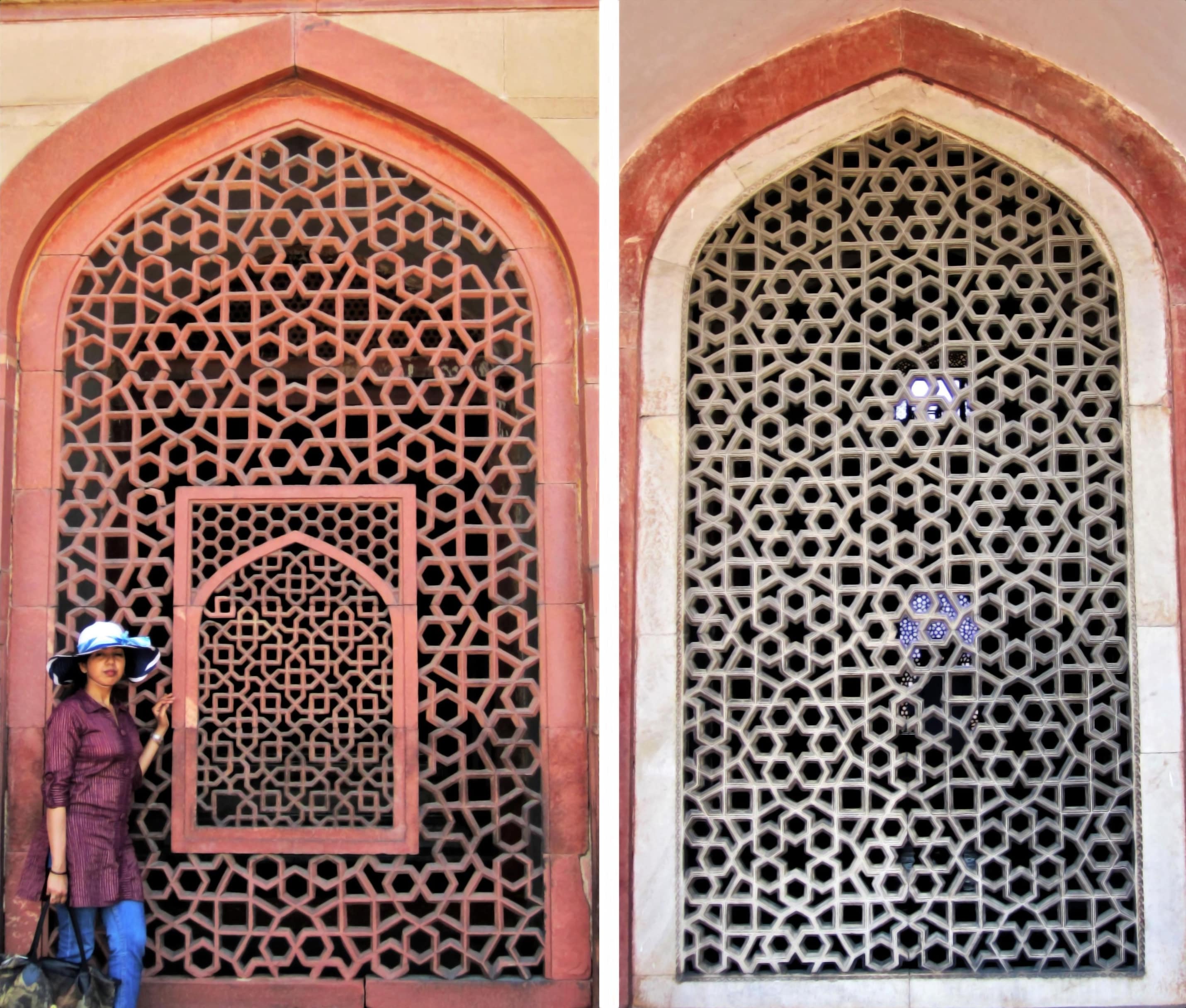 Finely worked Jaali sandstone screens. These intricately patterned jaalis that are among the pre-Mughal decorative features of Humayun's Tomb, filter in light, gently illuminating the gravestone. The left jaali has mihrab set in the centre.
The Central Dome: The 139ft tall marble-covered central dome rises from an elongated sandstone drum. It is basically a double-dome (typical Persian architectural feature), which was the first of its kind in India. The dome is surmounted by a copper brass finial capped by a crescent.
Central Chamber: Entered from the arched doorways of the southern façade, the 2-storeyed octagonal central chamber contains Humayun's cenotaph. The unadorned white marble sarcophagus stands on a simple black & white marble platform. The grave lies below it.
Northwest Chambers: It's said that Humayun's two wives, Haji Begum & Hamida Banu and Shah Jahan's son Dara Shikoh are interred in this tomb chamber.
Several tombs of lesser known Mughals are housed in the four smaller octagonal chambers radiating diagonally from the central chamber including the southeast one.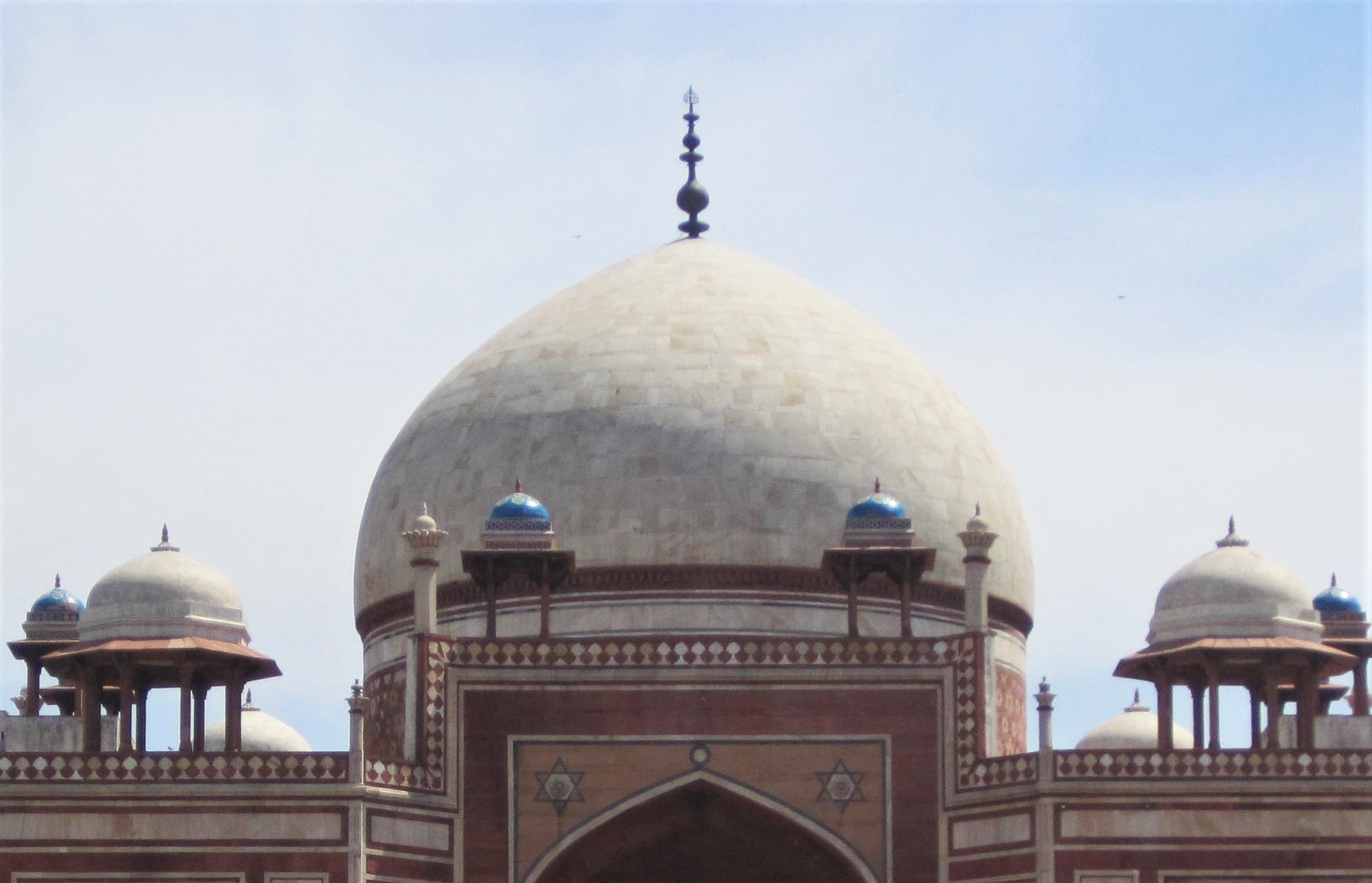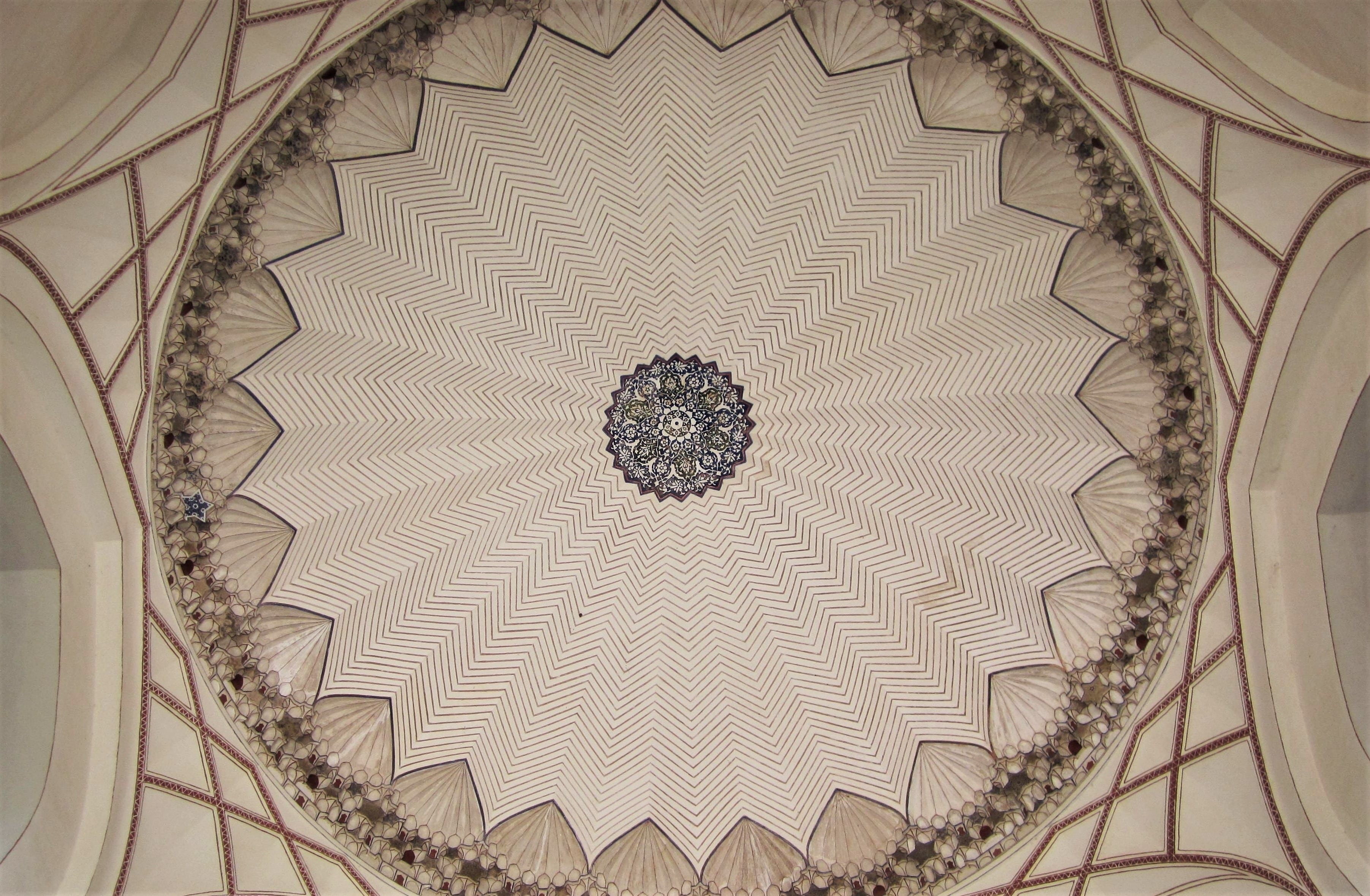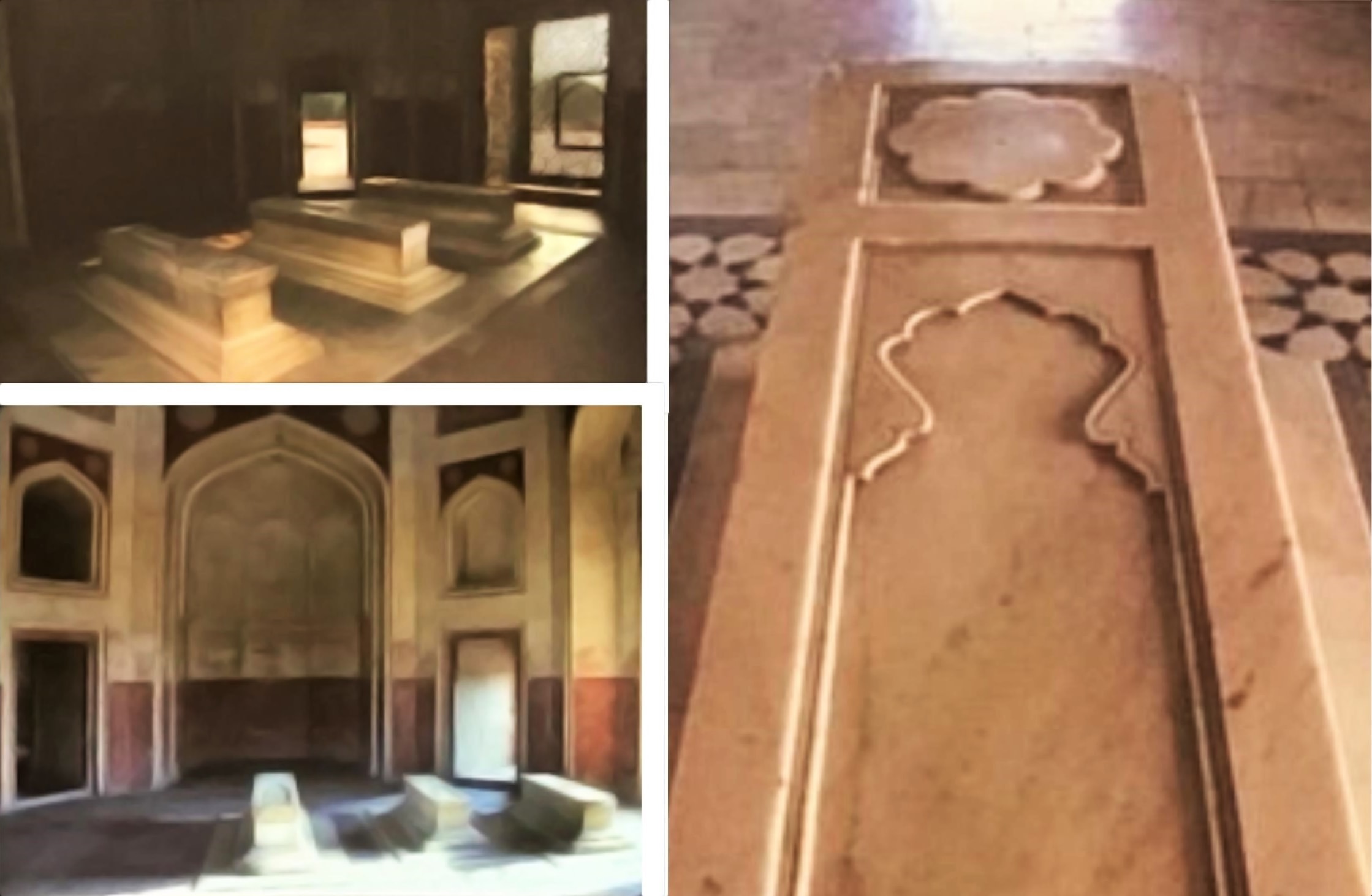 Top Left: Northwest Chambers - It's said that Humayun's two wives, Haji Begum & Hamida Banu and Shah Jahan's son Dara Shikoh are interred here. Bottom Left: Tombs in the southeast chamber. Right: Humayun's cenotaph inside central chamber. (PC - Great Monuments of India)

THE HUMAYUN'S TOMB - KEY FACTS AT A GLANCE
Monument Type: Royal Mausoleum. First grand dynastic garden tomb in India.
Purpose of Construction: Tomb to house the mortal remains of Humayun, the second Emperor of Mughal Dynasty
Built by: Hamida Banu Begum (Haji Begum), senior wife of Humayun
Construction Period: 1562 - 1571 CE
Cost of Construction: Around 1.5million rupees at the time of construction
Location: Mathura Road, Nizamuddin East, Delhi, India
Architectural Style: Synthesis of Persian & pre-Mughal Indo-Islamic architecture
Materials Used: Primarily Red Sand Stone alongwith Quartzite & Marble
Dimensions: 47m (height) x 91m (width)
Architect: Mirak Mirza Ghiyas from Persia
Presently Maintained by: Archaeological Survey of India (ASI)
World Heritage Status: UNESCO World Heritage Site since 1993
Visit Timing: Open from sunrise to sunset, all days of the week (best time to visit is between 8:00 am to 6:00 pm)
Entry Fee: INR30 per person for Indians and visitors from SAARC & BIMSTEC countries. INR500 per person for other Foreign Nationals. Free entry for children up to 15 years.
Other Tombs in the Complex: Isa Khan's tomb, Afsarwala's tomb & mosque, Barber's tomb
How to Reach: Easily accessible by Road/ Rail/ Delhi Metro.

The nearest railway station is Nizammudin.

Nearest Metro stations are Jorbagh and Race Course (both on the Yellow line).

AC/non-AC buses can be availed from Rajiv Chowk/ISBT/Nizamuddin. Autos can also be availed.
OTHER TOMBS
Nai Ka Gumbad: To the southeast of Humayun's tomb lies Nai Ka Gumbad (aka Barber's tomb) – a square structure standing on a platform (2.44m high), with seven steps leading up to it. It is said to have been built for Humayun's favourite barber.
Baradari: At the centre of the enclosure's eastern wall is the Baradari (open ended pavilion), from where the river Yamuna could be seen flowing by. Rectangular in shape, it has six nicely carved red sandstone columns.
Afsarwala's Mosque & Tomb:  To the southwest of Humayun's tomb are the Afsarwala's Mosque & Tomb, both the structures dating back to early Mughal period. The tomb is octagonal with deeply recessed arches, while the mosque is a three-arched structure conforming to triple iwans of Persia. "Afsar" means "officer" - the structures were probably made for some high ranked Mughal officer (unknown).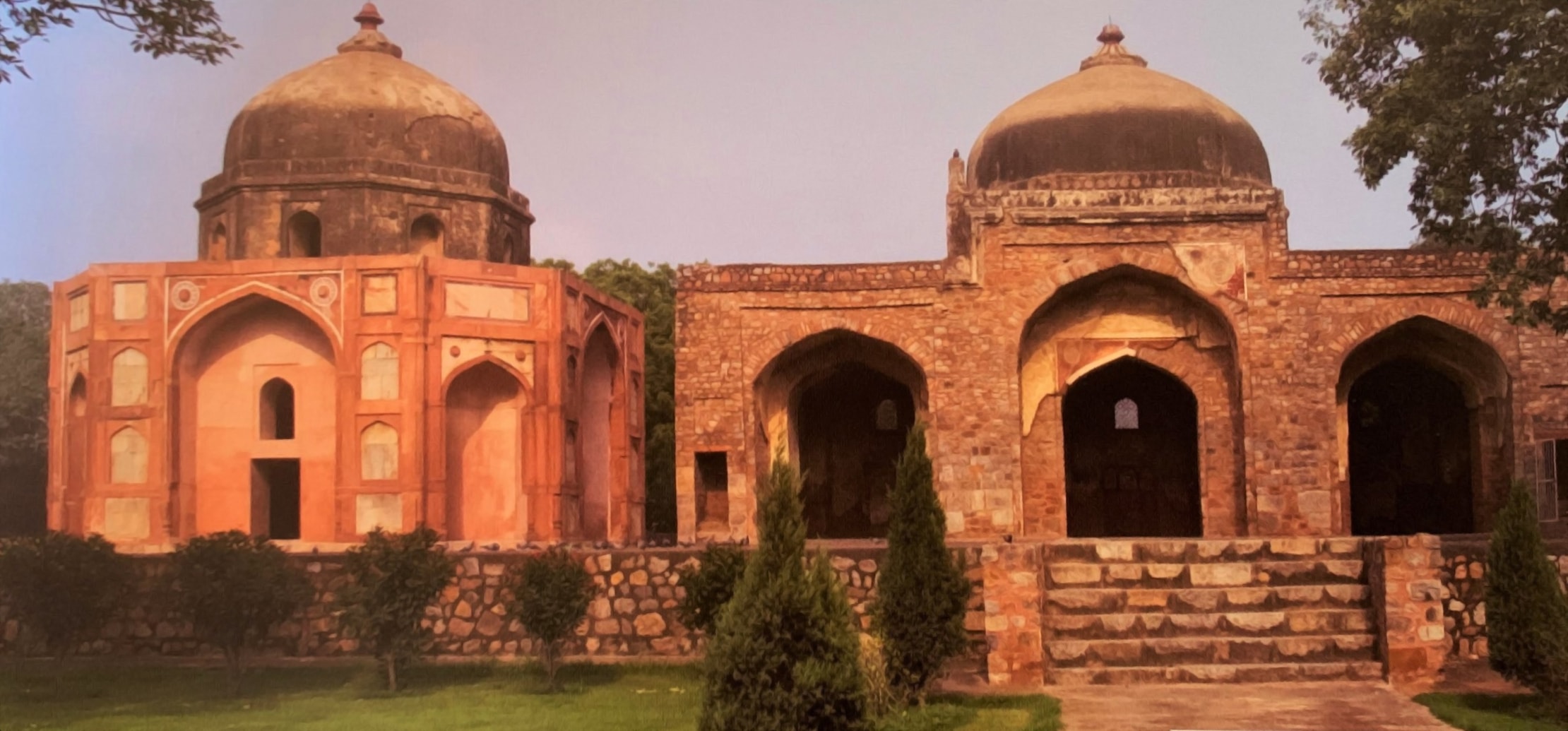 Isa Khan's Tomb: Isa Khan was an influential nobleman in the court of Sher Shah Suri and his son, Islam Shah. Built in 1547 CE (thus pre-dating Humayun's tomb), Isa Khan's Tomb is one of the finest examples of Islamic architecture. It is said to have been influenced by the tomb of Sikander Lodi built 100 years earlier. Octagonal in plan, it is encircled by a verandah with three arches on each side. Inside the tomb chamber are six graves, the largest one being Isa Khan's.
Isa Khan's Mosque: Close to the tomb, stands Isa Khan's Mosque that was also built in 1547 CE. Capped by a large central dome and octagonal chhatris, it has arches decorated with brightly coloured tiles.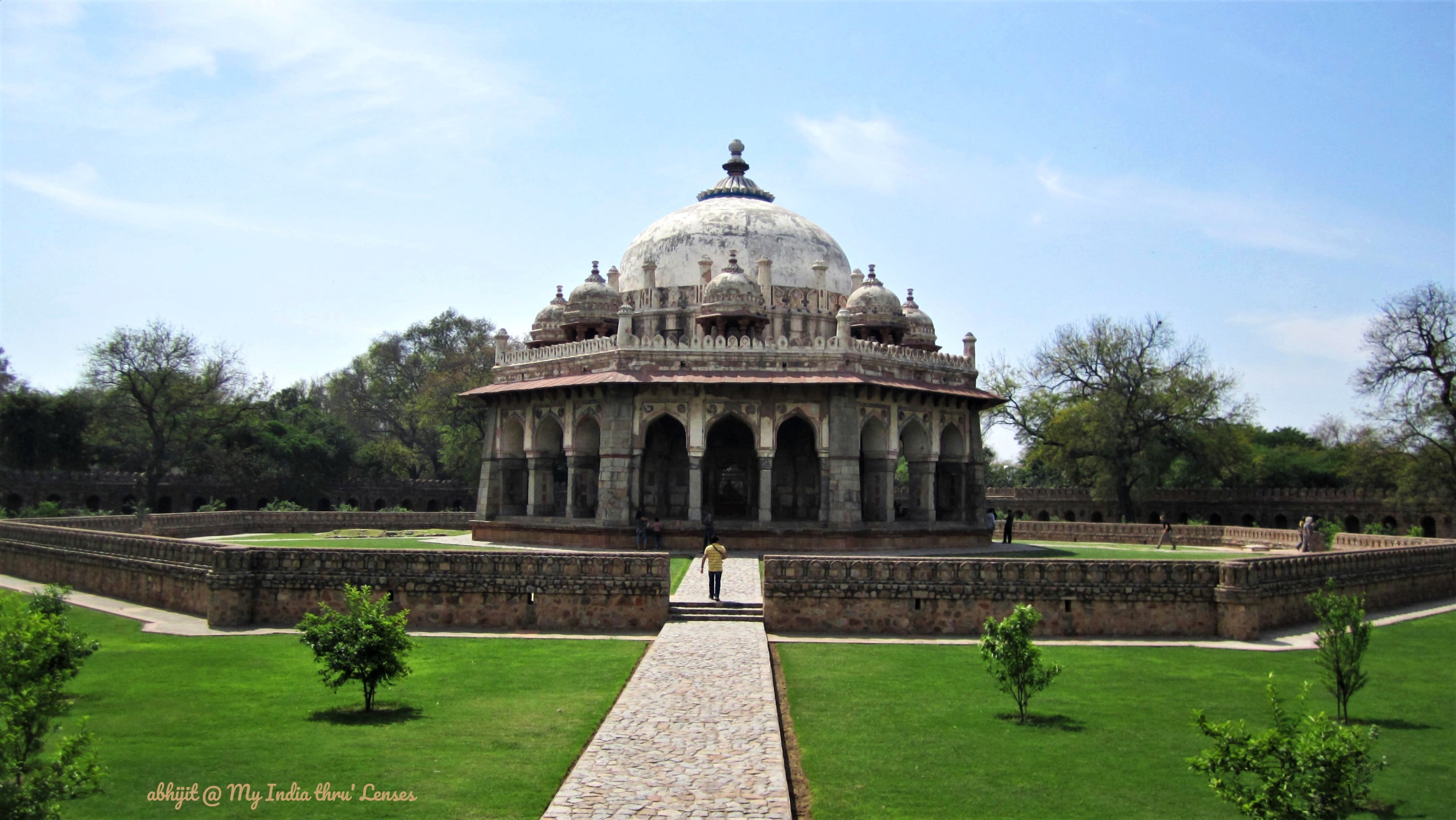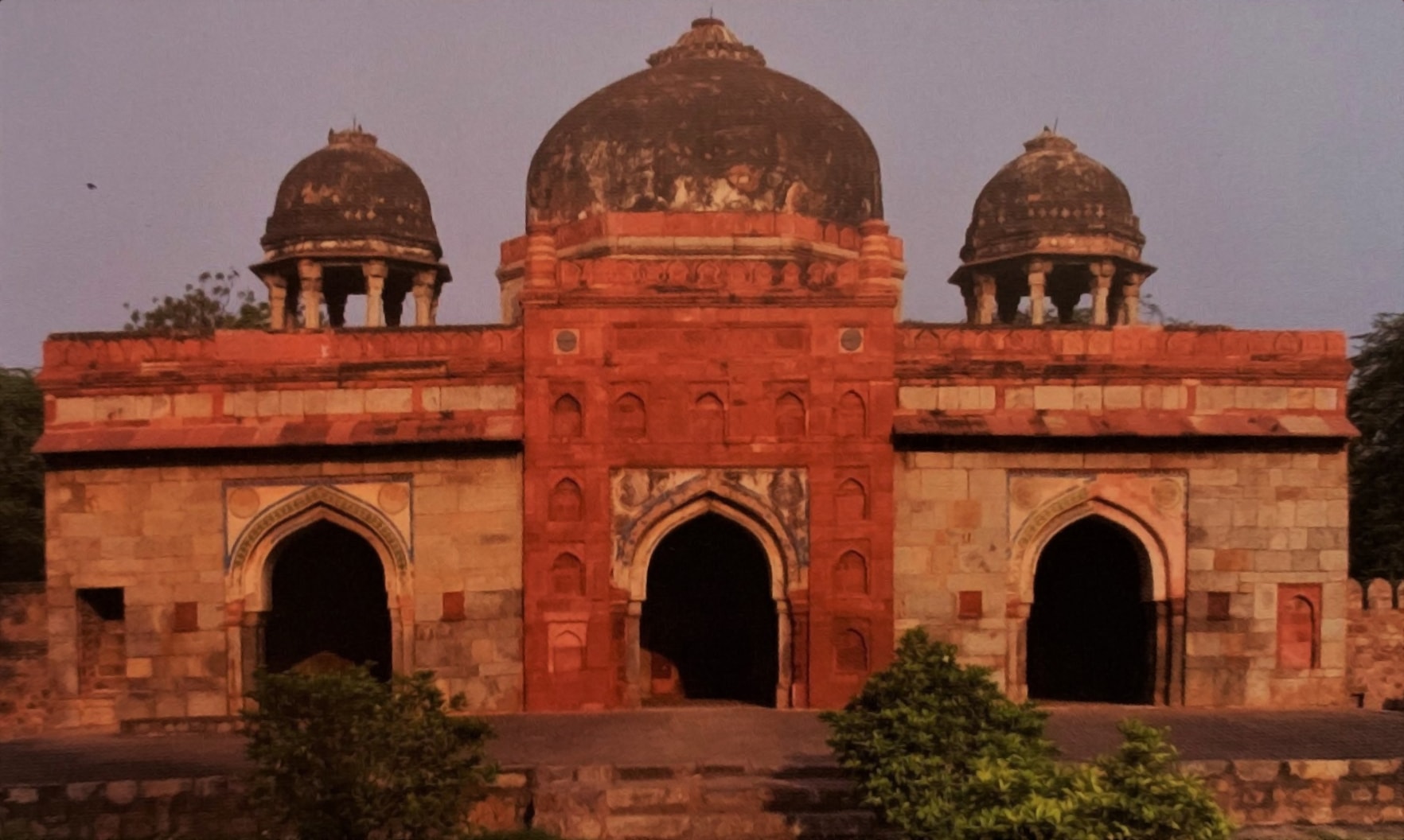 REFERENCES
Great Monuments of India, Dorling Kindersley Publication
Wikipedia
Photographs, unless otherwise credited, are self captured.