Reading Time:
7
mins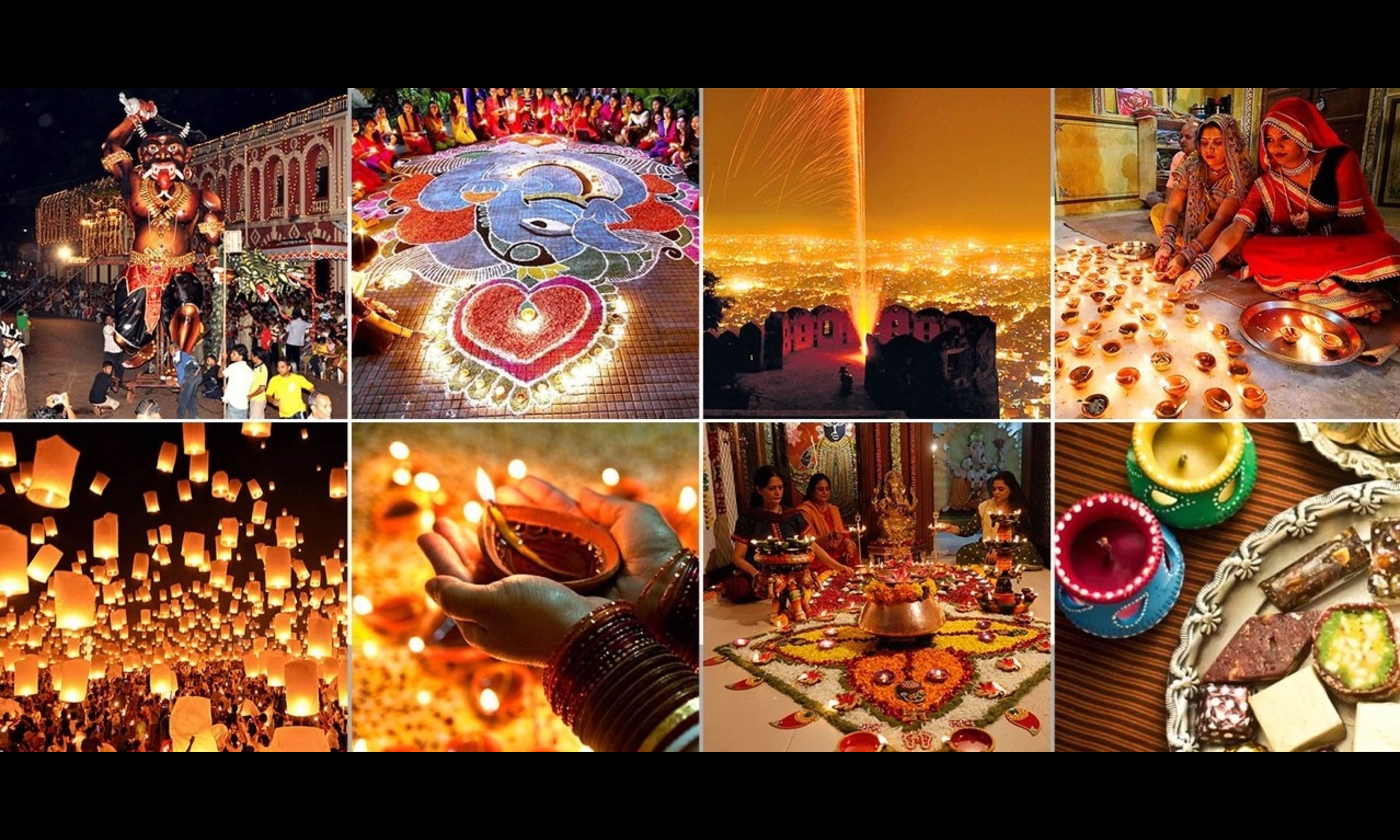 In India, we have hundreds of festivals to celebrate in a year. While some festivals are local, some are celebrated nationally, when each & every corner of the country gets into the festive mood. Diwali or Deepavali is one of such festivals, which we all eagerly await. Diwali, the glorious festival of light, is celebrated across India, but with different flavours and here comes the beauty of the diversified cultures of our country. It is also increasingly becoming popular in other countries with almost a billion people celebrating Diwali worldwide and more than a dozen countries recognizing it as an official holiday. Several cities in the United States, Canada, Australia, UK, Nepal and Sri Lanka also celebrate Diwali with glitz & joy no less than India. In spite of its global reach, many are, probably, unfamiliar to and unsure of the festival's origin & significance.
---
DIWALI & ITS ORIGIN - THE MYTHOLOGICAL CONNECTIONS
The city of Ayodhya was under darkness for fourteen prolonged years without any lamp lighting the walls of the houses and streets. Now, making his mark, the scion is returning. This happy piece of news made the people all set to adorn the whole land with series of lamps. Extreme gladness has blown their minds. The men and women are saluting and welcoming the Lord and his match made in heaven, Mother Sita!
As per the Ramayana, Lord Rama got victory over Demon King Ravana in Lanka on Dussehra, after which he rescued his wife Sita and left for his kingdom Ayodhya. The auspicious day, on which Lord Rama returned to Ayodhya with Sita Mata and brother Lakshman, his kingdom was illuminated with lamps. This victory of good over evil, from that day, is getting celebrated as Diwali in India.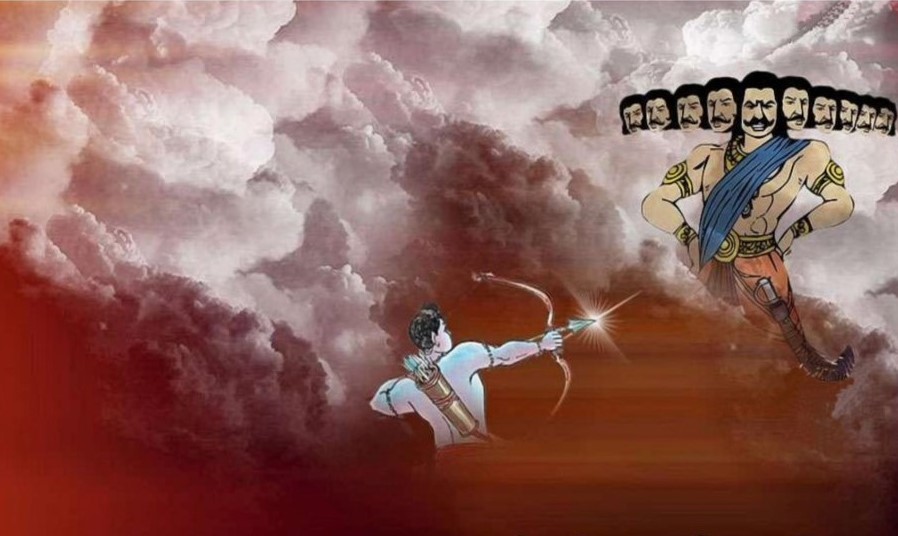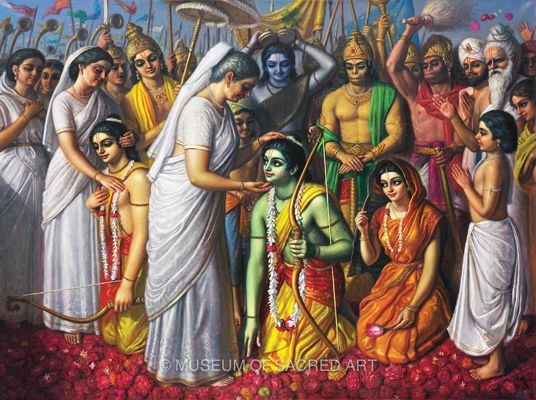 As per Hindu Puranas, the day on which goddess Lakshmi emerged out of 'Samudra Manthan' (the event of the churning of the ocean) is marked as Diwali. It is believed that goddess Lakshmi bestows power, luck and richness to her devotees, who worship her on this auspicious day and decorates his / her house with lights and Rangoli (colours) in order to welcome goddess Lakshmi. Rangoli is an art of creating beautiful designs with colours. It is mainly famous in North, Central and West India. In South and East, rice dust & flower petals replaced the colours, but the essence of creating beautiful designs to appease the goddess remained the same.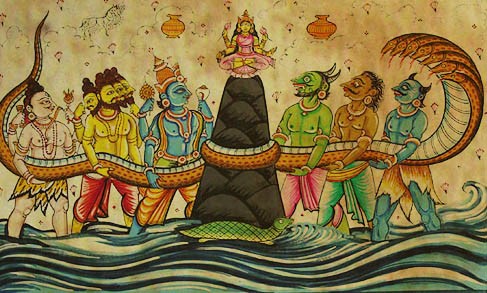 Along with the goddess of wealth, Kali, the supreme goddess of power (Shakti), is also worshipped in some parts of India, prominently in Eastern India on Diwali. Goddess Kali is believed to destroy all evils & egoism and enlighten her devotes with eternal knowledge and liberation (moksha). As per legend it is believed that after slaying demons Chanda, Munda and Raktabij, goddess Kali was lost in the bloodthirstiness of wrong doers. In order to calm her down, her consort Lord Shiva threw himself on her path. When she realized that unconsciously, she has stepped on her husband, she calmed down and protruded her tongue out of embarrassment. On night of Diwali goddess Kali is worshipped in many temples, homes, pandals (makeshift alters) of West Bengal, Odisha and Assam.
There is another incident mentioned in our Hindu sacred texts, marking the significance of Diwali, the incident of Lord Vishnu's Vaman avatar where he defeated demon king Bali.
DIWALI & A FEW FOLKLORES
As per legend, the great king Vikramaditya's coronation was celebrated as Diwali. Legend also speaks about the victory of Chandragupta II on the Saka invaders which was celebrated with lights as Deepavali. There are several other myths & opinions behind the significance of Diwali, but whatever might be the cause, celebration is the main essence of this festival.
DIWALI CELEBRATION IN OTHER FAITHS
Diwali is not only a festival of the Hindus. Coincidentally, on the day of Diwali, Guru Hargobind, the sixth guru of Sikhs, along with others, was set free by Mughal Emperor Jahangir after 12 years (dispute exists) of imprisonment (early 16th century). Sikhs celebrate it as Bandi Chhor Diwas (Prisoner Liberation Day), during which the people light the Golden Temple of Amritsar and indulge themselves in fireworks. It's also believed that on Diwali, Mauryan Emperor Ashoka got converted to Buddhism, thus marking the day quite important for Buddhists. Jains celebrate Diwali as the auspicious day when Jain Tirthankara Mahavira achieved Nirvana.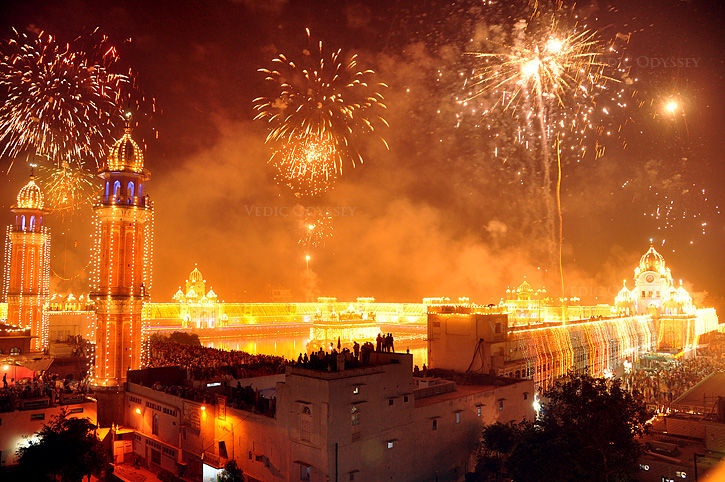 THE CELEBRATION
Each part of India has its own unique way of celebrating Diwali (commonly known in Northern India) or Deepavali (the name more commonly used in the South and East). In North, West and Central India, Diwali is primarily a 5-day celebration, which starts with worshipping the god of wealth Kubera on Dhanteras, followed by Chhoti Diwali, Diwali, Govardhan Puja and Bhai Duj. In eastern parts of the country, people mainly celebrate 2 days, Naraka / Bhoot Chaturdashi (the day before Kali Puja) and Kali Puja / Diwali, however, in the south people celebrate primarily 1-day Naraka Chaturdashi as Deepavali.
Dhanteras, the first day after the end of a 14-day dark period, starts the festival of lights. Mythologically, on this day, the Lord Dhanvantari emerged from the ocean as a result of Samudra Manthan with Ayurvedic medicines for humankind. It is believed that buying gold, silver jewellery or utensils for home on this auspicious occasion brings good fortune.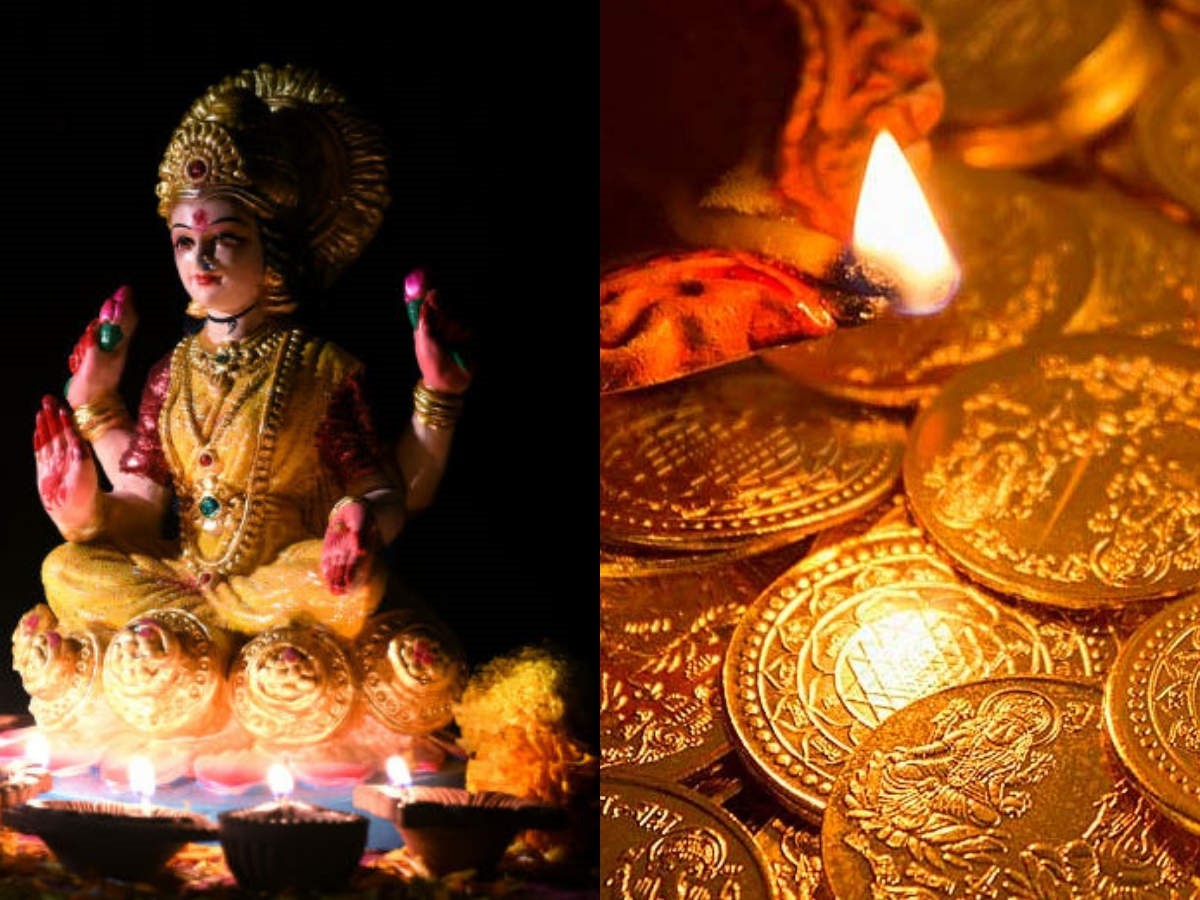 The second day, which is known as Chhoti Diwali, Naraka Chaturdashi or Bhoot Chaturdashi, is primarily celebrated across India, irrespective of its name, by lighting lamps in home and offering pujas to deities. As per our mythology, on this day Lord Krishna beheaded demon Narakasura. As per common belief to ward off evil forces, people illuminate every dark corner of their house. In the southern part of our country, goddess Lakshmi is worshipped on this day.
The third day is the main celebration day of Diwali. Goddess Lakshmi and Kali are worshipped on this day. Goddess Lakshmi grants good fortune and goddess Kali destroys all evil forces, thus bringing overall well-being and prosperity to mankind. It is believed that on this night goddess Lakshmi visits the cleanest and well-lighted house of her devotees, which has beautiful Rangoli on the doorway to welcome her.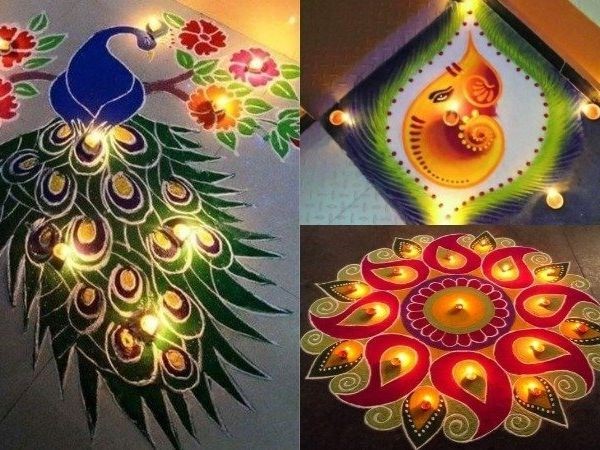 The fourth day is celebrated as Padwa and Govardhan Puja. Communities of North, West and Central India, celebrate this day in honour of Lord Krishna for lifting Govardhan Hill and protecting the villagers of Vrindavan from torrential rain caused by Indra (the god of rain and storms). Offering of various food is made to lord Krishna on this day by the devotees.
The fifth day, Bhai Duj celebrates the love & affection between brothers and sisters. On this occasion, sisters pray for the longevity and well-being of their brothers against evils / bad fortune. In return, brothers follow the responsibility of caring & protecting their sisters.
THE FESTIVAL OF LIGHTS
As mentioned previously, Diwali is the festival of light. On this day whole India gets illuminated by lamps. People burst crackers, visit their friends & relatives and share gifts. It is believed that on this auspicious day, by lighting lamps (diya) and burning crackers we can remove negativity from our home and bring good luck. Donating food and clothes to the needy people on Diwali is also considered to be auspicious.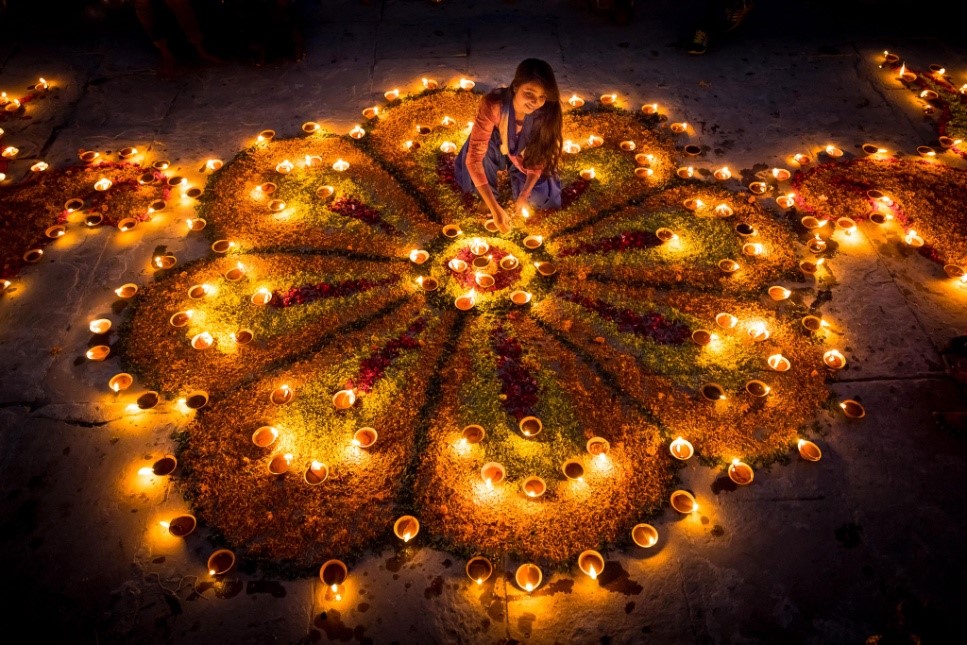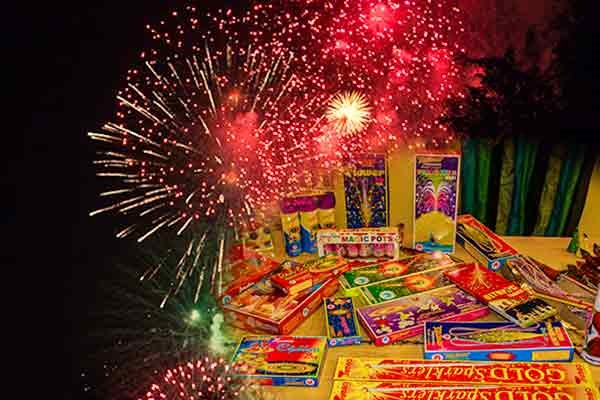 DIWALI SWEETS
We have talked about puja, lights & crackers, but what about sweets - one of the most important aspect of this festival? Indians can't even think of any celebration without sweets. Diwali without ladoo, barfi or namkeen is completely unimaginable irrespective of the part of India you belong from. We are foodies, that's why we love making others eat as well.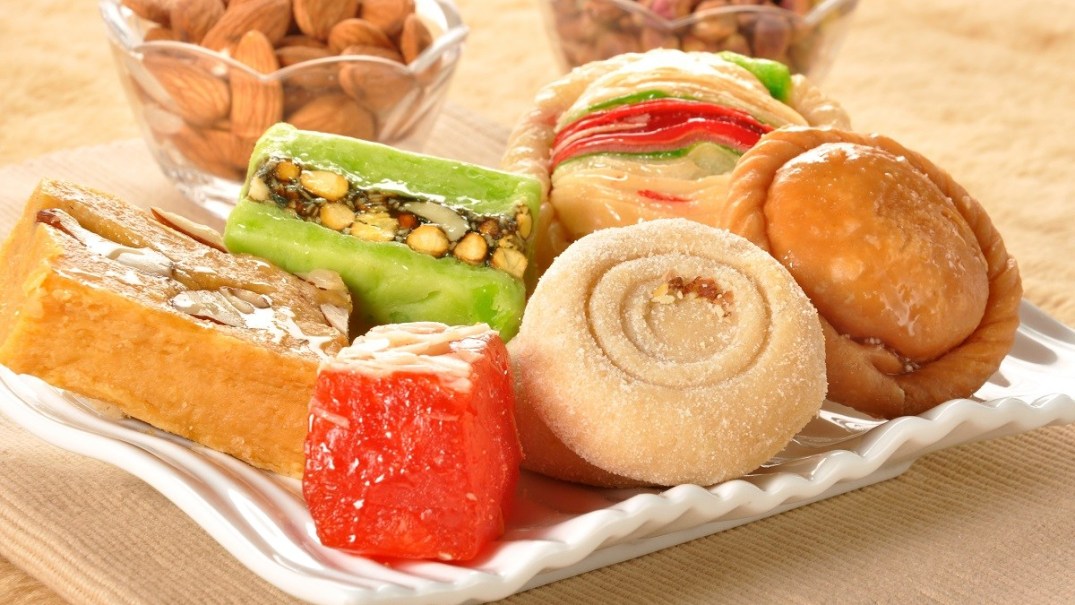 So Diwali is more than a festival to us. It's the moment that we love to share with our close ones. It's the time when we even love to wish luck to our not-so-good friends, so that we all can have a new beginning. It hardly matters from which state we belong, the 'passion to celebrate and be happy' is the main essence of the festival.
REFERENCES
Wikipedia
Kolkata Tribune
Do you really know why Diwali is celebrated; it's not just about return of Rama, India Today, Oct 2016
Photo courtesy for featured image - htoindia.com
----